Endorse This: Rudy Giuliani Says Hillary Clinton "A Founding Member Of ISIS"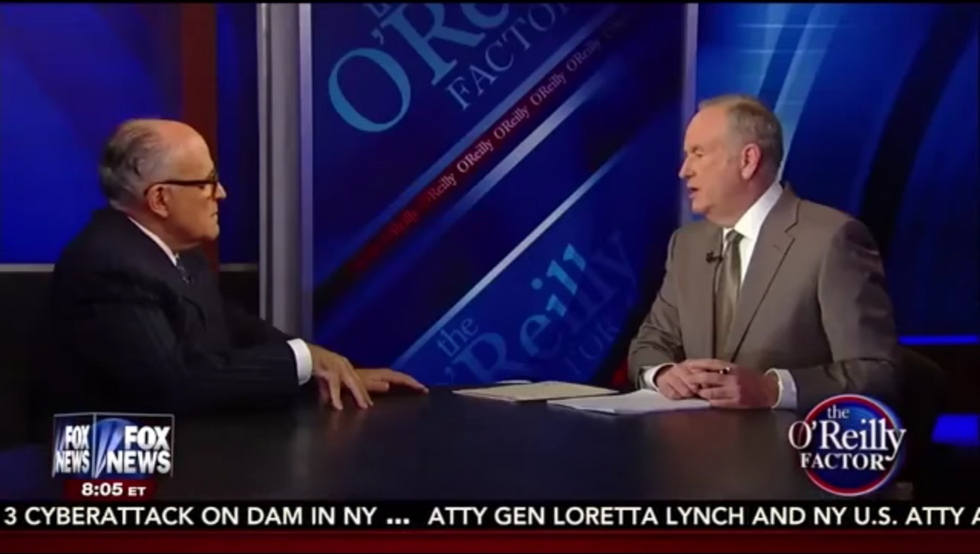 Got a politician acting like an idiot on video? Tweet us with the hashtag and we might feature it for #EndorseThis!
Rudy Giuliani, the former New York City mayor who said he would "probably" endorse a special someone before the New York presidential primaries — "it won't be Hillary Clinton. I seriously doubt it will be Ted Cruz" — said in an interview with Bill O'Reilly that "Hillary Clinton could be considered a founding member of ISIS."
An unusually baffled Bill O'Reilly asked him to explain. "By being part of an administration that withdrew from Iraq. By being part of an administration that let Maliki run Iraq," Giuliani said, "So you forced the Shiites to make a choice, [and] by not intervening in Syria at the proper time."
Now that Republicans have stopped trying to convince the world that invading Iraq was a good idea (thanks to Donald Trump, really), they've switched to arguing that the rise of ISIS isn't rooted in George W. Bush's invasion of the wrong country and his dismantling of one of its largest employers, the Iraqi Army, but rather in Barack Obama's decision to end the worst foreign policy disaster in American history.
According to George W. Bush's biographer, when asked about maintaining the Iraqi Army as the foundation of a post-Saddam Iraqi government, Bush replied:
Well, the policy was to keep the army intact. Didn't happen […] Yeah, I can't remember, I'm sure I said, "This is the policy, what happened?"
What did happen? As the Council of Foreign Relations said in 2003 of the nearly-500,000 Iraqis who served in the military:
"It's difficult to know. The Wall Street Journal, drawing from U.S. and British military reports, estimates that some 3,160 Iraqi soldiers were killed as of April 15. A total of some 13,800 were captured by U.S. and British troops. Many more apparently just removed their uniforms and went home; others, especially higher ranking officers, may have escaped to Syria or other nations.
Experts estimate that much of ISIS's current leadership — despite its rank-and-file membership being recruited from across the Middle East and the rest of the world — is comprised of former Iraqi military officials. The chorus of former Bush administration officials on this issue is loud and clear: De-Ba'athification — the forcing of anyone associated with Saddam Hussein's government out of any future Iraqi political or military participation — destroyed one of the most formidable military powers in the region and left a vacuum that only emphasized the radicalizing effects Saddam's ouster.
George W. Bush himself, in his book Decision Points, admits "Thousands of armed men had just been told they were not wanted. Instead of signing up for the new military, many joined the insurgency."
And yes, Nouri al-Maliki was a disaster… installed by the Bush administration.
Obviously, this isn't the whole story. Iraq is a complicated place (we've spent 13 years learning that) and trying to "fix" it has only led to chaos and bloodshed. But that's exactly why the American left has spent much of the 21st century repenting for its initial support, some of them, of the invasion. This isn't as simple as Rudy Giuliani wants it to be. If it were, he wouldn't have to worry about ISIS in the first place.
Video courtesy Media Matters.