Endorse This: Sarah Palin Further Embarrasses Herself On Caucus Day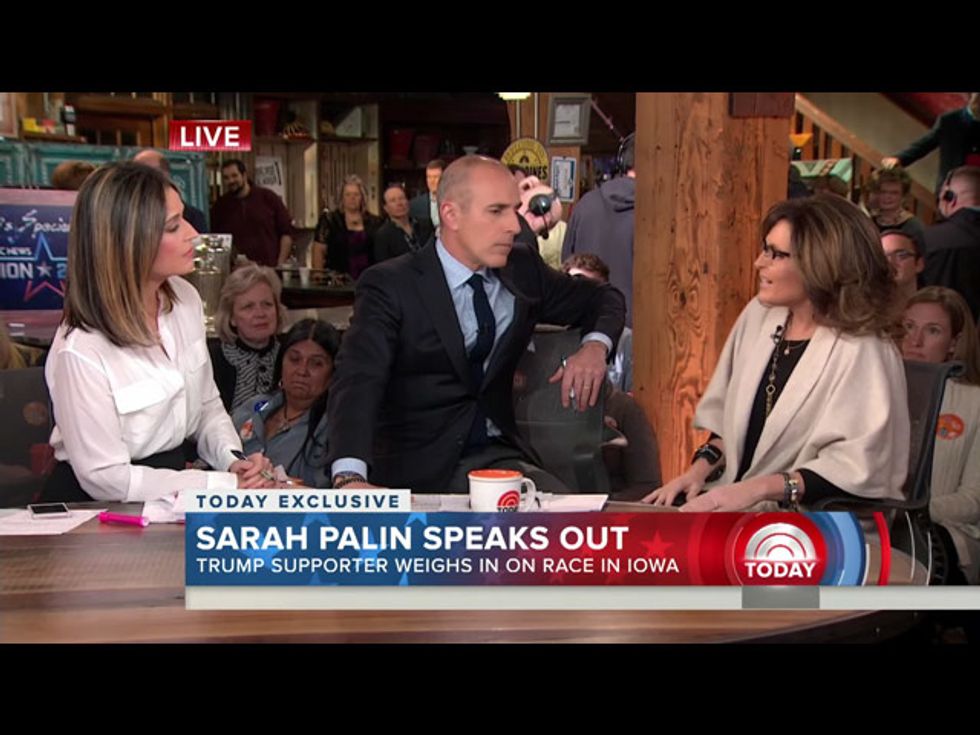 Sarah Palin appeared on TV this morning to promote Donald Trump, on the big day of the Iowa caucuses. But then she got asked about the most news-making quote she's delivered while stumping for The Donald: That President Obama was to blame for her son's arrest on domestic violence charges, because the troops get post-traumatic stress disorder after they have to "look at him and wonder" whether or not he supports them.
Palin's answer: No, she didn't say that at all — and shame on you for talking about it!
"You guys brought me here to talk about Iowa politics, and the caucus tonight — not to talk about my kids," said Palin, who was actually the one that first talked about her kids while on the campaign trail. "And that was a promise. But as things go in the world of media, you guys don't always keep your promises, evidently."
Palin went on to say maintain that she didn't make any such accusation against Obama, but simultaneously insisted that he doesn't support the troops. Matt Lauer then asked her if she wanted to take back anything she said that was offensive.
"What did I say that is offensive?" she retorted. "I don't regret any comment that I made, because I didn't lay PTSD at the foot of the president."
"I did say, though, and suggested very adamantly, that there is much more that our Commander-in-Chief can do to prove that he respects our troops and will let them do their job."
As Palin went on to criticize the media for asking her about this, Lauer then had to clarify the situation against her latest accusation.
"I just want to make sure: There were no specific promises made about the content of the interview, only that this would be your first interview since you endorsed Donald Trump."
"Well, I was told that this interview is about the caucus tonight in Iowa — and right on, who will it be to put America back on the right track and restore constitutional government that we are lacking today, and that we so need. And I said 'right on,' let me go talk about that, sure."
Savannah Guthrie could only say: "And I think we talked about that quite a bit."
Video viaToday/NBC News.
Get More to Endorse Delivered to Your Inbox