Endorse This: Speaker Paul Ryan Vs. Donald Trump — Part 2!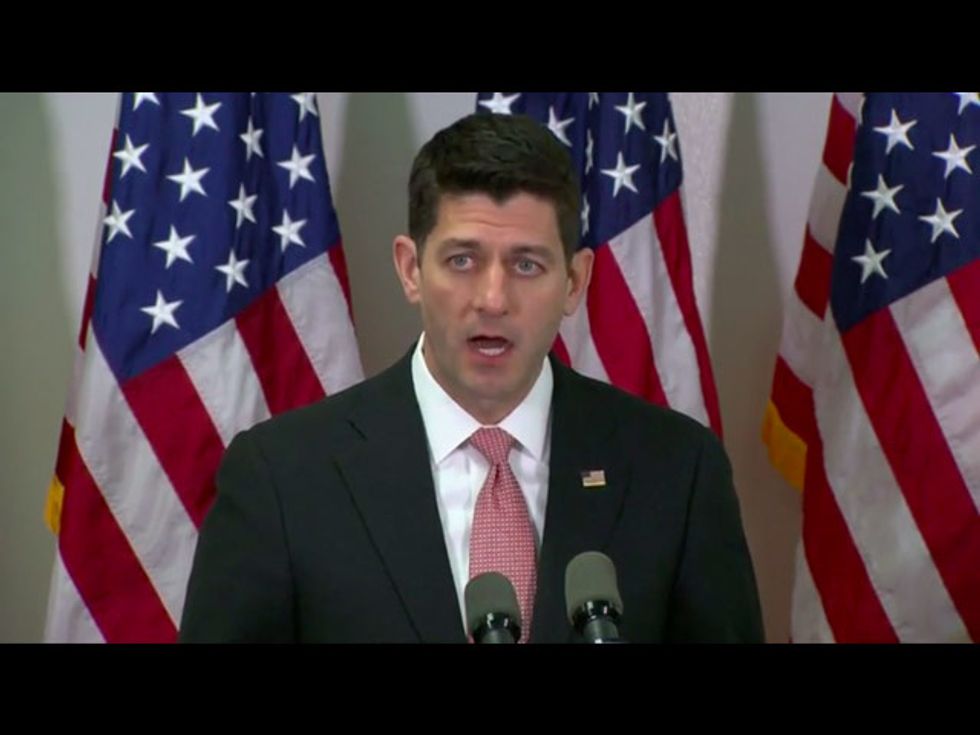 The Republican panic continues over Donald Trump, with Speaker Paul Ryan (R-WI) speaking Tuesday morning against The Donald's failure to condemn the endorsement of Ku Klux Klan leader David Duke.
This is in fact the second time Ryan has spoken out against Trump, the first time coming after Trump previously called for banning Muslims from entering the country. And keep in mind, Ryan hasn't even felt the need to say anything about the other candidates.
One problem, though: Ryan, as a Republican leader, has still pledged himself to support the GOP nominee — even if it's Trump. So will that change any time soon? (And as a bonus, many top Republicans are reportedly making plans to cut ties from The Donald if it comes to that.)
"This is the kind of moment where we should be having a serious debate about the policies needed to restore the American ideal," Ryan told reporters, reading quite earnestly and forcefully from prepared remarks. "Instead, the conversation over the last few days has been about white supremacist groups.
"As you know, I try to stay out of the day-to-day ups and downs of the primary. But I've said when I see something that runs counter to who we are as a party, and as a country, I'll speak up. So today I want to be very clear about something: If a person wants to be the nominee of the Republican Party, there can be no evasion and no games — they must reject any group or cause that is built on bigotry. This party does not prey on people's prejudices. We appeal to their highest ideals.
"This is the party of Lincoln. We believe all people are created equal in the eyes of God, and our government. This is fundamental. And if someone wants to be our nominee, then you must understand this. I hope this is the last time I need to speak out on this race. It's time to get back to focusing on how, specifically, how we can get to solving the many problems that American families are facing after seven years of Barack Obama. For now, I'll just leave it at that."
And for now, it appears he's simply leaving it at that.
Video via Reuters.
Get More to Endorse Delivered to Your Inbox