Endorse This: Stephen Colbert Interviews Cartoon Trump — 'You Probably Hate Him'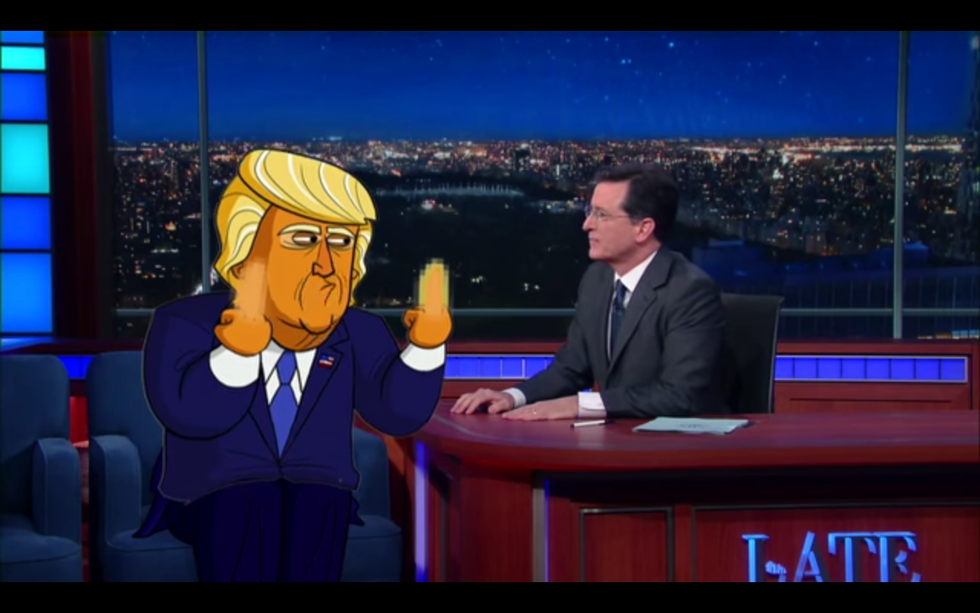 Last night, Cartoon Donald Trump staged a glorious return to The Late Show with Stephen Colbert to defend his dismal polling numbers in Wisconsin, threaten to "spill the beans" about the host, and hint that Ted Cruz's supporters "will have to be punished."
When Trump's animated doppelgänger first appeared on the show last week, Colbert announced he had "invited a slightly less cartoonish version" of the real thing, and the conversation didn't disappoint. The pair bickered about Trump's acting like a 5-year-old — "I know you are, but what am I?" — and his tic for litigation — "I'm rubber, you're glue. I have a lawyer and I will sue."
And no, it wasn't nearly as cartoonish as real life.
Have we fallen into an alternate political universe in which cartoonish outrage means political viability? Do voters, deep down, just want a show?
If Cartoon Trump's namesake makes it to the Oval Office, we'll have four years to find out.