Endorse This: The Actual Reagan Record On Iran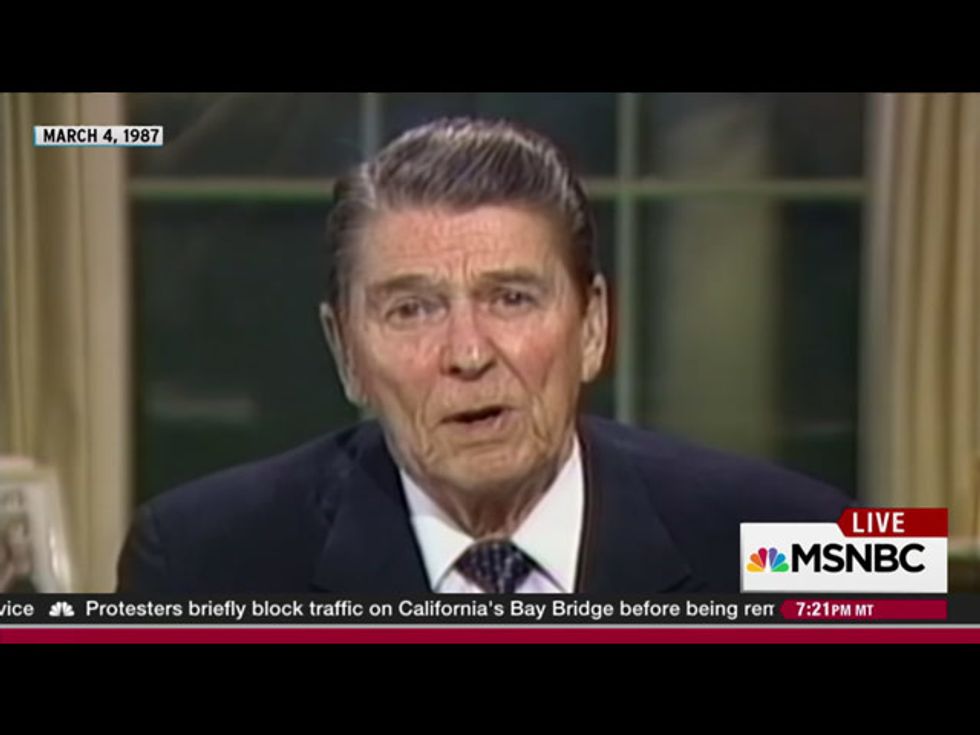 With all the talk from Republican candidates against the ways President Obama has negotiated with Iran, on issuing ranging from weapons reduction to the freeing of hostages, the most remarkable thing is how they keep citing the example of their great hero, President Ronald Reagan.
So last night, Rachel Maddow gave everyone a nice little history lesson in how Saint Ronald actually dealt with Iran to get hostages freed in the mid-1980s — and it wasn't pretty.
"And not only did President Reagan negotiate with Iran to try to get those Americans freed," Rachel explained, "he negotiated a deal that involved illegally shipping Iran a bunch of weapons. In secret. And did I mention it was illegal? And it didn't work!"
That's right: Iran did free three American hostages — but then they just took three more, in order to get more weapons from Reagan again. And the administration lied to the American public about it.
"And it was the biggest scandal of his presidency — and one of the larger and more salacious presidential scandals of all time, particularly since it resulted at one point in the criminal indictment of most of the president's serving national security staff."
Video viaThe Rachel Maddow Show/MSNBC.
Get More to Endorse Delivered to Your Inbox
[sailthru_widget fields="email,ZipCode" sailthru_list="Endorse This Sign Up"]