Endorse This: Trump Campaign Frantically Claims He's Not 'Playing A Part' To Trick Voters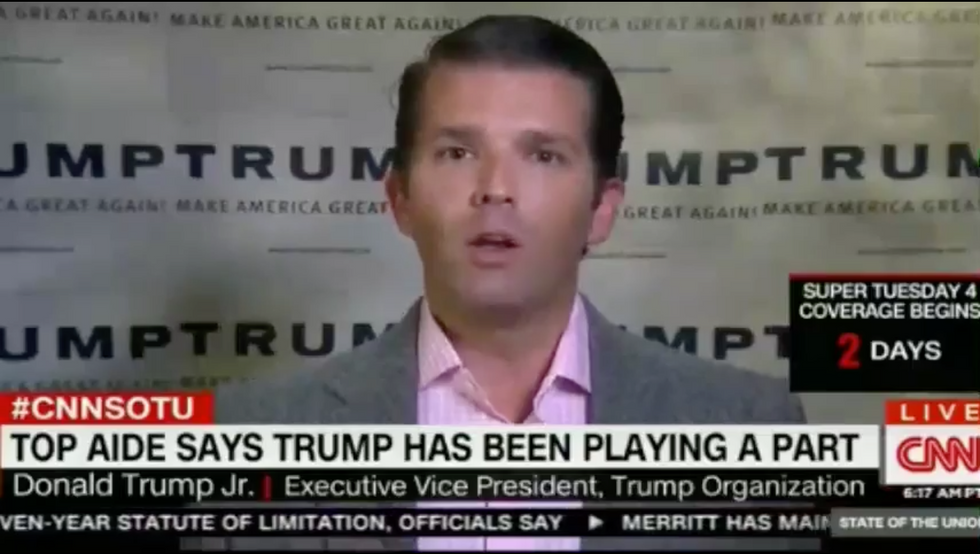 Last Thursday night, Donald Trump's chief delegate wrangler, Paul Manafort, entered what he thought would be an off-the-record, closed-door meeting with members of the Republican National Committee.
Turns out a few people in the room respect Donald Trump about as much as they respect the off-the-record policy: The New York Times and others received a recording of the Manafort's remarks that night — seemingly aimed at convincing head RNC honchos that Trump wasn't running against his own party — and suddenly, we all had an insight from Trump's top strategist:
"When he's out on the stage, when he's talking about the kinds of things he's talking about on the stump, he's projecting an image that's for that purpose."
And later:
"He gets it. The part that he's been playing is evolving into the part that now you've been expecting, but he wasn't ready for because he had to first complete the first phase."
There are two glaring issues with saying that Trump is playing a part, though each works against two completely different sets of people: RNC officials and Trump supporters.
First, if Donald Trump is playing the character of an obnoxious, racist, womanizing jerk, he's been playing that role his entire life. That character, if it is a character, is a masterful 69-year-long piece of performance art. But it will also be an extremely difficult character to stop playing. Trump has never in his life been "presidential," as he claims he would be in a general election race against Hillary Clinton, and to start now would be difficult if not impossible, even for the most successful con man on the planet.
Second, if Trump is playing a character, as Manafort claims, it will have been an insult to the millions of followers he's managed to accrue over the course of his campaign — and, in the same vein, to the millions of fans he gained as a reality TV star. That character, presumably created purposefully to gain a following, was meant to trick people into thinking Trump was the kind of business and political leader they had always wanted — in other words, the exact type of lie Trump says he hates.
On Sunday, two of Trump's closest advisors were challenged in separate interviews about the audio recording: Manafort himself and Donald's son, Donald Trump Jr.:
Let's review: Paul Manafort says the character he described really referred to the different types of… venues Trump would be speaking in? "We were evolving the campaign, not the candidate"? Really? That's pure spin, as Chris Wallace says.
Manafort was trying to sell Trump to a room of Republican elites, and he figured his most promising argument to them was that Trump has been lying all this time to his base.
And Donald Trump Jr. says that his father speaks in a certain way "to be able to draw the requisite attention that [a] topic needs."
This seems closer to the truth, not that it looks any better for the Trump campaign. Donald Trump has spoken the same way all of his life, and it's all been aimed at focusing attention on one thing: himself. His whole campaign serves the same purpose: we're all talking about Donald Trump, just like he wants.
The question, then, is what will happen when Trump isn't able to distract voters with his act? What happens when "Trump" gets old? Can he tweet his way out of an international incident? Do we want to find out?
Photo and Video: Fox News and CNN via Mediaite.