#EndorseThis: The Grifters, Trump Midterm Election Edition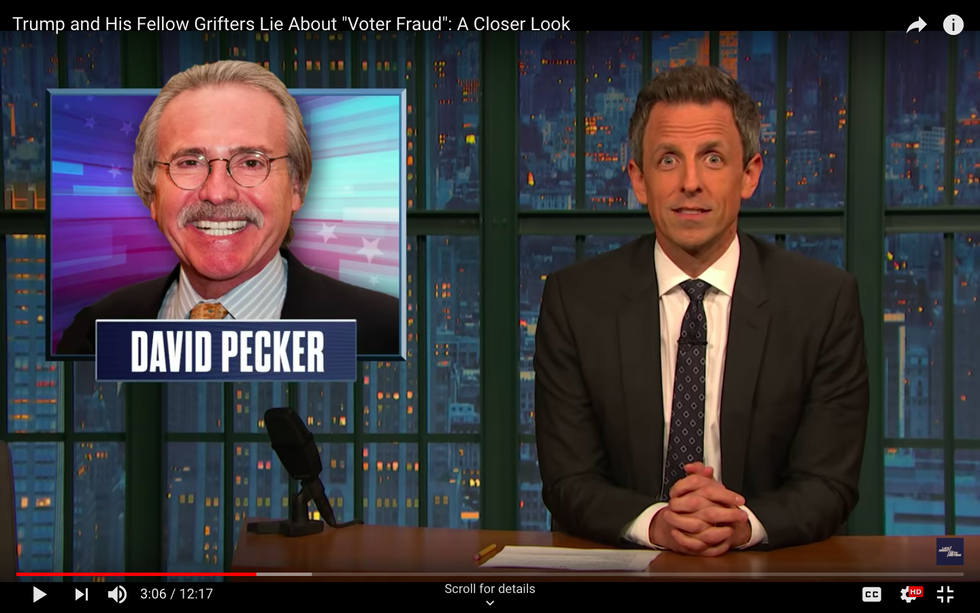 Finally someone on television penetrates to the core problem in the Trump White House — which, as Seth Meyers cogently explains, is that the president, his adult children, and many of his appointees, notably his new acting attorney general, are all grifters.
Just the other day, a new lawsuit filed in federal court accused Trump, Ivanka, Don Jr. and Eric of swindling investors in a pattern of fraud and racketeering. And Matt Whitaker, appointed to replace Jeff Sessions as the nation's top law enforcement official, promoted a firm — World Patent Marketing — that the federal government shut down as a "scam."
That might be a reason to treat with skepticism this veteran fraudster's accusations of "fraud" in the Florida election recount. He doesn't seem to understand how elections or recounts work at all — since there is no evidence of fraud whatsoever. Seth makes it all clear, plus several bonus David Pecker jokes.
Click for laughs and try not to cry.