#EndorseThis: Colbert Slays GOP Rep's Pathetic Excuses For Harassing Aide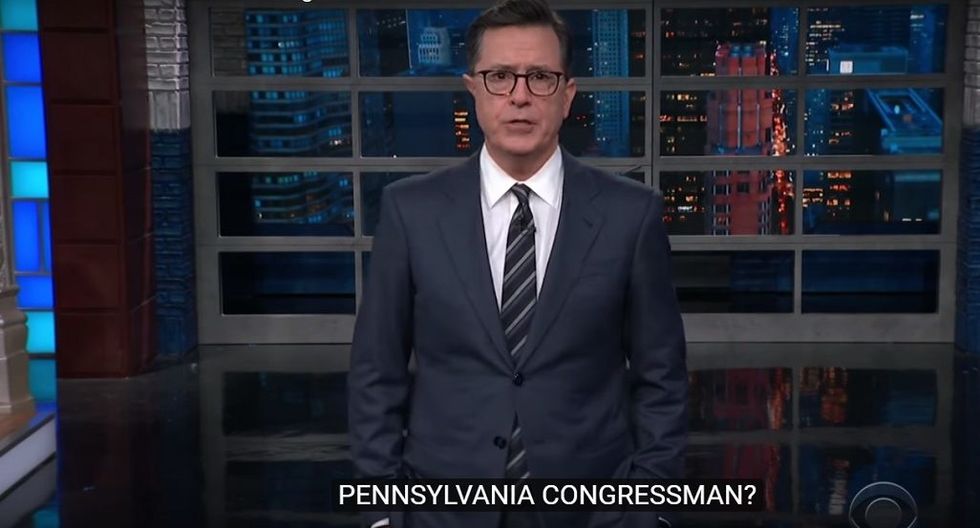 The Late Show host Stephen Colbert often throws daggers on behalf of the Trump #Resistance. But the subject of Colbert's opening monologue on Wednesday was GOP representative Patrick Meehan, a married father-of-three who is showing the world exactly what white male privilege looks like.
Meehan has been exposed for sexually harassing a female aide with love letters, verbal overtures, and finally hostile contempt after being rejected. The former second-in-command on the House Ethics Committee (!) denies all charges without really denying them, making pathetic excuses and blaming the woman for "inviting" his obsession.
Colbert gives no quarter, telling the audience that the only invitation Meehan likely got from the aide was for an out-of-court settlement. Oh yes, the Representative's blood-curdling love letters are read aloud…and the text is as stupid as it is creepy. Watch for Backbone's "take a stab" line cracking-up Jon Batiste at about the 3:00 mark.