#EndorseThis: Fallon Zings Eric Trump For Omarosa Bribe Clip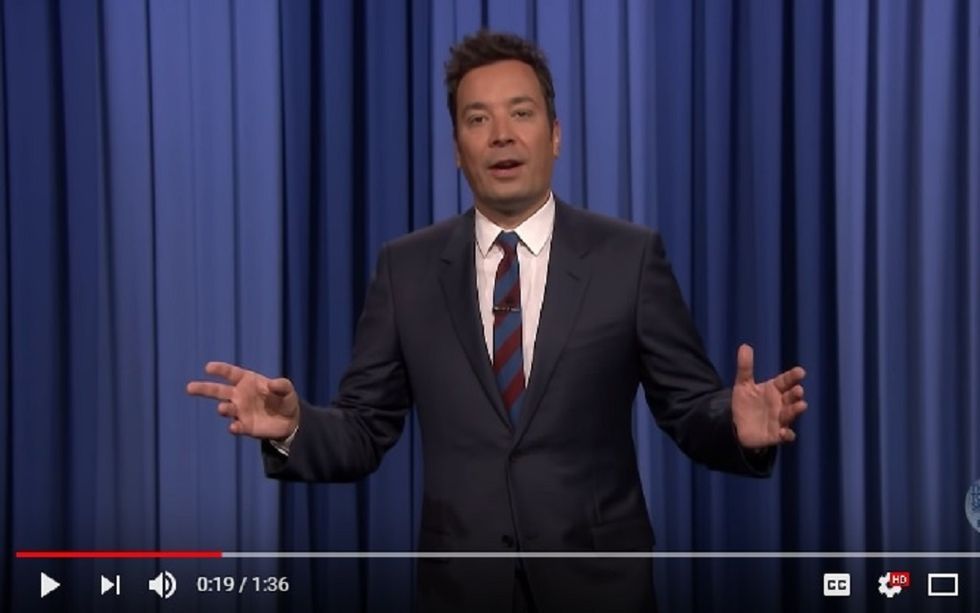 Note: Yes, the original headline of this story mistakenly credited Jimmy Kimmel, not Jimmy Fallon, with the clip described and embedded below. Lampoon us as thee will, but we absolutely did not confuse the two men, who each offer unique brands of satire. Just a miscommunication at the office. Now, back to your regularly-scheduled obtuse introduction.
Remember how transfixed the macho, (mostly) white cis-male characters in Slap Shot were with the daily soap opera on TV? "She too good for him," said the mournful goaltender.
Maybe that's the Trump family's secret for appealing to under-educated white men from the Midwest? Make everything feel just like As The World Turns,and the masses will tune into the daily drama. The latest small-studio, fuzzy camera-angle twist involves a "secret" audio recording of Eric Trump's wife Lara offering an amenable Omarosa a potential 6-figure bribe to keep quiet about her knowledge of hi-jinks in the White House.
Jimmy Fallon is fed up, and addresses the latest back-page headline with classic zingers for Omarosa and Melania Trump in the first 30 seconds of today's clip. Trump's health care wars get a little dig at the end as well, so no need to adjust that YouTube.
45 might earn a little more support if he just fessed up. This presidency is marketed as something new, but bribes and secret recordings belong to the Nixon era from 50 years ago.
Old time politics! Eddie Shore!