#EndorseThis: Former Nuclear Missile-Launch Officer: 'The Prospect Of A Donald Trump Presidency Keeps Me Up At Night'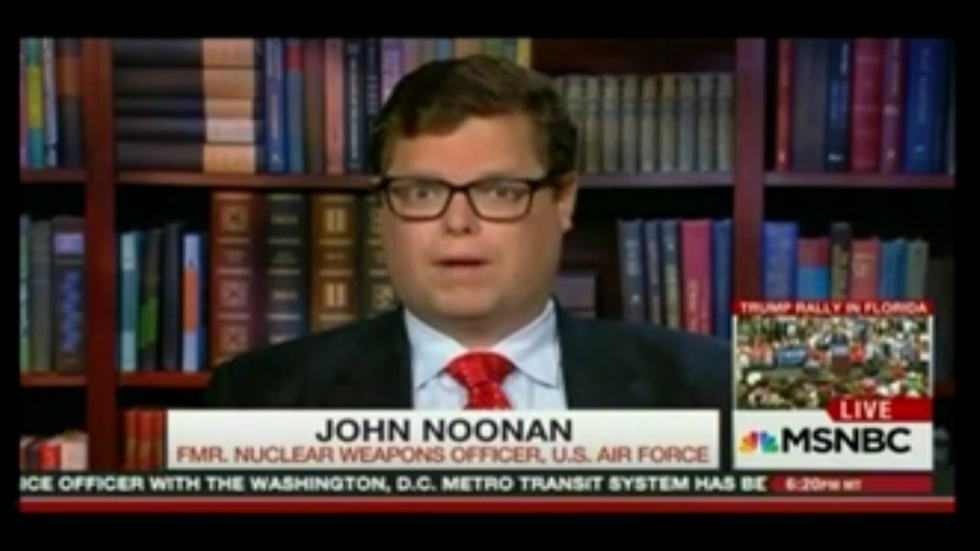 If someone who's been near the nukes is afraid of a presidential candidate, something ain't right.
Former Nuclear Missile-Launch officer John Noonan appeared on MSNBC's All in with Chris Hayes on Wednesday to elaborate on his now-viral tweets about the danger of a Donald Trump presidency.
Noonan's tweet storm came after reports that Trump repeatedly asked an advisor why the United States could not use nuclear weapons.
"Buckle the hell up," the former Jeb Bush adviser tweeted. "Nuclear deterrence is about balance. Trump is an elephant jumping up and down on one side of the scale. So damn dangerous."
Noonan, who served as a Minuteman III nuclear launch officer in the U.S. Air Force, and is now a national security expert, told Hayes that the thought of a Trump presidency keeps him up at night.
"I have several friends in the military still that are like family to me, and the thought of him as Commander-In-Chief is disconcerting. They're going to be looking to him for leadership," Noonan said. "They deserve the best leadership in the world, and I don't think they're going to get it with Donald Trump. You add nuclear forces, strategic forces to that equation and it gets ugly very fast."
Photo and video: MSNBC