#EndorseThis: Fox News Legal Guru Says Trump And Cohen Are Guilty Of Crimes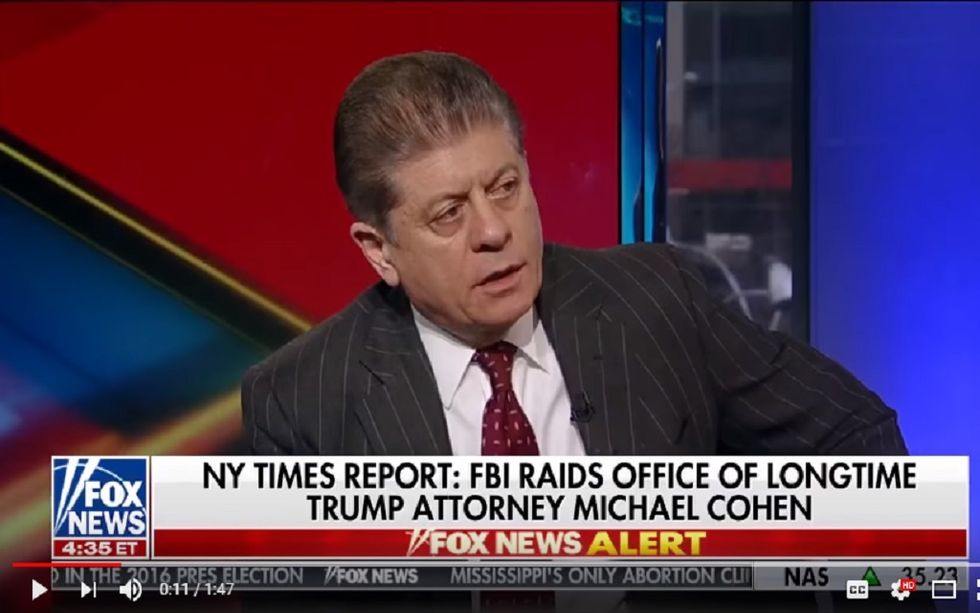 It may not sound like a blockbuster that somebody from Fox News is siding with Democrats on Trump and the Mueller investigation. Kat Timpf, Juan Williams and others have braved a backlash to oppose the POTUS on Fox. But those are liberal or at least moderate voices. Accusations of bias are inevitable, even if patently unfair.
There is no question about Judge Andrew Napolitano's right-wing leanings, though. "The Judge" has campaigned for Ron Paul, supported other far-right conservatives like Justin Amash, and isn't even a fan of the United Nations. That only gives Napolitano's brief statement on Monday night all the more weight, because there is clearly no anti-GOP bias in his heart.
The judicial guru keeps it short. The FBI must have evidence that President Trump and his attorney Michael Cohen engaged in illegal activity, he admits in the clip, or law enforcement wouldn't have raided Cohen's office. Yes, scholars like Alan Dershowitz try to defend Trump by invoking attorney-client privilege. But those rights are a moot point, Napolitano points out, if evidence of criminal behavior by the President has been identified.
Click to hear Fox News start to wake up…and leave Trump without a party to pee on.