#EndorseThis: John Oliver Approves Of Tim Kaine, 'America's Cool Step-Dad'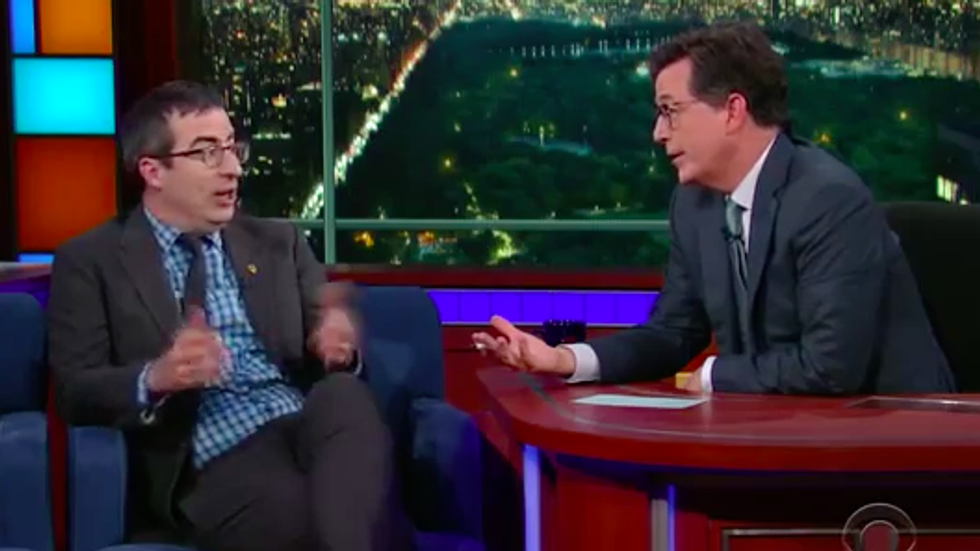 John Oliver stopped by the Late Show with Stephen Colbert on Wednesday to say he's all in for Hillary Clinton's vice presidential pick, Tim Kaine.
The Democratic National Convention had an all-star list of speakers on its third night — President Obama, Joe Biden and even Michael Bloomberg brought down the house with their takedowns of Donald Trump and fiery endorsements of Clinton.
Kaine, who was relatively unknown nationally until he was chosen as Clinton's running mate last week, introduced himself to much of the nation Wednesday, and Oliver approved of the Virginia senator's "cool step-dad" approach.
To Oliver, Kaine won the night. "Forget the President," he said. "Tim Kaine is where it's at."
After this election cycle — "18 months of hell" — Kaine's dad jokes, "soft" face, and successfully-awful attempts at a Trump impression were exactly the "tall glass of Lactose" America needed.
Photo and Video: CBS/ Late Night with Stephen Colbert