#EndorseThis: John Oliver Scolds The Queen Alone In Royal Wedding Rant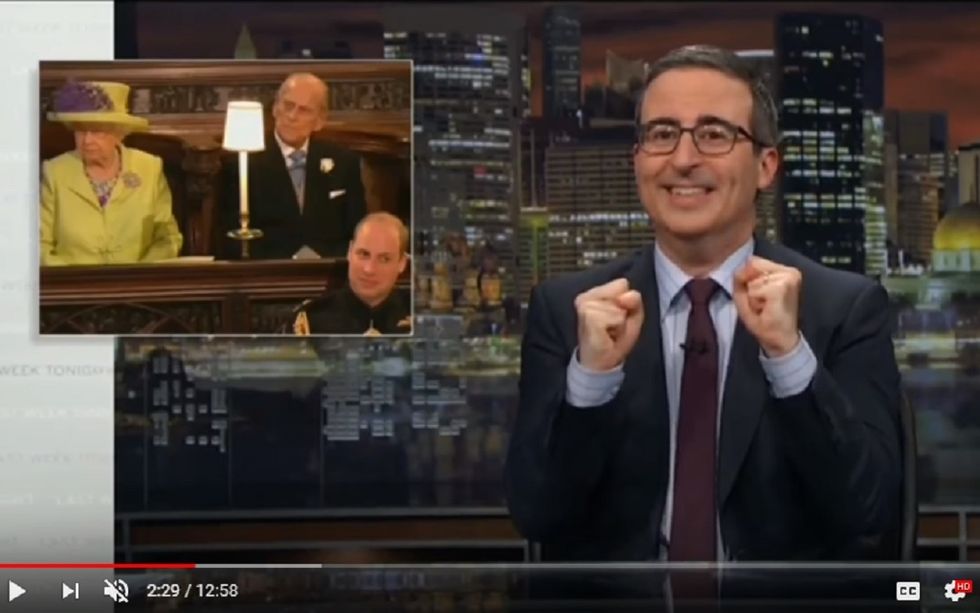 Our headline for Monday morning's #EndorseThis is a bit deceiving. John Oliver does not begin his rant on Prince Harry and Meghan Markle's royal wedding with a snooty impression of Queen Elizabeth II.
An obsessed state-side media is Oliver's first target. The comic plays footage of wedding-broadcast announcer Gayle King croaking out a James Blunt song for not one, not two, but three cringe-worthy choruses. In the afterglow, King compares the "bottoms" of Markle and Princess Diana approximately 37 times, oblivious to the double meaning.
Don't worry, reassures a devilish Oliver. Brits are too blue-blooded to lust after a bride's bottom without collapsing.
Then the monarchy gets finally gets the needle. The HBO host bubbles over in glee when royal family elders appear to sulk and fall half-asleep during Bishop Michael Curry's sermon. Just listening to Curry talk about music and dance seems to tire them out. In response, Oliver launches into a send-up of Elizabeth that is as affectionate as it is vicious.
Click for a queen's tantrum.