#EndorseThis: Jon Stewart Helps The Media Get Its Groove Back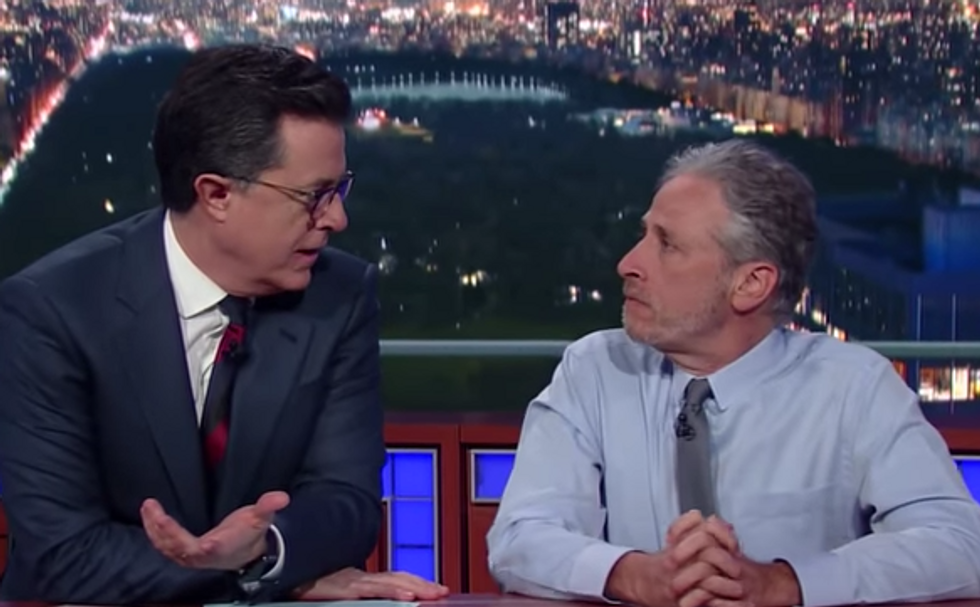 It's in dire times like these that America misses its favorite living satirist, Jon Stewart. Luckily for all of us, he left the farm and crawled out of retirement — through a tunnel directly to the Late Show — to address the media's toxic relationship with Donald Trump.
Addressing Trump's obsession with lying as a means to prove his alternative facts, Stewart ran down the usual list of Trump's lies from his electoral win to the country's murder rate. Then Stewart borrowed a page from Senator Tim Kaine's Democratic Convention speech as he pinpointed the president's obvious tell — the phrase "believe me." When Colbert feigned skepticism, Stewart rolled a montage of Trump's tell to hilarious effect.
Stewart did not let the media off easy, and offered this advice for dealing with Trump's never-ending lies — stop whining.
"This breakup has given you an amazing opportunity for self-reflection and improvement," Stewart admonished. "Take up a hobby! I recommend journalism."
You don't want to miss his (latest) triumphant return to late night. The guy can't stay away…