#EndorseThis: Jon Stewart Makes A Glorious Return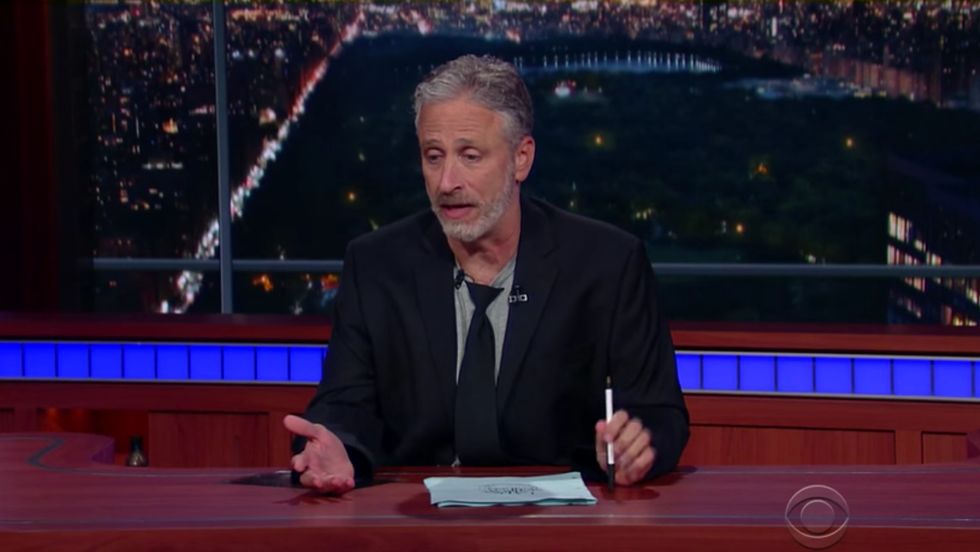 Since Jon Stewart replaced his cutting, cynical TV gig leading The Daily Show with a lower key one on an animal sanctuary in New Jersey, his fans have asked incessantly: "Why leave right before a presidential election?!"
At the time, Stewart said he was tired of the job.
"These things are cyclical," he told The Guardian. "But the cycles have become longer and maybe more entrenched, and then you realize, 'Okay, I' on the back side of it now.'"
Stewart's slow crawl out of retirement to comment on Donald Trump's candidacy, then, was likely the result of one of two scenarios: Trump woke up Stewart's long-buried comic rage, or Stewart feels some sense of civic duty to convince his millions of fans — many of them young #BernieOrBust people — that Trump isn't worth falling on the sword over, to say the very least.
Yesterday, on Stephen Colbert's Late Show, it seemed to be a mix of both. Stewart brought the righteous rage he's known for and pointed it at perhaps his favorite target over the years: Sean Hannity and his endless hypocrisies.
The Fox team — Hannity in particular, but also Bill O'Reilly and Lou Dobbs — have fed Trump interview answers and shilled for his senseless rants for a year now. Stewart presented an indictment of the system that created Trump, and his argument against Trump's fascistic claims on patriotism.
Photo and video: CBS