#EndorseThis: Kimmel Rips Trump's Impeachment Alibi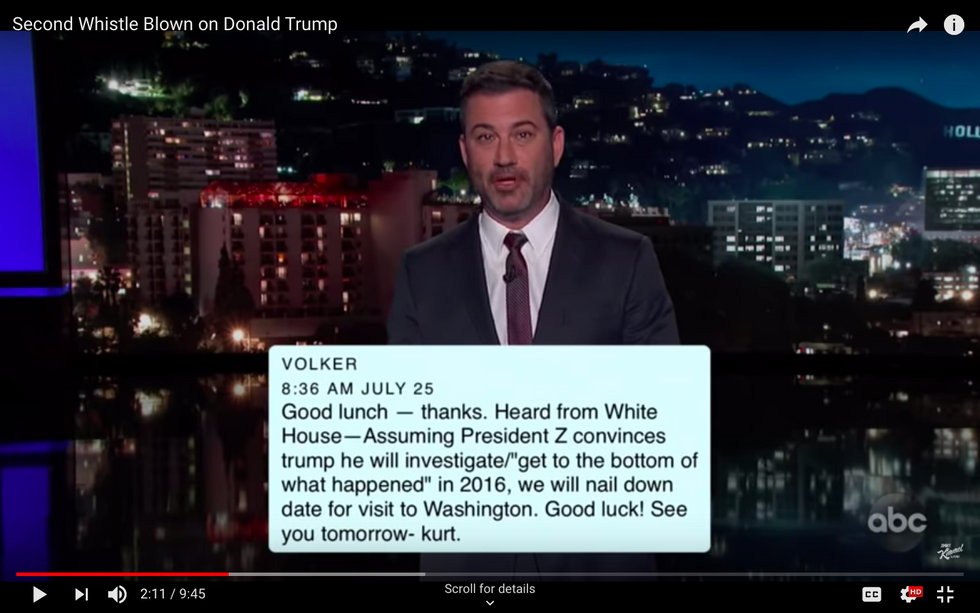 As Trump sinks deeper into the mire of impeachment, Jimmy Kimmel is monitoring the president's defenses. He notes Trump's claim that his demand for Ukraine to investigate Joe Biden has nothing to do with Biden running for president against him.
"I don't care about politics," Trump told reporters."I only care about corruption."
"So do we," retorts Kimmel, "and that's why you're getting impeached."
Looking at the evidence piling up — transcript, tweets, and whistleblower testimony — the comic thinks Trump would fare poorly in a TV courtroom. "He'd be done on Judge Judy before the first mesothelioma commercial."
He deals with Trump's move to pull US troops from Syria, betraying our Kurdish allies, and the weird tweet in which Trump threatens to "obliterate the Economy of Turkey (I've done before)" if Turkish President Erdogan does anything untoward.  That impresses Kimmel: "One step out of line and he will run Turkey into the ground like it was one of his casinos in Atlantic City!"
Click and chortle.