#EndorseThis: Kimmel Slams Trump As Do-Nothing President On 500th Day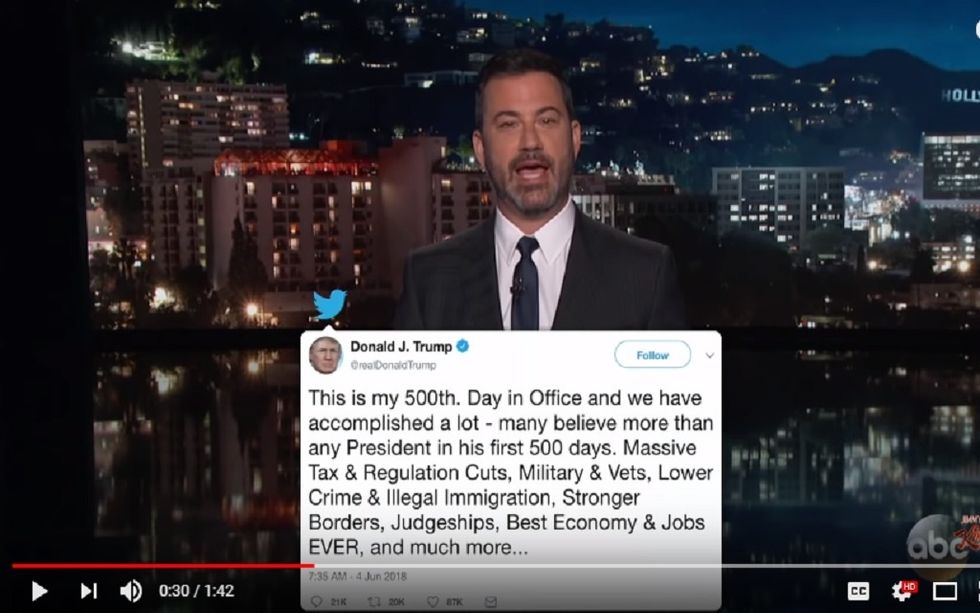 It's a bigly week for President Trump. Monday marked his 500th day in office since taking over for Barack Obama.
Jimmy Kimmel notes the occasion in his opening monologue, going through a list of Trump's "greatest ever" accomplishments. As usual, Jimmy sticks the needle in 45's hot air, showcasing the President's vain tweet listing his policy moves.
First the trademark grammatical error, "500th. Day in Office." Next is "tax & regulation cuts" (mostly benefiting big business owners) followed by "military & vets" (yes, they exist) and "Best Economy and Jobs Ever" (manufactured solely by Trump of course).
Jimmy has other ideas as to Trump's most prolific endeavor during his 500 days. Don't peek at the "tags" for this video…it might give it away. (So might the thumbnail preview.) Instead, click for a classic from one of America's great satirists.