#EndorseThis: Nicole Wallace Builds A Wall, And Trump's Gonna Pay For It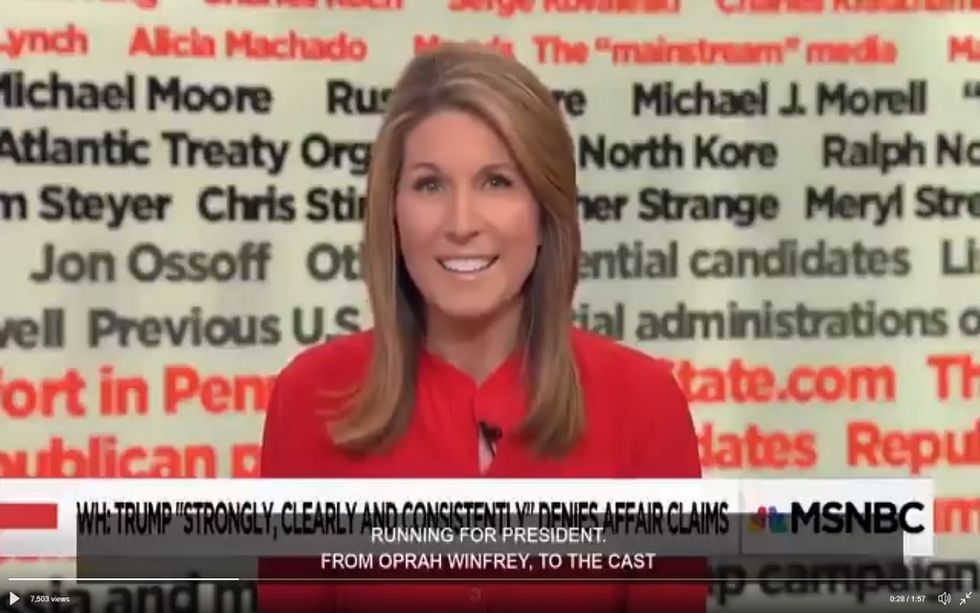 How can President Trump's vitriol toward the world be expressed in one image? Leave it to an unlikely source – Nicole Wallace, NBC News titan turned troll-extraordinaire.
Or at least that's what Twitter is calling her after a memorable gambit on MSNBC's Deadline: White House. Faced with the unfathomable task of describing Trump's years of aggressive rage and personal attacks in only one segment, Wallace builds a wall.
At least 400 names and organizations litter the mural of a President's hatred, including all of the people 45 has insulted since announcing his candidacy in 2015. Musicians like Jay Z and Neil Young. Members of Trump's own campaign team like Chris Christie. Pundits such as, well, Nicole Wallace.
Stormy Daniels is oddly missing from the wall of Trump targets, showing once again that the only way to Donald's heart is through the backside. Click to see the POTUS take a whole different kind of spanking.
.@NicolleDWallace created a wall with all of 400 plus people Trump targeted..
🤙👏👏
Nicole Wallace: Troll Extraordinaire pic.twitter.com/AxFgtHDkfG

— ALT- Immigration 🛂 (@ALT_uscis) March 27, 2018