#EndorseThis: Radio Host Refers To Elizabeth Warren With Stereotypical 'War Whoops'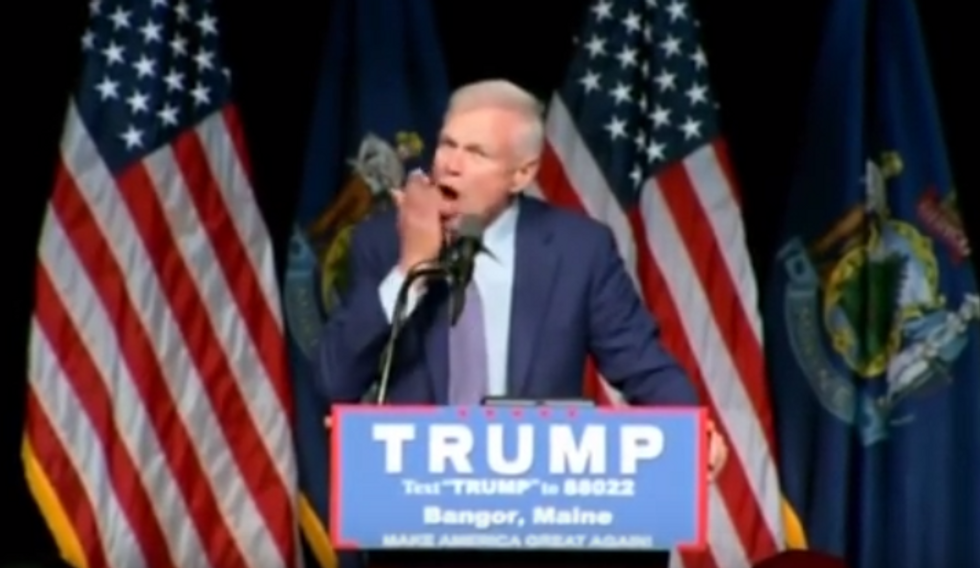 Donald Trump rallies are no strangers to controversy, and yesterday's appearance in Bangor, Maine with Governor Paul LePage promised to have a healthy dose of cringe-worthy remarks for internet columnists to enthusiastically snarl about. Cue Howie Carr, the conservative Boston talk-radio host, who introduced LePage and referred to Elizabeth Warren by placing his hand on his mouth in a stereotypical Native American "war whoop."
As Carr later wrote in his Boston Herald column, "I was speaking extemporaneously when I free-associated Fauxchohantas' name, and suddenly a war whoop seemed appropriate for the occasion." Trump, he says, advised him not to apologize.
The presumptive Republican nominee and several of his surrogates have attacked Warren over formerly listing herself as a minority on the Association of American Law Schools directory when she was a professor and for being promoted as a Native American at Harvard Law School. A genealogist indicated that she might be 1/32 Native American, but the Washington Post "Fact Checker" blog found that the evidence was essentially inconclusive. Trump surrogate and erstwhile Warren Senate opponent Scott Brown called for a DNA test Monday, but even with current technology, it would be highly difficult (if not impossible) to trace Warren's Native American ancestry using this method.
The controversy over Native American heritage actually began in the 2012 Warren-Brown race. Brown staffers were also filmed doing "war whoops" at the time. During the race, Warren stated that she had never received advantage from referring to herself as Native American.
Elizabeth Warren has recently come out swinging for Hillary Clinton, and she has been attacking Trump in speeches, interviews, and Twitter posts for months. Today, she tweeted about a new J.K. Rowling story that takes place in a wizarding school in Massachusetts:
Looking for a Defense Against the Dark Arts prof, @jk_rowling? Where do I apply? Trump, Death Eaters – I got this! https://t.co/TDgHbeyApU

— Elizabeth Warren (@ewarren) June 29, 2016
Photo: YouTube/Victoria Applegate