#EndorseThis: Rep. John Lewis Leads House Sit-In For Gun Control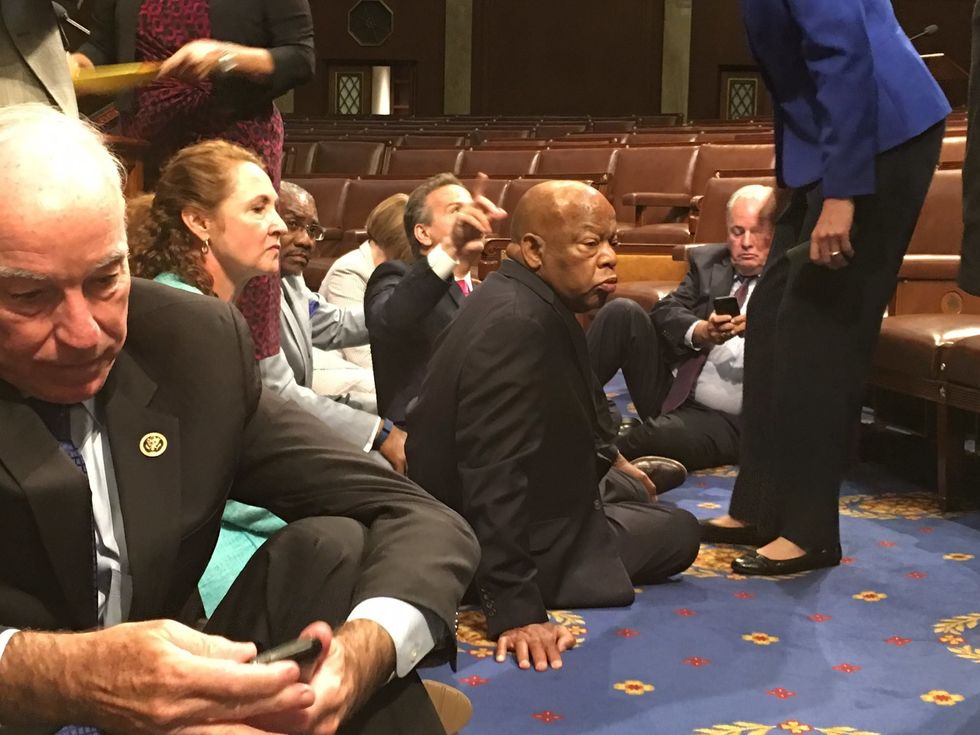 Two days after the Senate rejected four gun control measures, dozens of House Democrats, led by Georgia congressman and civil rights icon John Lewis, have staged a "sit-in" on the House floor in an attempt to force a vote on a "No Fly, No Buy" bill.
"As the worst mass shooting in our nation's history has underscored, our country cannot afford to stand by while this Congress continues to be paralyzed by politics," Lewis wrote in a letter, urging Speaker Paul Ryan to skip the planned congressional recess in order to debate and vote on new gun control legislation.
"Now is the time for us to find a way to dramatize it, to make it real," Lewis said after the daily recess, as Democrats took over the floor. "We have to occupy the floor of the House until there is action."
Representatives have been sitting on the House floor since a little after noon, chanting "No bill, no break" after each speech.
Rep. John Yarmuth of Kentucky, Rep. Dale Kildee of Michigan, Rep. Cedric Richmond of Louisiana, Rep. Joyce Beatty of Ohio, Rep. Frederica Wilson of Florida, and Rep. Joe Courtney of Connecticut are some of the representatives joining the effort for stricter gun control laws.
MSNBC has reported there are upwards of 60 Democrats on the House floor. But it's hard to get a firm idea of how many are involved. Buzzfeed reports why:
Shortly after they sat down, the House went to recess and the cameras were turned off. Because the House was not formally gaveled into session, the sit-in was not being televised. The House studio has control of the cameras inside, according to C-SPAN who clarified that the network was not responsible for the lost feed.
A recent CNN poll found that 85 percent of respondents were in favor of banning those on terror watch lists from buying guns.
Update: CSPAN seems to be broadcasting a Periscope stream from the House floor. Watch here. 
Photo: Congressman John Yarmuth on Twitter.