#EndorseThis: Rudy Giuliani Says "I Saved A Lot More Black Lives Than Black Lives Matter"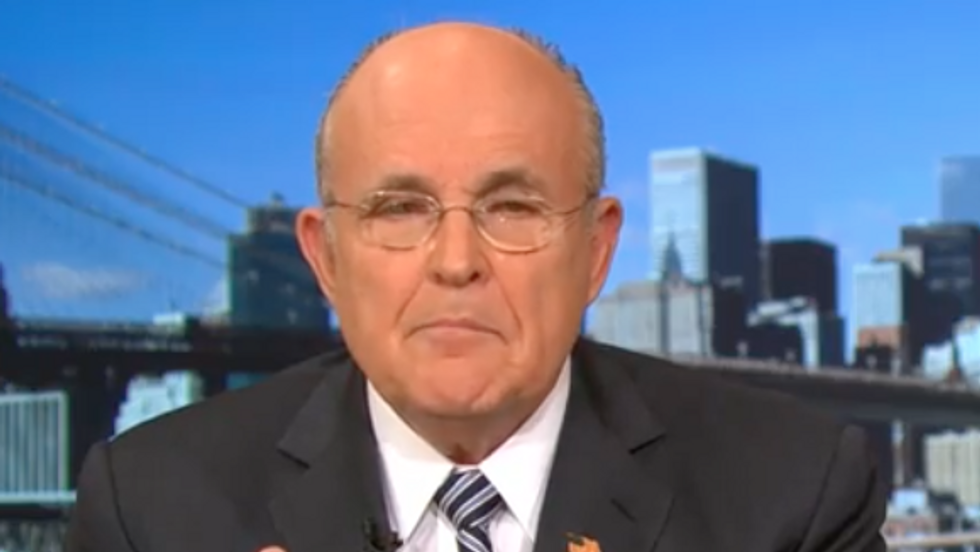 This morning, Rudy Giuliani returned to a cable talk show to defend his allegation, on another talk show, that the Black Lives Matter movement was "inherently racist."
In case you missed Giuliani's Sunday comments on Face the Nation: The former New York City mayor appeared on the CBS show and criticized the phrase "black lives matter" as "anti-American and […] racist," since he said it was divisive, ignored deaths of individuals of other races, and underplayed the deaths of African-Americans at the hands of other African-Americans.
As the show's host, John Dickerson, and CBS This Morning host Gayle King mentioned earlier today, though, Giuliani's argument rests on a tenuous perception that the Black Lives Matter movement is promulgating a view of black lives as more important than the lives of others.
"Anybody in the Black Lives Matter movement has never said that 'black lives matter more than yours.' No one's ever said that," King said. "They're just trying to bring attention to the cause that a lot of black unarmed men are being shot by white police officers."
This morning, Giuliani took to Fox & Friends to defend his remarks, repeating his statements and saying that in his term as mayor he helped protect African-Americans by decreasing the murder rate. "I believe I saved a lot more black lives than Black Lives Matter," he added, reiterating his oft-repeated claim that 90 percent of black homicide victims are killed by other black people.
As the Washington Post "Fact Checker" column has already shown, though, this claim is misleading. While the approximately 90-percent figure is accurate, it ignores that 84 percent of white homicide victims are killed by whites. The figure basically implies that homicide victims are most often killed by people they know, and that most Americans' social worlds are mostly made up of people of similar racial backgrounds.
And while Giuliani is correct that homicides did decrease during his mayoral tenure, from 1994 to 2001, he said that he left office with "500 plus murders" — the real figure is actually 649, according to the New York Police Department. In fact, the drop in New York City murders parallels the nationwide drop in the homicide rate from seven per 100,000 people in 1993 to around four per 100,000 in 2001.
Photo: YouTube/Face the Nation on CBS