#EndorseThis: SNL's Proud, Poignant Rap Tribute 'Jingle Barack'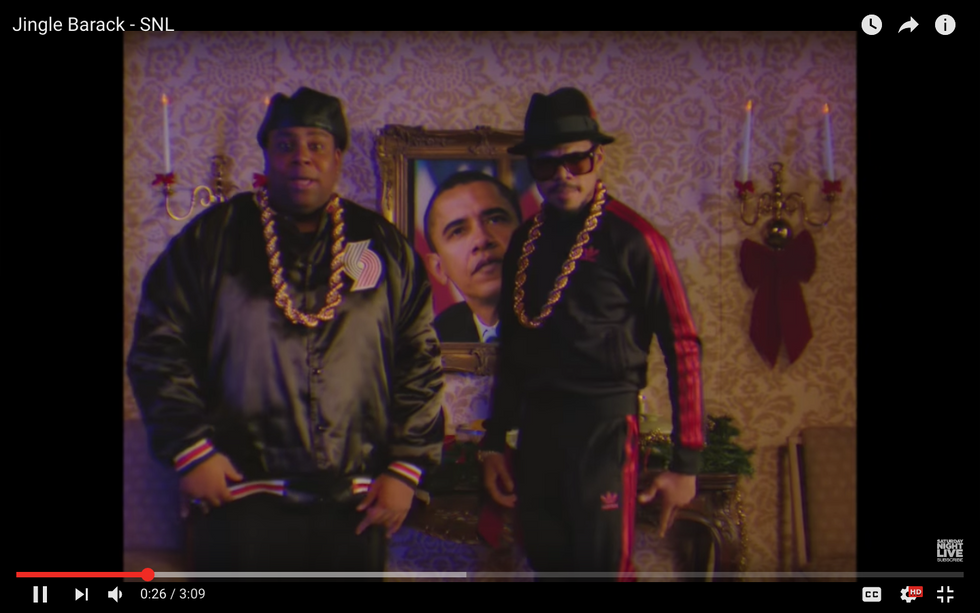 With Barack Obama celebrating his last Christmas in the White House and a Trump winter looming, Kenan Thompson and Chance the Rapper deliver a cleverly ominous tribute on Saturday Night Live, joined by Leslie Jones, who declares her affection for Joe Biden, and Casey Affleck as Jesus ("we didn't know you were a Democrat!").
"Been drinking eggnog like I don't care, I'm gonna hurt myself before we lose Obamacare," raps Chance in this takeoff on the Run-DMC classic Christmas in Hollis (Queens), titled Jingle Barack. And when Santa Claus appears in a #MAGA cap, paterfamilias Darryl McDaniel of the original Run-DMC sternly warns: "Never trust a white dude wearing no red hat."
It's a funny, sad, and profound expression of pride and pain, as well as foreboding — with a poignant cameo by the president himself at the very end.