#EndorseThis: Stephen Colbert Exposes Tucker Carlson As A Panda Plagiarist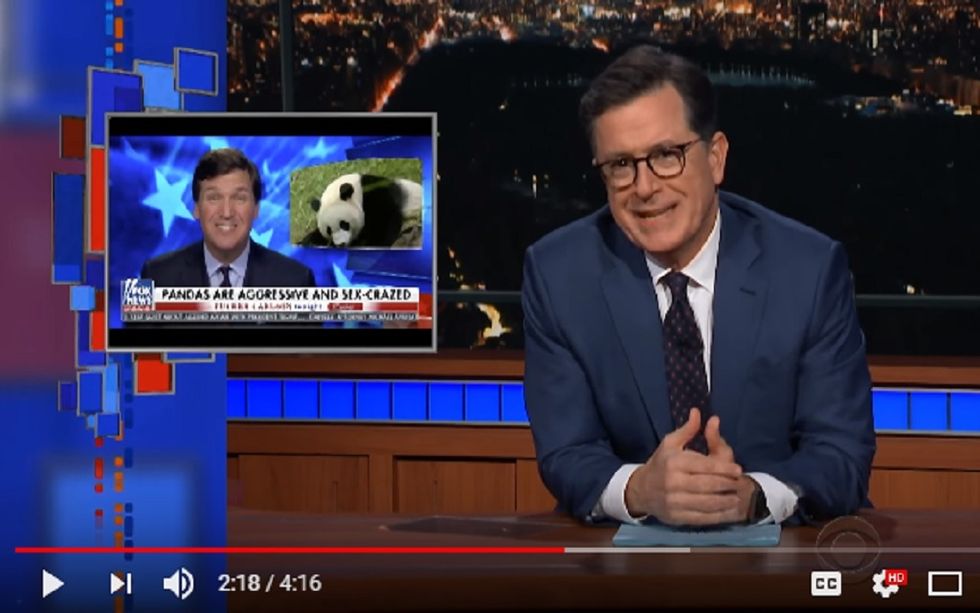 Media bias is identifiable by which stories are not covered as much as by screaming headlines. We didn't hear much about the booming Clinton economy from Rush Limbaugh in the 90s. Recent gains in the stock market have been soft-pedaled on liberal websites, maybe because the profits are as hollow as Limbaugh's brain.
Leave it to Fox News to take the cake. Fox host Tucker Carlson is guilty of one of the year's worst sins of omission, beginning Wednesday night with an absurd talk on violent sex-crazed panda bears. White House lawyer Michael Cohen's offices were raided this week, as the FBI investigates the sex-crazed bear in the White House. It's a huge development. But Tucker seems more interested in animal porn than Stormy Daniels.
Stephen Colbert isn't about to let it slide. In today's clip, Colbert zings Carlson for running a stinker of a lead story to try to protect President Trump. But that's not all. Tucker actually plagiarized the crazed panda story from Backbone himself. Stephen already nailed the story in 2011…and he's got video to prove it.
Click for vintage Colbert footage, and further embarrassment for Fox News.