#EndorseThis: Trevor Noah Casts Bob Mueller, Stormy Daniels In Fifty Shades Of Trump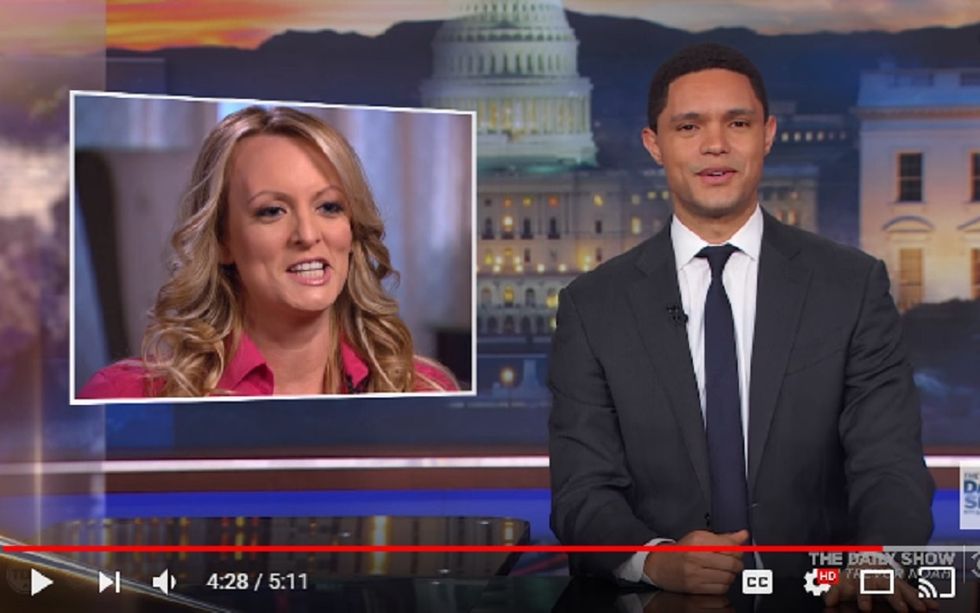 We've established at #EndorseThis that Trevor Noah is a comedian of forbearance. Often, the jokes told early in his monologues seem less-funny on purpose, as the audience is set up for giggles followed by roaring laughter when the covfefe hits the fan.
To be fair, Noah is solid gold from the start in today's clip, beginning with President Trump's foolhardy decision to bring "Mr. Mustache" John Bolton's warmongering influence to the White House. Trevor hints that Trump is making wild, unhinged moves as rapidly as possible to keep the news cycle speeding past his legal and marital sins.
But of course, it's a set-up for what comes next. Upon learning from Stormy Daniels that Trump was more relaxed and easygoing after some cringe-worthy BDSM play, Noah comes to the conclusion that Special Counsel Robert Mueller should drastically change tactics. Let's just say Mueller should show up for the Trump interview with a full magazine of ammunition and maybe a whole "Swat" team.
Click for a dose of 50% gross, 100% hilarious legal advice from the Daily Show's maestro of satire.