#EndorseThis: Trump Asks Turkish Journalist 'Friend Or Foe?'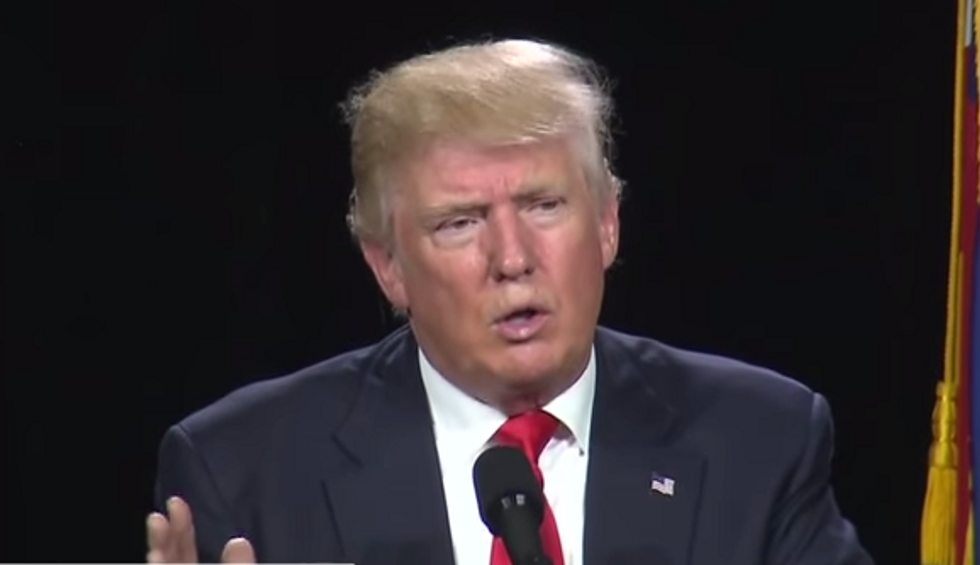 If you're keeping score, don't forget to include a comment from this past weekend in your tally of racially-tinged and xenophobic comments that Donald Trump has made in his campaign for president. We here at The National Memo have lost count.
At a rally in Denver, Trump was briefly distracted while listing Middle Eastern countries by a man in the crowd who reminded him to mention Turkey.  After learning that the speaker was Turkish, Trump tactfully replied, "I think he's friend. Are you friend or foe? I think he's friend."
This just three days after a triple suicide bombing took the lives of 45 people and wounded hundreds at Turkey's Istanbul Ataturk Airport.
It is unclear how Trump made the snap judgment that the man –Turkish journalist and columnist Yusuf Serce — was a friend, other than the tried-and-true method of looking into his eyes and mystically determining that he was a good person.
In fact, given the Trump campaign's historically fraught relations with the press, it might have been more prudent to treat him with more caution, in case he wrote an article about Trump that, like anything from the Washington Post staff, was perceived by the candidate as "dishonest" and "phony."
After the event, Serce tweeted that he "just wanted to let him say what he wants to say," and seemed to have had a generally positive experience. Which is nice.
You can call him as you want, but I call @realDonaldTrump a 'kind' man. At least to me today pic.twitter.com/QI3eFH5rmW

— Yusuf Serçe (@yusufserce) July 1, 2016
Trump went on to mention that he has investments in Turkey and that he believes the country "should be fighting ISIS." (Turkey has somewhat ambivalently contributed to international efforts to combat the terrorist group.) As Time's Tessa Berenson has noted, this is not the first time that Trump has asked members of the audience whether they were friends or foes. Someone should tell him that the fourth estate is supposed to be combative.
Photo: YouTube/CNN