#EndorseThis: Is Trump A F***king Moron? Colbert Has His IQ Score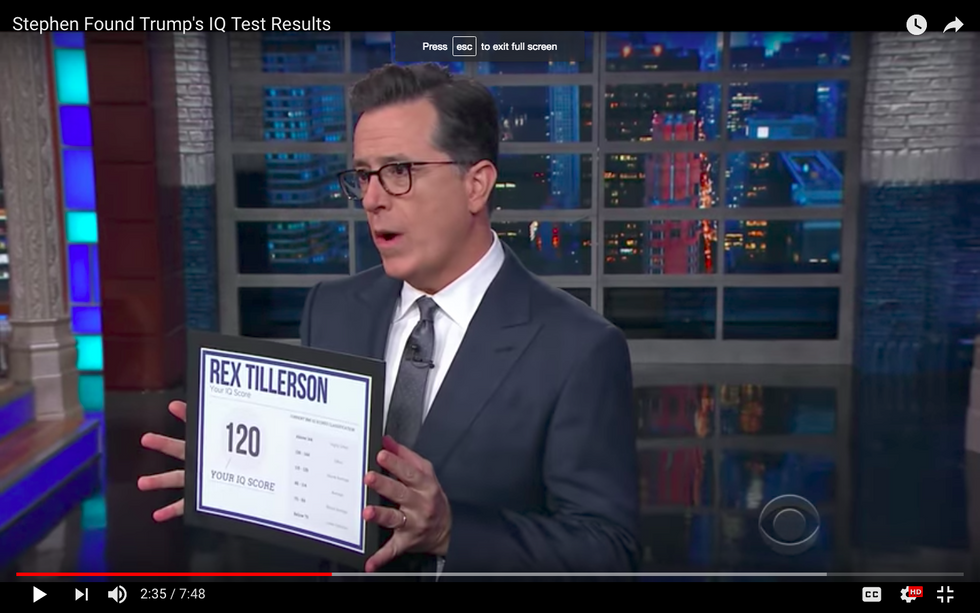 Donald Trump's explosive feud with his own Secretary of State — who reportedly called him a fucking moron — is a disaster for diplomacy, but a cornucopia for late-night comedians.
Trump responded to Rex Tillerson's alleged insult with a challenge. "I think it's fake news," said the president, "but if he did [call Trump a moron] I guess we'll have to compare IQ tests. And I can tell you who's going to win."
For Stephen Colbert, Trump's childish retort offered its own irresistible challenge: What is Trump's IQ?
The Late Show host goes on to discuss Senator Bob Corker's "bowel-loosening opinions about our president," based on the Tennessee Republican's personal knowledge as chairman of the Senate Foreign Relations Committee. Preventing World War III may be why the White House staff, notably chief of staff John Kelly, tries to manage Trump "like a toddler" by employing various "distractions."