#EndorseThis: Colbert Says Trump 'Had Some Problems With The Truth' At Debate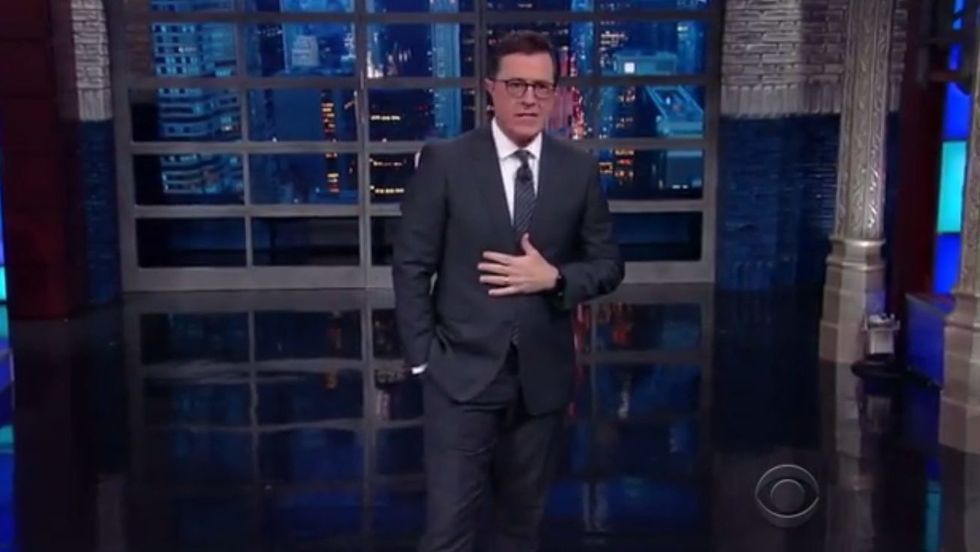 According to "Late Show" host Stephen Colbert, GOP nominee Donald Trump "had some problems with the truth" at the first presidential debate.
"Everyone's trying to figure out who won," Colbert said. "Which is kind of silly, because both sides are going to say they won."
Colbert began by complimenting Trump for his handshakes with Hillary Clinton ("women") and Lester Holt ("minorities"). He then began to hit The Donald for his obvious issues with truth-telling, pointing out that Trump had "made more than 34 comments that were either lies or misstatements, while Clinton was tagged with four."
The host continued, using one of Trump's favorite phrases: "A lot of people are saying Trump didn't seem prepared—possibly because he was not. Apparently Trump's advisers said it was a waste of time to try to fill his head with facts and figures."
Colbert also noted that Clinton had an "obvious" plan to get under Trump's skin and that it worked.
"She brought the orange peeler," he said. "She got in there."
Watch below:
Photo and video via The Late Show/YouTube