#EndorseThis: Why Trump's Twitter Assault On Mika Is "So On Brand"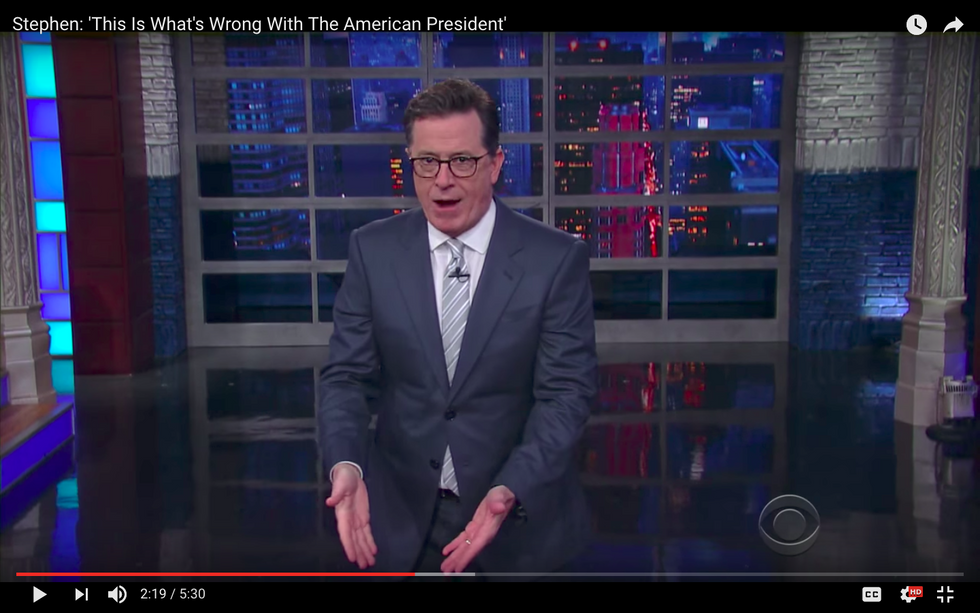 Do you feel jaded by the daily offenses of the man serving as POTUS? Does Trump seem to have degraded the office of the presidency so radically that nothing he says or does can awaken a sense of outrage?
Stephen Colbert says he felt that way too — until yesterday, when Trump's sickening misogynist Twitter attack on MSNBC host Mika Brzezinski zapped his consciousness and woke him once more.
"I thought by now my soul had calcified into a crouton," the Late Show host admits. But no, he can still react — and before him, in a pair of tweets, Trump had spread a veritable "buffet of [bleep]."
On reflection, Colbert understands that abusing Mika is nothing new, only more of the same old [bleep]. "So on-brand," as he says, noting that Melania, who once touted herself as an opponent of cyber-bullying, turns out to be its biggest fan. The second biggest is the egregious Sarah Huckabee Sanders, who seems to think this is how a president should behave (because he pays her salary).
Yeah, it's scary that this petty creep is the leader of the free world. Just in case you forgot.