Energy Boom Brings New Focus On Rail, Pipeline Safety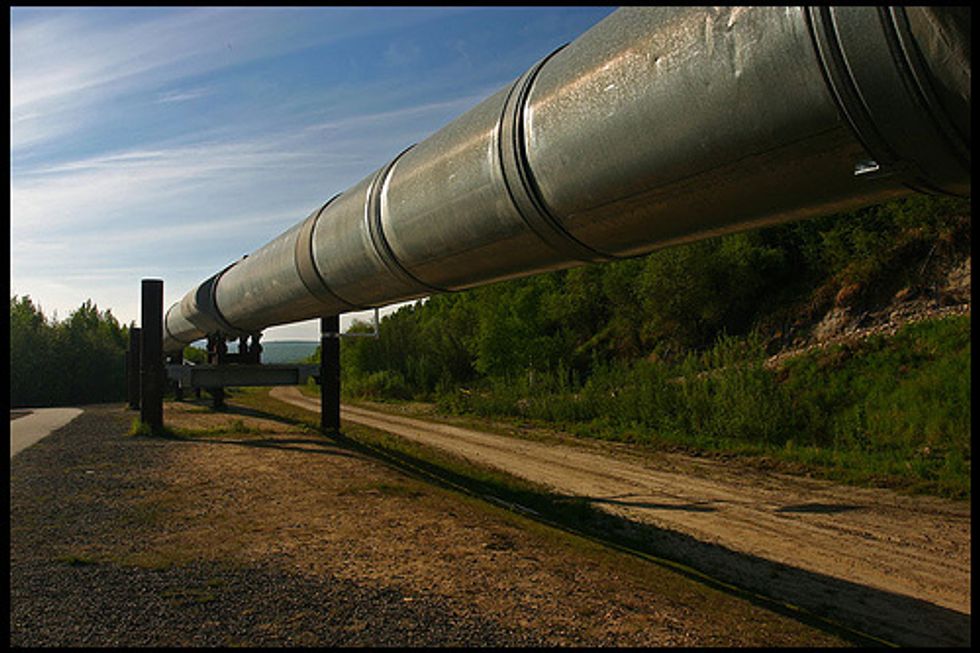 By Jeffrey Stinson, Stateline.org
WASHINGTON — The sharp increase in U.S. oil production and its promise of energy independence is coming with a disastrous byproduct: spills that threaten lives, communities, and the environment.
In the past 18 months, about 1.2 million gallons of crude oil produced in the United States or Canada has been spilled from train cars and pipelines in at least seven states, sparking explosions, fires, or the evacuation of homes or offices in four instances.
Nobody has to tell the residents of Lynchburg, Va., about the danger of the millions of gallons of crude oil rolling along rail lines or through pipelines every day. On April 30, more than a dozen train cars filled with crude oil derailed near Lynchburg's downtown, causing a fire that forced hundreds of people in a 20-block area to evacuate. Nobody was injured, but thousands of gallons of oil spilled into the James River.
In response to the growing problem, the U.S. Department of Transportation last week issued proposed rules calling for upgraded railroad cars, better braking systems, and tighter speed controls.
The federal action followed stepped-up efforts by several states to try to prevent spills and respond to disasters:
The California legislature in June approved a new 6.5-cent fee on every barrel on crude oil carried by rail and some pipelines through the state. The state will use the money, estimated to bring in $11 million in the first full year, to expand its coastal spill prevention and response program to inland streams, rivers, lakes, and wetlands. It's also beefing up its rail safety inspection program.
Minnesota Gov. Mark Dayton, a Democrat, signed legislation in May to implement stricter oversight of railroad companies, require more rail inspections, and provide for better emergency response training and preparedness. To pay for it, Minnesota this year will collect $6.4 million in fees from railroads and pipeline companies.
New Hampshire Gov. Maggie Hassan, a Democrat, signed legislation in July that authorizes the state to impose stricter preparation and response requirements on pipelines than federal law requires. The state Public Utility Commission also was given authority to inspect interstate pipelines to provide more frequent checks than federal officials give.
Oregon Democratic Gov. John Kitzhaber last week released a study of oil moving through his state that calls for more state rail inspectors, more money for training, and improved cooperation with railroads. In June, Washington Gov. Jay Inslee, a Democrat, ordered a similar review of risks, regulations, and preparedness in his state. In January, New York Democratic Gov. Andrew Cuomo also issued a similar order and dispatched inspectors to rail yards to look for defects on cars that could cause derailments.
Nearly all the action in the states was prompted by disasters governors and lawmakers saw in other states or across the border in Canada. Their worst fear is what happened in Lac-Megantic, Quebec, where 47 people were killed last July when an unattended 74-car train derailed. The spilled crude caught fire, then several cars exploded and about half the downtown was destroyed.
"I want to know how much oil will be shipped through my state and how we can be assured the kind of tragedy that happened in Quebec won't devastate families in our communities," Inslee said in June in ordering the study in Washington.
Matt Swenson, Dayton's press secretary, said Minnesotans only needed to look at neighboring North Dakota to see what could happen: Last December, a train carrying grain derailed in front of a mile-long train carrying crude oil near Casselton, not far from the Minnesota border. Twenty cars spilled oil, some exploded. Fire forced evacuation of the town, but nobody was injured.
Every day, seven similar oil trains with about 110 cars carrying about 3.3 million gallons of crude travel through Minnesota, the state said. Other states are witnessing similar traffic, and it's on the rise.
About 264 million gallons of crude oil were shipped by rail through California last year, said Alexia Retallack in the state Fish and Wildlife Department's Office of Spill Prevention and Response. That's 46.2 million gallons more than in 2012.
More crude oil is on the move across states as production in North America booms from the fracking of Bakken oil deposits underlying North Dakota, Montana, and Canada's Saskatchewan and Manitoba provinces, and from the tar sands of Alberta.
Production in the United States alone will be 8.5 million barrels a day this year, the U.S. Energy Information Administration estimates. That's estimated to grow to 9.3 million barrels daily next year. And there aren't enough pipelines to get the crude to the nation's 115 refineries to be turned into gasoline and other products.
Republican North Dakota Gov. Jack Dalrymple said in June that pipeline capacity in his state needs to double to about 1.4 million barrels a day by 2016 to carry all the crude produced there. Currently, the state is producing about 220,000 barrels a day more than pipes can carry.
Railroads are picking up the slack, even though the Congressional Research Service said in a May report that it can cost from $5 to $10 more a barrel than pipeline delivery. The number of carloads of crude oil, each carrying about 30,000 gallons, that ended up inside the United States rose to 435,560 last year, the Association of American Railroads says. That's up from about 30,000 in 2010.
In a recent analysis of data from the federal Pipeline and Hazardous Material Safety Administration, the McClatchy Washington Bureau found that 1.15 million gallons of crude oil spilled from rail cars in the United States last year. That's more than in all the years combined since the data was first collected nearly four decades ago.
The worst accident was in November in Aliceville, Ala., where 748,800 gallons spilled from a 90-car train after 12 cars derailed and three exploded. Nobody was injured.
Although widely considered safer than rail shipment of crude, pipelines do spill. A split in a pipeline in March 2013 dumped as much as 5,000 barrels of Canadian tar sands oil into a neighborhood in Mayflower, Ark.
Photo: Rickz via Flickr
Interested in national news? Sign up for our daily email newsletter!