Environmental Group Says Pesticides Hurt Bees And Don't Help Farmers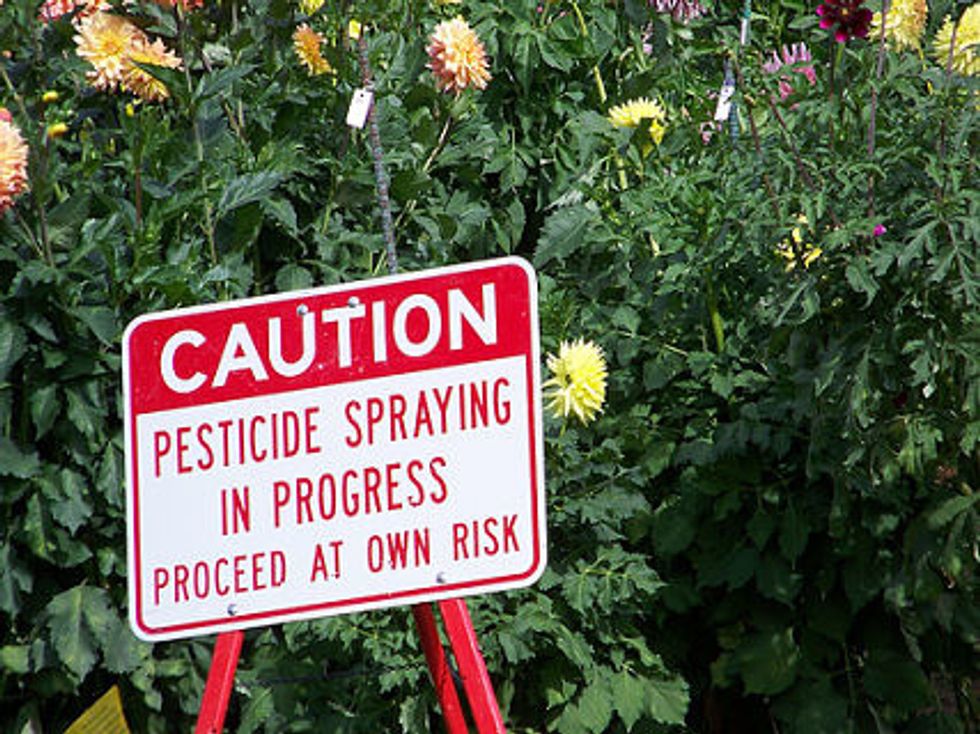 By Josephine Marcotty, Star Tribune
The pesticides that are synonymous with the demise of honeybees don't do much for the farmers that use them, according to a new analysis by a national environmental group.
The Center for Food Safety said Monday that a growing body of independent scientific evidence shows that the pesticides, known as neonicotinoids, rarely improve crop yields. They are one of the most widely used agricultural chemicals in the world and a factor in the rising concern over the fate of the honeybee.
Today almost every corn and soybean seed that is planted each year on 170 million acres across the Midwest is coated with an insect neurotoxin that is absorbed by the growing plant. They are commonly used in backyard products, and are intrinsic to most nursery plants, which now come "pre-poisoned" as a defense against insects.
"In most cases they are totally unnecessary and are causing tremendous harm," said Peter Jenkins, an attorney with the Center for Food Safety who represents beekeepers in a legal action against the Environmental Protection Agency over how the pesticides are regulated.
Bayer CropScience, the primary manufacturer of neonicotinoids, disputed the conclusion and said that its proprietary research shows that the pesticides are a valuable tool, and increasingly important as the world's growing population will require even more food production per acre. Nor is there evidence that the pesticides are the primary cause of bee declines or colony collapse disorder, said David Fischer, Director of Environmental Toxicology and Risk Assessment at Bayer CropScience.
"There is not any scientific evidence to support any honeybee colonies dying from exposure," he said.
Still, the pesticides' usefulness could be an important question as the Environmental Protection Agency conducts its ongoing safety review of the chemicals, which is expected to be completed in by 2018. The agency has asked manufacturers to provide efficacy data for neonicotinoids, and new studies on their environmental impact on honeybees and wild pollinators.
The concerns about pollinators are also on the radar for agricultural interests. Adam Czech, a public relations manger for the Minnesota Corn Growers Association, said that farmers and agricultural groups in Minnesota are devising new practices to protect pollinators, and if new research creates doubt about the benefits of pesticides "then farmers are open to new ways of doing things differently."
Neonicotinoids were approved in 1994 as the first new class of pesticides in 50 years because they promised to be far safer for humans and mammals than previous ones. Made of a synthetic nicotine, the chemical worked as neurotoxin on the insects that are the bane of farmers everywhere.
Bayer conducted studies on bees, and found that in normal conditions they were not harmful. But neonicotinoids became the focus after 2006, when commercial bee colonies suddenly crashed, a decline that has continued as beekeepers on average lose a third of their colonies each year.
As the use of the pesticides has spread, so have questions about the long-term exposure on honeybees, bumblebees, monarchs, and other pollinators. And increasing number of studies have confirmed some of the beekeepers fears — that the toxins don't kill them outright, but can affect the bees' complex ability to navigate across miles of open land to find flowers and then find their way home. A federal review of threats to bees in 2012 found that such sublethal affects were a concern, but more research was needed to prove a connection.
Though Bayer officials say such events are rarely reported, the chemicals have also been found to be the cause of sudden honeybee die-offs in the spring when the toxins are spewed into the air along with dust from seed planting machines. Christian Krupke, an agricultural entomologist at Purdue University said his research showed that 61 percent of commercial honeybees colonies located in Indiana would be in the path of dust plume at corn planting time.
"All of the Midwest is in the same boat," said Krupke, who was also an adviser on the Center for Food Safety's report.
In its review, The Center for Food Safety included 19 peer-reviewed studies that looked at whether the pesticides help farmers increase the number of bushels they can grow per acre. Of those, eight found no improvement and 11 said results were inconsistent.
Jonathon Lundgren, an agricultural scientist at the U.S. Agricultural research station in Brookings South Dakota, described one of his studies, which he said is typical of all the independent, peer reviewed research. He planted two different kinds of soybean seeds — one with and one without a coating of pesticides — for two years in a row. He found the exact same yield in each plot.
But he also kept track of insects. The soybean aphids, which were the target of the insecticide, were not affected at all, largely because the chemical had dissipated by the time they showed up in the field in mid-July, he said. But the ladybugs, lacewings and spiders that are that are the aphid's natural enemies were affected, he said.
"Not only was it not killing soybean aphids, but it also was harming the natural enemies that would have resisted aphids when they did arrive," he said.
Iain Kelly, head North American Bee Health for Bayer, said the company's own research showed different results, though it hasn't been published or peer reviewed by outside experts. On average, he said corn yields increase by six bushels per acre and sometimes higher. The chemicals also protect seeds and seedlings from pests that appear early in the year, giving farmers a longer growing season, he said.
Photo: jetsandzeppelins via Flickr