EPA Stifles Opposition To Giant Alaska Mining Dump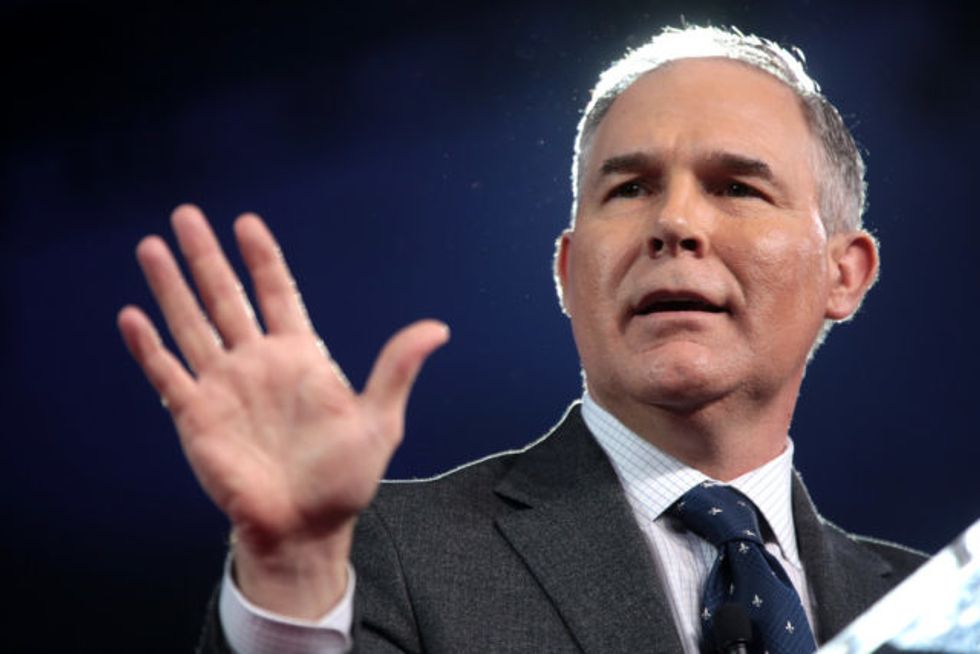 Reprinted with permission from DCReport.org
The Trump administration is trying to rush through a review of the Pebble Mine in Alaska with some public hearings not even having microphones for speakers. Also, EPA Administrator Scott Pruitt has stripped the regional EPA office of its power to make decisions on a permit the mine will need.
The U.S. Army Corps of Engineers is only allowing until April 30 for people to comment on the proposed open-pit copper and gold mine near Bristol Bay region of southwest Alaska that supports the largest sockeye salmon fishery in the world.
"There is no way you can get meaningful comment in 30 days," said Alannah Hurley, executive director of the United Tribes of Bristol Bay.
Public hearings scheduled for Anchorage, Homer and Dillingham, where opposition to the mine is especially high, won't have microphones. People will have to submit comments by computer, in writing or with a court reporter.
Pebble Limited Partnership applied for a permit under Section 404 of the Clean Water Act. The proposal says the mine would fill 3,190 acres of wetlands or other waters. The EPA can block sites for disposal in a section 404 permit if it finds there would be an "unacceptable adverse impact."
In 2014, the EPA under former President Barack Obama said the loss of more than 1,100 acres of wetlands, lakes and pondsin the area would be unacceptable.
Action Box/What You Can Do About It

Call Shane McCoy of the U.S. Army Corps of Engineers at 907-753-2715 to ask for more than a month for people to give opinions about the proposed mine.

Comment online about Pebble Mine or send your comments to Program Manager, Regulatory Division, U.S. Army Corps of Engineers, P.O. Box 6898, Joint Base Elmendorf Richardson, Alaska 99506-0898.

Public Employees for Environmental Responsibility can be reached at 202-265-PEER
In March, Pruitt removed the authority of regional administrators to veto Section 404 permits issued by the Corps and gave it to the EPA Office of Water and David Ross who leads that office. Ross challenged the EPA's Clean Water Rule as assistant attorney general of Wyoming in 2015.
"Pebble Mine…could have been his (Pruitt's) impetus for taking this action and writing this memo," said Kyla Bennett of Public Employees for Environmental Responsibility.
Pruitt has known Andrew P. Miller, who lobbied for Pebble Mine investors, since at least 2012. Pebble Limited Partnership spent $790,000 on federal lobbying in 2017 and recently hired a firm led by former House Natural Resources Chairman Richard Pombo (R-Calif.)
The company behind the proposed Pebble Mine is Northern Dynasty Materials Ltd. of Vancouver which has been proposing the mine for more than a decade. Tom Collier, the CEO of the subsidiary that would build the mine, was chief of staff at the Interior Department under Bill Clinton.
Three major investors in Pebble Mine have dropped out since 2011. First Quantum Minerals Ltd., also a Canadian company, has agreed to invest $150 million over the next four years.
California State Treasurer John Chiang and New York State Comptroller Thomas DiNapoli have both questioned First Quantum's investment. Public pensions in both states hold shares in First Quantum.
"In my view, participation in the Pebble Project would be the antithesis of sustainable business practices and could create undue risk to the long-term value of the Fund's investments in First Quantum Minerals and to the sustainability of the Bristol Bay region," DiNapoli wrote.