Epic Texas Rainfall Floods Parts Of Houston, Austin, Dallas; Thousands Displaced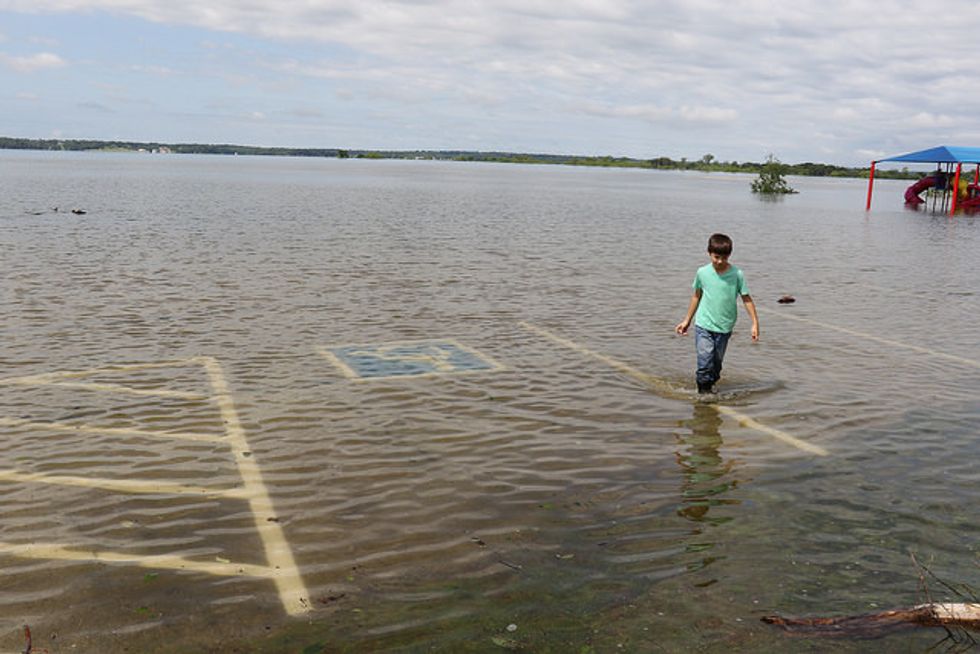 By Molly Hennessy-Fiske, Los Angeles Times (TNS)
Severe storms pummeled central and southeast Texas late Monday and early Tuesday, the latest devastation from a weekend storm system that spawned tornadoes and widespread flooding in major cities, killed at least eight people in the state and Oklahoma, and displaced thousands of residents.
Texas Governor Greg Abbott declared disasters in 37 counties where more than 1,000 homes have been damaged or destroyed. Austin, Dallas, and Houston all reported flooding, with scores of water rescues and hundreds stranded at a Houston Rockets NBA playoff game.
And even more storms are expected in the central Texas area on Tuesday afternoon.
Many waterways overflowed their banks in the Bayou City and surrounding metro area, the country's fifth-largest with a population of more than six million.
Interstates 10 and 45 — major arteries through town — both flooded, with some drivers abandoning their cars on the side of the highway. Houston's Metro mass transit system suspended rail and bus service.
The Houston Independent School District, which serves 215,000 students, canceled classes. City officials activated an emergency operations center and delayed some employee start times, declaring a high-level emergency for the first time since Hurricane Ike in 2008.
The Harris County Office of Homeland Security and Emergency Management reported hundreds of homes flooded on the west side of the county.
"My people are all stuck in the water. We're looking at multiple homes flooded already," said Michael Walter, public information officer at the emergency operations center. "Southwest Houston and northwest Houston got hit really hard. We have a police helicopter up right now in the west because there was extensive flooding and the bayous are out of their banks and flooding neighborhoods."
Workers tweeted about being stranded at their stores overnight, including the massive Galleria Mall.
Hundreds of Rockets fans also tweeted their frustration at being stranded at Toyota Center after Monday night's game, where flood warnings were posted on the Jumbotron and an announcer asked those in attendance not to leave because of the storms.
Many stayed until early morning, when breakfast was served by staff, and departed after the flood warning was lifted, assistant general manager Amanda "Mandy" Strudler-Mann said on the center's Facebook page.
Nick Mercadante, 33, was trapped by the storms at Bellerive Ice Center in the Sharpstown area with about 50 others who had gathered for a hockey league game.
"For a while it was flowing like a river down to the highway, so even the people in trucks didn't bother leaving because there was nowhere to go," he said.
They watched reports on a rink television of others stranded at the Rockets game and elsewhere until about 2 a.m., when the cable went out.
At about 6:30 a.m., Mercadante ventured out in his VW GTI, taking first one highway, then another to avoid closures and flooding as he returned to his home in the nearby West University area. It took him about an hour and a half.
"It's pretty rough," he said, "There's certain cross streets that are totally flooded."
He saw cars flooded, some abandoned under overpasses.
At one point, he drove onto the sidewalk to avoid a flooded street and spotted a man standing in an adjacent yard, shocked by the damage.
"He was just standing outside on the lawn looking confused, taking it all in. His street was definitely flooded," Mercadante said, "I gave him a wave."
Although the rains had stopped in Houston by 7 a.m., more storms were expected later in the day. Mercadante planned to stay in.
"It looks OK now, it looks sunny, but you never know the way the weather changes. Hopefully, the worst is past," he said.
At least four storm-related deaths have been reported in Texas in the latest round of storms: a man whose body was pulled from the Blanco River; a 14-year-old found with his dog in a Dallas-area storm drain; a South Texas high school senior who died Saturday after her car was caught in high water; and a Central Texas man whose mobile home was destroyed by a reported tornado.
The Oklahoma Department of Emergency Management also reported four storm-related fatalities during the holiday weekend.
Before sunrise Tuesday, emergency crews used helicopters and boats to help residents evacuate their flooded homes in Webberville, Texas, about 15 miles east of Austin.
Authorities there were also still searching for a dozen people reported missing after a flooded river swept their vacation home off its foundation and down the nearby Blanco River over the weekend.
Authorities just across the border in Mexico were also searching for victims in Ciudad Acuna, where a tornado Monday killed 13 people and left at least five missing. Mexican President Enrique Pena Nieto was expected to travel to Acuna with other government officials.
Photo: usacetulsa via Flickr