Eric Holder Announces Lawsuit Against North Carolina Voting Law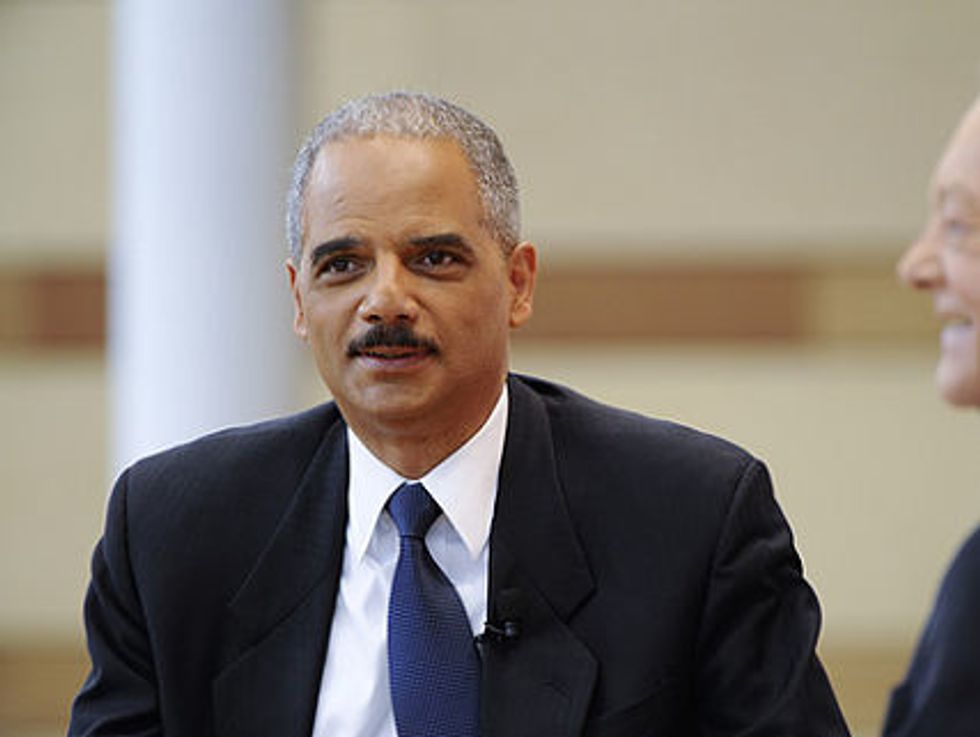 Attorney General Eric Holder announced during a Monday afternoon news conference that the Department of Justice will sue the state of North Carolina over its restrictive voting law.
Speaking alongside Acting Assistant Attorney General Jocelyn Samuels and three U.S. Attorneys from North Carolina, Holder declared that "the Justice Department expects to show that the clear and intended effect" of the law "would contract the electorate and result in unequal access to participation in the political process on account of race."
The law, which was signed by Governor Pat McCrory in August, mandates strict voter ID to cast a ballot, eliminates same-day voter registration, bans paid voter registration drives, and limits early voting, among many other measures that disproportionately affect minority voters. Election law expert Rick Hasen has referred to it as "the most sweeping anti-voter law in at least decades."
Its passage was made possible by the Supreme Court's June decision to throw out Section 4 of the Voting Rights Act, which required the federal government to "pre-clear" voting law changes in several states — including North Carolina — with a history of limiting voting rights.
"Just months after North Carolina saw the highest overall turnout sheer numbers in its history in November 2012, and within days of the Supreme Court's Shelby County decision to strike down key provisions of the Voting Rights Act, the [North Carolina] state legislature took aggressive steps to curtail the voting rights of African-Americans," Holder said. "This is an intentional attempt to break a system that was working. It defies common sense."
Holder intends to block the law using Section 3 of the Voting Rights Act, which allows for federal supervision of a state's voting laws if a court finds that "violations of the Fourteenth or Fifteenth amendments justifying equitable relief have occurred within the territory of such state or political subdivision." In order for the Department of Justice to win the lawsuit, it will need to prove that North Carolina lawmakers intentionally disenfranchised voters.
Referencing the fact that in-person voter fraud is nearly non-existent, Holder lamented on Monday that "it pains me to see the voting rights of my fellow citizens negatively impacted by actions predicated on a rationale that is tenuous at best, and on concerns that we all know are not, in fact, real."
Governor McCrory and his Republican allies in the legislature dispute that point. In an August 29 op-ed in USA Today, McCrory wrote that "assuming fraud isn't a threat when multimillion dollar campaigns are trying to win in a state where millions of votes are cast is like believing oversight isn't needed against Wall Street insider trading," and argued that "the legislation I signed into law keeps North Carolina in the mainstream of election law, not the fringes."
North Carolinians tend to side with the attorney general, however. According to an August 12 survey from Public Policy Polling, just 39 percent support the law.
Photo: The Aspen Institute via Flickr.com