'Errand Boy' Devin Nunes Was Just Told To Resign In His Hometown Paper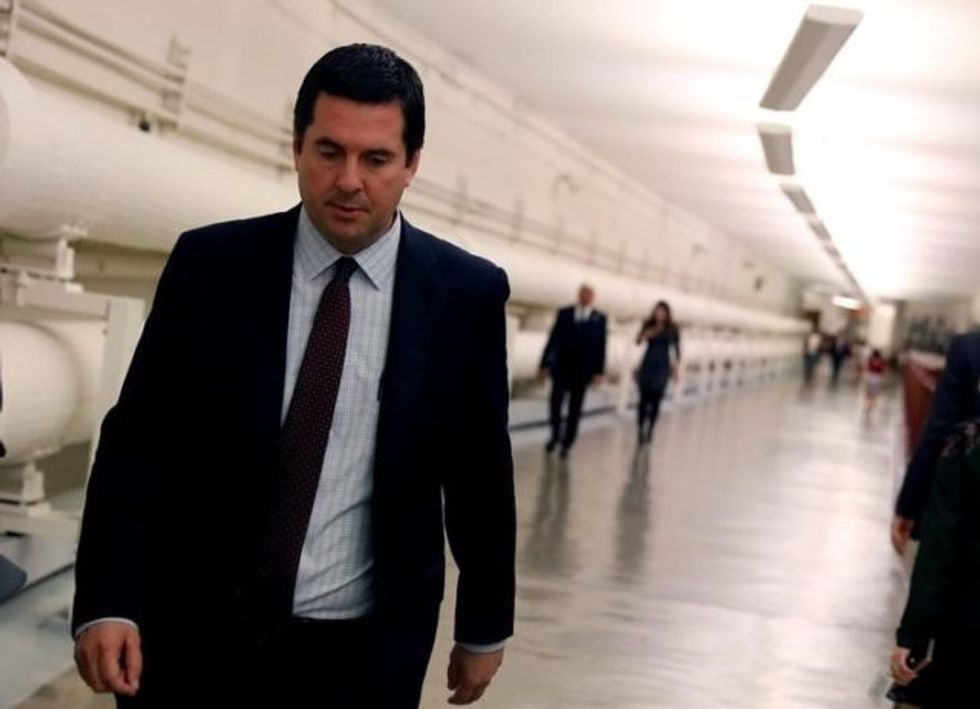 Reprinted with permission from AlterNet.
It doesn't look like Rep. Devin Nunes (R-CA) can count on a warm welcome home from Washington, D.C.
On Friday, local paper the Fresno Bee from his district published a letter to the editor offering a searing criticism of Nunes's work in Congress and called for him to resign.
Writer Patrick MacMillian of Fresno called the lawmaker "President [Donald] Trump's chief errand boy" and blasted him for aiding in apparent efforts to derail special counsel Robert Mueller's investigation into the Trump campaign. Nunes, as chair of the House Intelligence Committee, has been criticized for downplaying the significance of Russia's interference in the 2016 election and for cooking up fake scandals about the investigations surrounding the president.
"Nunes is attempting to undermine the rule of law in this country," MacMillan wrote. "Mr. Nunes would rather serve a carnival con man whose ignorance and corruption surpasses the Harding Administration and Teapot Dome Scandal of the 1920s."
Meanwhile, the letter accuses Nunes of avoiding the real problems of his constituents in the 22 district: "I see patients every day that need Mr. Nunes to fight for their health care."
He continued: "Mr. Nunes is the swamp. He epitomizes everything that Americans dislike about our government and its corrupted ways."
The letter ends with a clear way for the lawmaker to address these criticisms: "Mr. Nunes, please resign."
They're harsh words for a member of Congress who has served in government since 2003 without creating much of a stir until now. But by aligning himself so closely with Trump, Nunes has put himself at the center of a storm.
Cody Fenwick is a reporter and editor. Follow him on Twitter @codytfenwick.