Euro Hits Nine-Year Low, European Stocks Slump
@AFP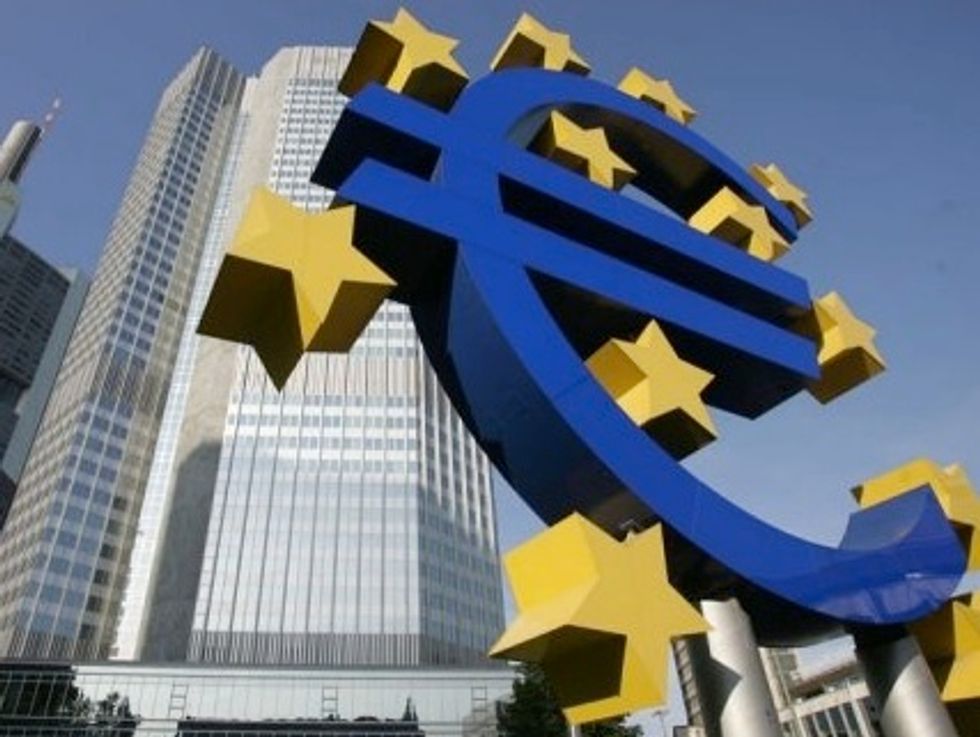 London (AFP) – The euro struck a nine-year low against the dollar on Monday as the ECB appeared on course to further prop up the eurozone, but failed to spur a rally in European stocks which fell sharply on renewed fears of a Greek exit.
The euro slid to $1.1864, the lowest level since March 2006, before recovering to $1.1915. That compared with $1.2002 late on Friday in New York.
London's benchmark FTSE 100 index shed 1.43 percent compared with Friday's close to stand at 6,453.94 points in afternoon trading, while Frankfurt's DAX 30 dropped 2.27 percent to 9,542.70 points and the CAC 40 in Paris fell 2.8 percent to 4,133.32 after having briefly tumbled more than 3 percent.
Oil prices retreated again, hitting fresh five-year lows, unsettling markets on the "possibility that there could be some latent financial, or economic, risk in the plummeting price" of crude, said Briefing.com analyst Patrick O'Hare.
Brent North Sea crude for delivery in February sank to $53.75 per barrel while U.S. benchmark West Texas Intermediate for February dropped to $50.58.
"It's a new year but it's the same old story… Eurozone jitters get markets wobbling again," said Jonathan Sudaria, a dealer at London Capital Group.
Greek stocks fell by nearly 5.2 percent at one point during trading as the specter of a Greek exit from the eurozone rears its head again.
French President Francois Hollande on Monday urged Athens to abide by its European commitments amid fresh political turmoil in Greece ahead of an election on January 25 that could be won by a radical far-left party.
Over the weekend, the Der Spiegel weekly quoted German government sources as saying that Berlin sees a Greek exit from the eurozone as "almost inevitable" should the anti-austerity Syriza party win the snap poll.
The rift between the leaders of the eurozone's two biggest economies on an issue that earlier threatened to destroy the currency bloc rattled markets.
The euro's losses meanwhile added to a sell-off on Friday that came in response to an interview with European Central Bank chief Mario Draghi in German business daily Handelsblatt.
"The euro hit a nine-year low… breaking below the key 1.20 level against the dollar," noted Alistair Cotton, a dealer at Currencies Direct.
"The ECB is now expected to announce more monetary stimulus… after Mario Draghi used an interview last week to suggest the governing council is preparing for sovereign bond purchases — which could begin as soon as January 22."
Draghi had said that deflation was a threat to the eurozone and the ECB must be prepared to counter it. He added that the risk that the central bank will not be able to push inflation up "has increased compared to six months ago".
Political uncertainty in Greece also weighed on the euro.
With a general election set for January 25, the head of the radical leftist Syriza party said Saturday that if he won he would start "necessary change" in Europe and end painful austerity policies.
Markets see a rollback of measures required under an IMF-EU bailout of the country as further weakening the eurozone economy.
"The euro remains weak on the back of Draghi's newspaper comments heightening the prospect of the ECB launching QE (stimulus) this month, although the Greek election result could see it delayed until February," Mike van Dulken, head of research at traders Accendo Markets, said on Monday.
The European Central Bank has already used several tools to push inflation in the 19 countries sharing the euro back up to the 2.0 percent annual rate it regards as healthy, including asset purchases and making cheap loans available to banks.
It is also currently examining the possibility of large-scale purchases of sovereign debt, so-called "quantitative easing" or "QE", to help jump-start the eurozone economy.
But with German inflation falling to a five-year low of 0.1 percent in December, according to information released Monday, consumer prices across the eurozone probably fell in December.
With the ECB worrying about dangerous deflation setting in, pressure on the central bank to act has risen, according to analysts.
Commerzbank economist Marco Wagner said the inflation data could force the ECB's hand at its next monetary policy meeting on January 22.
"We expect the ECB to announce broad-based government bond purchases," he said.
But ING DiBa economist Carsten Brzeski said a combination of falling inflation and the latest crisis in Greece would put the ECB in a quandary.
U.S. stocks Monday opened sharply lower, with the Dow Jones Industrial Average dropping 0.50 percent to 17,744.43 points in the first five minutes of trading.
The broad-based S&P 500 fell 0.56 percent to 2,046.66, while the tech-rich Nasdaq Composite Index dropped 0.53 percent to 4,701.78.
AFP Photo/John Macdougall