Europe's Leaders Furious Over U.S. Spying Claims
@AFP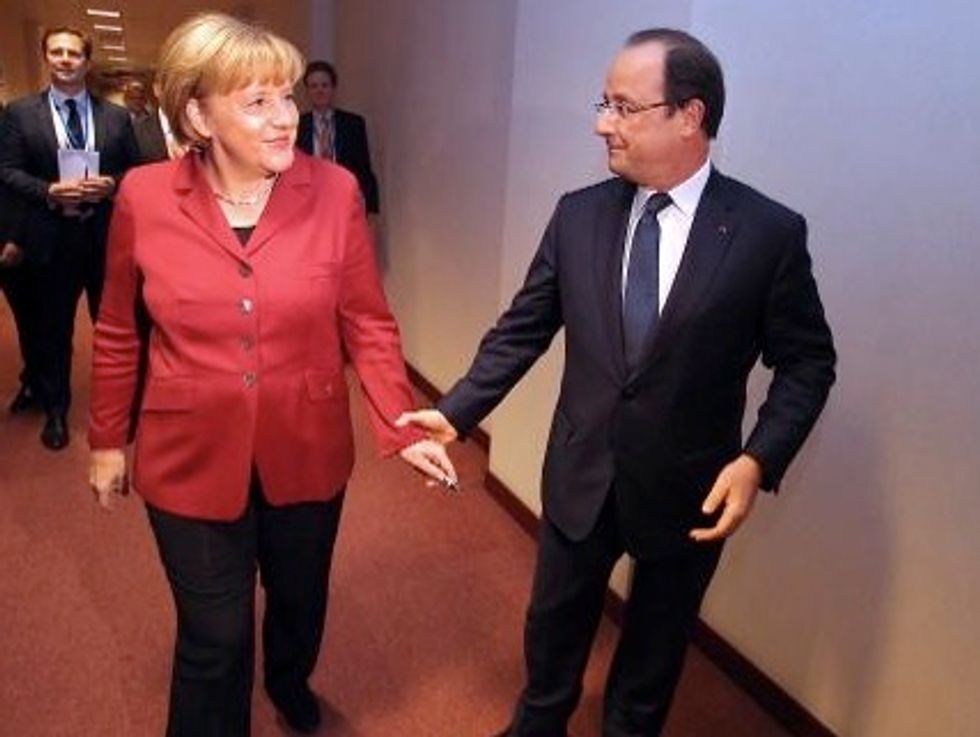 Brussels (AFP) – Europe's leaders united Thursday behind Germany and France as an escalating row over claims of U.S. snooping on its traditional allies overshadowed a key summit.
German Chancellor Angela Merkel, whose mobile phone was reportedly the latest target of covert surveillance by the U.S. National Security Agency (NSA), set the tone.
"Spying between friends, that's just not done," she said as she joined leaders of the 28-nation European Union for a summit initially called to discuss boosting employment and the digital economy.
"We need trust between partners and such trust needs to be re-established."
French President Francois Holland made no statement on entering the two-day talks, but a diplomatic source said he and the German chancellor would discuss "how to coordinate their response" to the allegations on the margins of the two-day meeting.
Both leaders phoned President Barack Obama this week demanding clarification over claims the NSA spied on millions of French phone calls, and on the German leader personally.
"We want the truth," said Italian Premier Enrico Letta, as leaders of Belgium, Finland, Malta and others told reporters that Washington must provide an explanation and Europe must take a joint stand to protect its citizens.
The EU executive, the European Commission, called for "a strong and united stand" as its President Jose Manuel Barroso warned against a slide towards "totalitarianism".
"Data protection must apply no matter if it concerns the emails of citizens or the mobile phone of Angela Merkel," said EU Justice Commissioner Viviane Reding. "Now is the time for action and not only for declarations at the EU summit."
Merkel has warned that proof of snooping on her phone would be considered a "breach of trust".
Rattled by the latest exposure based on leaks from U.S. intelligence contractor Edward Snowden, the White House has said it is not now listening in on Merkel — but also did not reject the possibility her communications may have been intercepted in the past.
Washington also denied reports of eavesdropping on France.
In the wake of Snowden's revelations about NSA activities, several important allies have complained about U.S. covert surveillance and the White House is struggling to stem the diplomatic damage.
The NSA affair has also seen claims of U.S. snooping on foreign leaders in Mexico and Brazil, whose President Dilma Rousseff last month cancelled a state visit to Washington over the scandal.
In Germany, the head of the SPD party, Sigmar Gabriel — currently in talks with Merkel to form a coalition government — said the snooping threatened talks to seal a trans-Atlantic trade deal seen as the biggest in history.
'Espionage is not an EU matter'
Whether EU leaders will come up with a common stand in response is less than certain.
Many, notably Britain with its close intelligence links to the U.S., and Spain, see spying as a matter of national interest firmly outside the bloc's remit.
Many also spy on each other, with Britain and the U.S. spying on Italy to glean data on underwater fibre-optic cables with the consent of its own secret services, according to Italian weekly L'Espresso.
"I don't imagine the (EU) Council getting into a discussion on national security," said an EU diplomat speaking on condition of anonymity.
"Espionage is not an EU matter, it's an issue of national sovereignty," said another diplomat.
But as anger boiled up in Europe, Commission head Barroso said: "We in Europe consider the right to privacy as a fundamental right."
Referring to life in Communist-era East Germany, where Merkel grew up, he warned that not so long ago "there was a part of Germany where political police were spying on people's lives daily.
"We know very recently what totalitarianism means," he said.
"We know what happens when a state uses powers that intrude on peoples lives."
At the summit, officially themed around boosting employment and the digital economy, leaders will also tackle a complex immigration crisis highlighted by this month's deaths of hundreds of refugees desperate to reach Europe's shores.
The two shipwrecks, in which more than 400 refugees from Africa and the Middle East drowned off the Italian island of Lampedusa, triggered a barrage of calls for action to prevent the Mediterranean Sea from turning into what French Foreign Minister Laurent Fabius called an "open-air cemetery".
Italian Prime Minister Enrico Letta is urging European leaders to bolster the EU's Frontex border agency and bring forward Eurosur, a planned satellite-and-drone surveillance program to detect migrant ships in trouble.
AFP Photo/Michel Euler