Evacuations Of 1,000 People After Forest Fires Near Yosemite
@AFP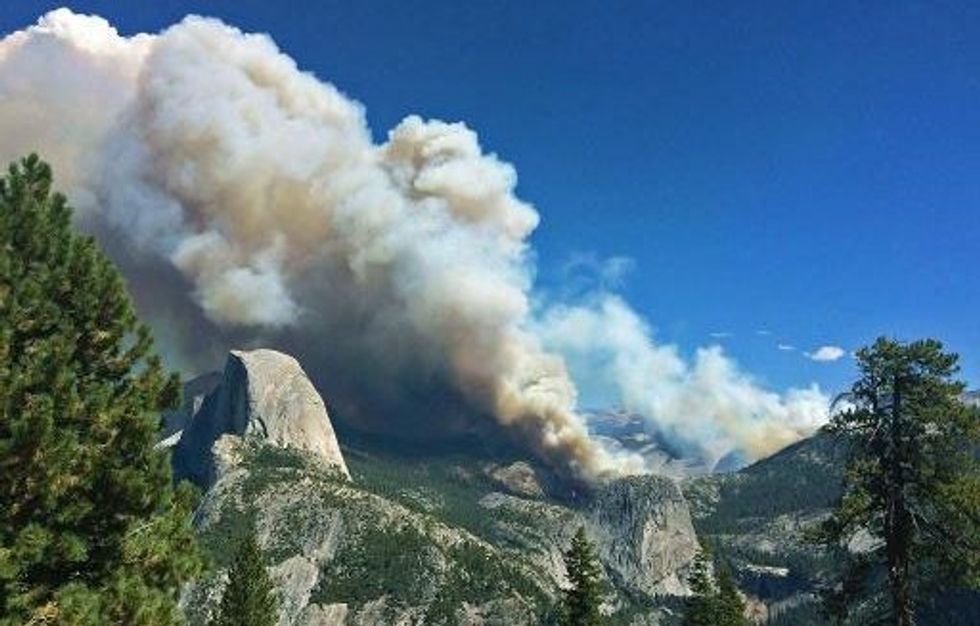 Los Angeles (AFP) — A thousand people were evacuated near Yosemite National Park in central California due to fires triggered by a weekend heatwave that are threatening hundreds of homes.
The blaze that began near Bass Lake has already burned 330 acres (133 hectares) in a matter of hours.
None of the fire has yet been contained, according to the authorities.
The blaze has already destroyed or damaged dozens of buildings, a CalFire spokeswoman told AFP on Sunday.
She said about 400 homes, or 1,000 people, have been evacuated, adding that the 400 firefighters deployed were struggling to gain access to the site.
"The Courtney Fire's dangerous rate of spread is threatening hundreds of homes with extreme fire behavior, while evacuations are ongoing," the office of California Governor Jerry Brown said in a statement.
"Around the rest of California, red flag warnings are in effect and other fire outbreaks are a major concern for local officials."
Temperatures in central California rose to nearly 104 degree Fahrenheit (40 Celsius) over the weekend, part of a heatwave expected to last through the common days.
The Meadow Fire that began in Yosemite Park in late July was 50 percent contained and authorities expect it will be extinguished within a week.
Another fire triggered Friday in southern California near San Diego was 20 percent contained. It forced the evacuation of about 200 homes.
California often faces powerful fires in the summer and fall, and the extreme drought of recent months increases the risks for more blazes this year.
AFP Photo
Interested in more environmental and national news? Sign up for our daily email newsletter!