Even Absent, Trump Will Cast Shadow Over GOP Debate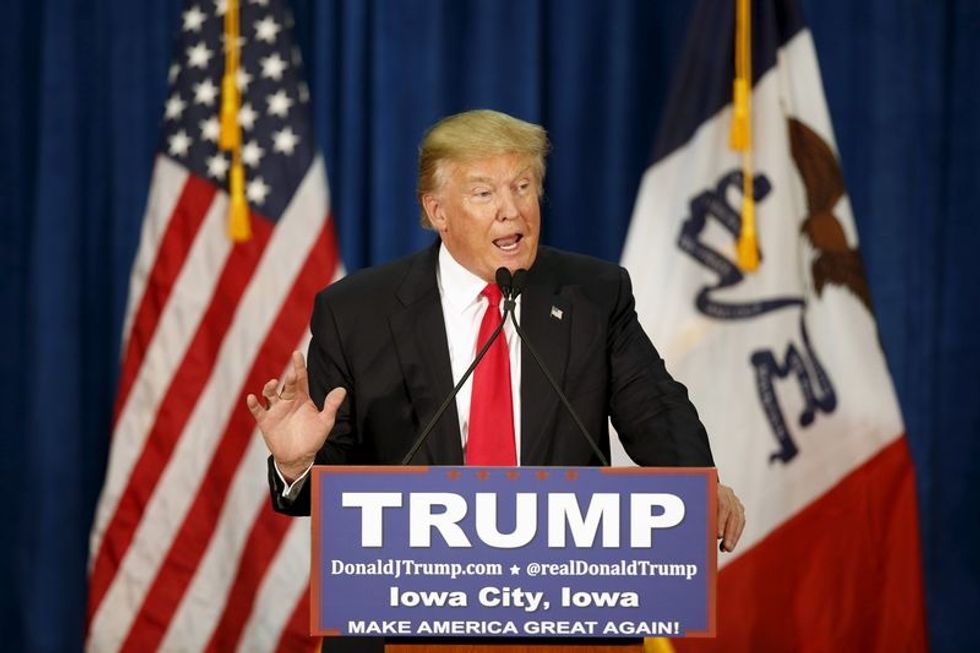 By David Lightman, McClatchy Washington Bureau (TNS)
DES MOINES, Iowa — Donald Trump's going to make a difference in Thursday's Iowa Republican debate, even though he'll be absent.
Trump is boycotting the debate, the last before Iowa Republicans signal their choice for a presidential nominee in precinct caucuses Monday evening. He's annoyed with debate sponsor Fox News and with one of the moderators, Megyn Kelly. In the first GOP debate last year, she pressed him about his derogatory statements about women, and Trump's been belittling her ever since.
So without him, the two-hour main event at Des Moines' Iowa Events Center suddenly has an air of mystery. Will Sens. Ted Cruz of Texas and Marco Rubio of Florida, Trump's main challengers, be able to fire away at the real estate mogul without fear of retaliation? Or will the pre- and post-debate chatter be all about the candidate with the guts — or the gall — to skip a debate five days before the vote?
Trump and Cruz are dueling for the Iowa lead, with Rubio winning endorsements from mainstream Republicans and showing some potential to rise.
For others, the debate, and for that matter the caucuses, have different meanings. Chris Christie, the governor of New Jersey, and John Kasich, the governor of Ohio, are more focused on New Hampshire's Feb. 9 primary, where the sort of center-right voters sympathetic to their views will be voting in bigger numbers.
But for those at the bottom of the polls, including Jeb Bush, the former governor of Florida, retired neurosurgeon Ben Carson and Sen. Rand Paul of Kentucky — who refused to debate earlier this month when he didn't make the main event — the debate is the latest and perhaps most crucial chapter in the caucus campaign's closing days.
The debate on the main stage will start at 9 p.m. EST. Four other candidates, including for the first time former Virginia Gov. Jim Gilmore, will vie in a one-hour debate starting at 7 p.m. EST.
The buzz, though, will involve the Big Three. The outlook:
Donald Trump
He's risen in polls as he raised doubts about Cruz. The debate could have helped him maintain that momentum and boosted the throngs of voters who enthusiastically pack his rallies to show up Monday. His pique at Kelly changed the dynamic.
Political wisdom says that in the days before the Iowa caucuses, a candidate needs to energetically barnstorm the state to show no voter is unimportant. Trump, though, has broken all the rules thus far this year, and he hasn't been much for person-to-person campaigning.
He's remained typically Trump. "Let's see how much money Fox is going to make on the debate without me," he said Tuesday.
Ted Cruz
He wants to stress policy differences with Trump and will maintain how Trump cared little about conservative principles until he started thinking about a White House run.
Cruz is likely to remind voters how in 2012 Trump was not as tough on undocumented immigrants as he is now, criticizing GOP nominee Mitt Romney's views. "He had a crazy policy of self-deportation which was maniacal," Trump said at the time.
Cruz could also go after Trump, who has close ties to Wall Street interests, for supporting the financial bailout of 2008. Trump did have reservations, saying "maybe it works and maybe it doesn't." Cruz is vulnerable, though, to reminders that he borrowed a half-million dollars from Goldman Sachs.
Marco Rubio
He's trying to solidify his position as the darling of the Republican mainstream. The Des Moines Register and the Sioux City Journal, two of Iowa's most influential newspapers, endorsed him in recent days. Monday, he appeared with "good friend" Sen. Joni Ernst, R-Iowa.
Rubio, though, has had trouble getting noticed in debates. Trump and Cruz have waged lively fights, while Rubio tends to be lost in the Kasich-Christie-Carson-Bush crowd. He's also endured a series of ads from a super PAC backing Bush suggesting Rubio is a serial flip-flopper.
©2016 McClatchy Washington Bureau. Distributed by Tribune Content Agency, LLC.
Photo: U.S. Republican presidential candidate Donald Trump speaks at a campaign rally at the University of Iowa in Iowa City, Iowa, January 26, 2016. REUTERS/Scott Morgan