Ex-Louisiana Governor Edwin Edwards Launches Comeback Bid For Congress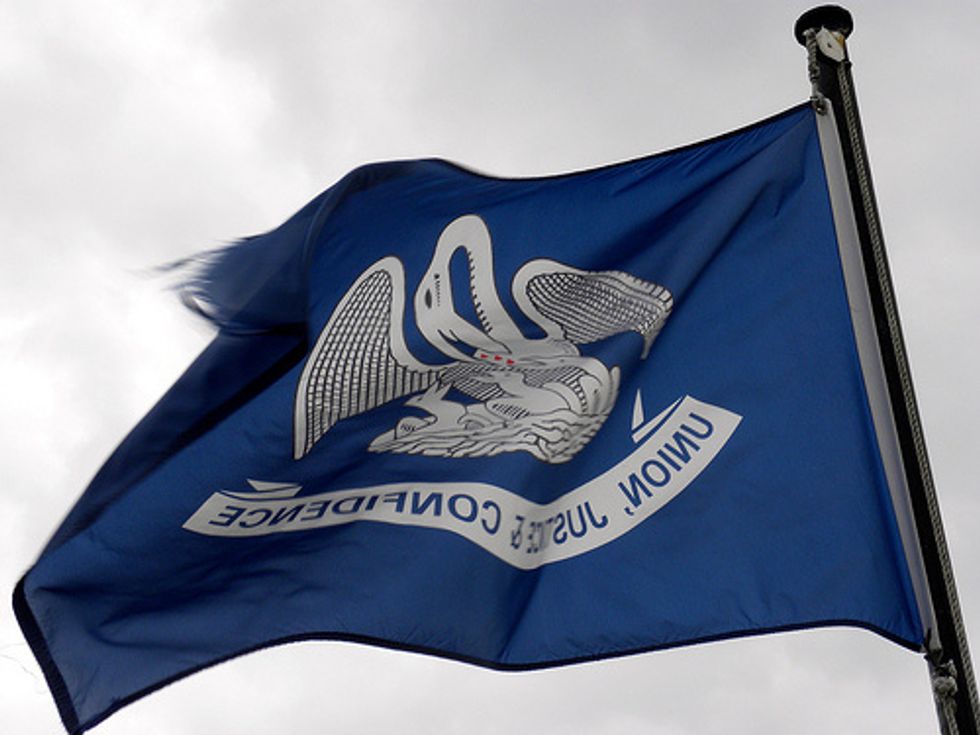 By Mark Z. Barabak, Los Angeles Times
He has served in prison, starred in a short-lived reality TV show and delivered enough quotable quips to fill a bookshelf in the public library.
Now, in his latest exhibition of life as political performance art, Edwin Edwards — former Louisiana governor, convicted racketeer, celebrated womanizer and, at age 86, new father — announced Monday he would be a candidate for Congress.
"I've given a great deal of thought to this … and I acknowledge that there are good reasons why I should not run … but there are better reasons why I should," Edwards told reporters in Baton Rouge. "I am positive I can run and I am confident I can win."
When last seen on the national stage, Edwards was co-starring in The Governor's Wife, an A&E series focused on his pen-pal-turned-bride No. 3, Trina Scott. Their son, Eli, was born last August, and Edwards, accompanied by his wife, arrived at Monday's announcement pushing the boy in a stroller.
The former four-term Democratic governor served more than eight years in federal prison for fraud, racketeering and extortion in connection with the state's licensing of riverboat casinos. He left prison in 2011 and has steadily maintained his innocence — though he pointed out Monday that nothing in the Constitution prevents a convicted felon from being elected to Congress.
Part of a long line of populist, picaresque Louisiana governors, Edwards himself made a reference to his checkered past in making the announcement. "I haven't had this much attention since the trial," he told reporters in making his announcement.
He said improving accessibility to health care would be a centerpiece of his congressional campaign. He criticized the state's Republican governor, Bobby Jindal, for refusing to accept expanded Medicaid coverage under the federal Affordable Care Act, more widely known as Obamacare.
Edwards served three terms as a congressman before running for governor in 1971. He served two terms in the statehouse in the 1970s and, after a four-year break, was again elected in 1983. During that term, he was acquitted of federal corruption charges but his image was badly tainted. Still, he managed a comeback for a fourth term in 1991, beating Ku Klux Klan leader David Duke. The campaign's indelible bumper sticker read: "Vote for the crook — it's important."
The congressional seat Edwards is pursuing is being vacated by Republican Bill Cassidy, who is running for Senate against incumbent Democratic Mary Landrieu. The district is centered in Baton Rouge, the state capital, extending south into coastal Louisiana. It leans strongly toward the GOP and several Republicans have already announced their designs on the seat.
David Wasserman, who analyzes congressional races for the nonpartisan Cook Political Report, described Edward's candidacy as "more of a side show than a legitimate threat. Particularly after redistricting cut out all the African-American neighborhoods in Baton Rouge. … a Republican will eventually win this seat."
Even if it is a sideshow, Edwards' campaign will presumably run longer than The Governor's Wife. The reality series was canceled last fall after just three episodes.
Photo: Jason Paris via Flickr