Excerpt: 'Trump: The Greatest Show On Earth — The Deals, The Downfall, The Reinvention'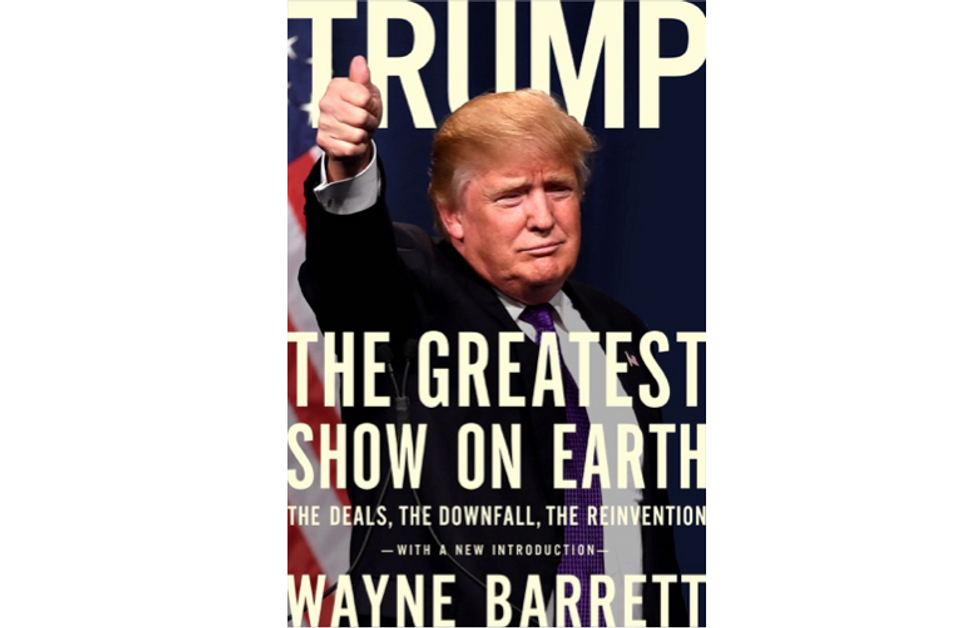 On Twitter there's a profane character who calls himself @realDonaldTrump — and then there's the all-too-real Donald Trump: reality star, casino mogul, political toxin, and conman extraordinaire. Nobody has written as many informed and perceptive stories about Trump as investigative reporter Wayne Barrett, whose Brooklyn basement full of Trump-related files is now a top destination for every serious journalist covering the Republican presidential front-runner. Barrett's landmark 1992 book Trump: The Deals and the Downfall is now a cherished out-of-print rarity, but Regan Arts recently published a Kindle edition titled Trump: The Greatest Show On Earth — The Deals, The Downfall, The Reinvention. What follows is an exclusive excerpt from its new foreword:
Two days after his 69th birthday, Donald Trump became the first presidential candidate to launch his campaign aboard an escalator, descending on a continuous loop of steel against a backdrop of continuously looping waterfalls, all in front of the very cameras that have so often made his story a spinning reel of autoerotic autobiography. Everyone else in the movie that Donald is making with his life—that morning and beyond—is just an extra.
As much attention as that particular escalator ride garnered, the Trump history leading up to that moment went unnoticed: more than a century earlier, the first escalator was built on the Old Iron Pier in Coney Island, a precursor to Steeplechase, the landmark amusement park that Fred Trump, Donald's father, tore down in the 1960s, ending the Brooklyn beachfront's run as one of the world's most famous playgrounds.
The stage-managing of that escalator entrance at his signature Trump Tower was just one of the anomalies at Trump's mid-June announcement.
His bid for the presidency came 25 years, nearly to the day, after Donald produced a birthday extravaganza—at Trump's Castle in Atlantic City—the day after he first defaulted on a casino bond in the thick of a financial meltdown. On stage in the confetti-covered Crystal Ballroom, a George H.W. Bush impersonator declared that Trump should be president, a joke on its way now to possible prophecy.
Melania, Donald's third wife, joined him on his journey down the gold-railed escalator, just as she did in a 2013 Celebrity Apprentice episode when she and Donald introduced her line of caviar skincare. But it was first wife Ivana who had overruled the architects 35 years earlier to insist on a 60-foot waterfall, and who had trekked across an Italian quarry to pick the finest rosy-beige Breccia Perniche marble for the five-story atrium—the same marble that matched the peachy orange hue of Donald's hair on the morning of his press conference.
The lights illuminating the waterfall were installed by a contractor whose brother-in-law, Donald Manes, voted for the tower's zoning variance as a member of the city's reigning Board of Estimate, a few years before he plunged a kitchen knife into his chest just as US Attorney Rudy Giuliani was about to indict him. Trump's lawyer on the Trump Tower tax abatement, Stanley Friedman, was Manes' partner in crime, who delivered a second Board of Estimate vote for the tower and was later convicted by Giuliani on unrelated racketeering charges. Giuliani once opened a probe into Trump's sale of a Trump Tower apartment to the head of one of the city's largest gambling rings, who brought a briefcase of cash to a closing Donald personally attended. Giuliani is now an informal campaign advisor to his onetime donor Trump.
Trump Tower itself is a monument to the mob. Sweetheart deals with a mob Teamsters local that delivered the concrete, and mob contractors that supplied and built the tallest reinforced concrete job in the country, were choices Donald made, provoking the interest of federal prosecutors at the time. Now, as he lays claim to the White House, he is announcing an even larger concrete project, a thousand-mile wall to protect us from drug and trafficking cartels.
The Trump Tower apartments, and some of the offices above the atrium, had long been magnets for criminals. A half dozen felons, including the head of the Gambino-tied concrete-drivers union, owned part or all of over two dozen units in the tower in its first decade. Trump's cluelessness on foreign policy, apparent even in his opening speech, extended to the tower's apartment and office occupants—a disturbing collection of international rogues.
Baby Doc Duvalier bought a $2.5 million apartment there before the tower opened and before the president-for-life was driven from power in Haiti. Chuck Blazer, the 450-pound, now-convicted, wheeler-dealer at the center of the vast FIFA soccer scandal, wallowed between two different tower apartments and a tower office where his branch of the soccer federation was headquartered. Another FIFA potentate, Brazilian Jose Maria Marin, who was once caught on videotape pocketing a gold medal that was supposed to be presented to a member of a championship team, is under house arrest on racketeering charges in his $3.5 million Trump Tower apartment.
Bayrock, a developer that joined Trump in New York and Fort Lauderdale projects, was headquartered at the Tower and one of its partners, Tamir Sapir, a Russian billionaire who Trump called "a great friend," had a $5 million apartment there. Sapir's top aide pled guilty to participating in a 13-year racketeering conspiracy with the Gambino crime family, with some of those years overlapping with his involvement in running Sapir's construction operations. Felix Sater, who owned a 50 percent "executive membership" in the Bayrock entities set up for the Trump projects, pled guilty in a $40 million mob stock swindle and cooperated with federal prosecutors. Sater, the son of a Russian mobster, appeared in photos with Trump and was identified as a senior adviser on a Trump Organization card. Sater also did prison time for plunging the stem of a wine glass into a commodity broker's face.
While Candidate Trump contends that Saudi Arabia was behind the 9/11 attacks, a top Saudi government minister at the time of the attack, Prince Mutaib bin Abdulaziz, owns a full floor in the tower. In fact, although Trump would soon argue that "we should stop supporting the Saudi dictatorship," as well as stop buying their oil, he said in his announcement, "I love the Saudis; many are in this building."
Two other Trump Towers, one in Istanbul and one in Philadelphia, involved convicted cocaine traffickers, but not as residents. Trump's initial partner in the twin towers in Istanbul—one residential and one office/commercial building—was Engin Yesil, who was sentenced to six years in prison for trafficking 20 years earlier. He later said that he assigned his earnings on the Trump project to Dogan Holdings, a giant Turkish developer that was fined $2.5 billion by the Turkish government for dodging corporate taxes for years. The Dogan firm was alarmed when Candidate Trump made his strongest anti-Muslim statements a few months after his announcement and threatened publicly to separate Trump from the project.
The Philadelphia tower was never built after Trump's local partner Raoul Goldberg disappeared and the development firm went bankrupt. Sentenced to 46 months in prison in 2000 on cocaine charges, Goldberg was on probation when he brought the deal to Trump in 2005. Under a licensing and management contract with Goldberg's firm, Trump was so involved he did the video pitch for it, and his company got the permits and cut the spa and restaurant deals, with daughter Ivanka and son Donald Jr. working on the ground.
***
The Trump Tower lobby where Trump made his presidential announcement wasn't exactly his property alone, either. The lobby is privately owned public space. The zoning variance that Manes and other Trump insiders on the Board of Estimate approved gave Trump 20 extra floors if he ran the shops and atrium as space open to public use, where visitors could relax without shopping at Gucci or eating at Trump Grill, where 45-dollar Trump steaks sell a floor below the lobby.
A 22-foot black marble bench near the entrance made it so easy to relax that Trump tried to discourage visitors by covering it with planters soon after the tower opened, a violation so blatant that the city cracked down, forcing Trump himself to huff and puff in the office of a City Planning Commission deputy and to write a letter complaining about "drug addicts" who apparently couldn't resist gilded Fifth Avenue rest stops. He lost that battle but never gave up, eventually replacing the bench and other public space with two Trump Stores, 40-foot mahogany counters where everything Trump—from books to bling—was sold at prices no vagrant could afford. The city fined him $2,500 in 2008, but sales, including those of Melania's timepieces and fashion jewelry, may have topped that every hour. So, they continued on for years, well after the presidential debut, until the city levied a $4,000 fine in February 2016 and finally shut the counters down.
In exchange for this atrium access, Trump even built his own three-story, $100 million, Louis XIV facsimile penthouse, where he issues tweets and devours Twinkies in his pajamas; yet he's broken the deal again and again, contemptuous of commitments to a public he now wants to represent.
Adapted from Trump: The Greatest Show on Earth–The Deals, the Downfall, the Reinvention by Wayne Barrett. Copyright Wayne Barrett. Available now as an ebook from Regan Arts.