Exclusive Excerpt 2: 'Man of the World: The Further Endeavors of Bill Clinton'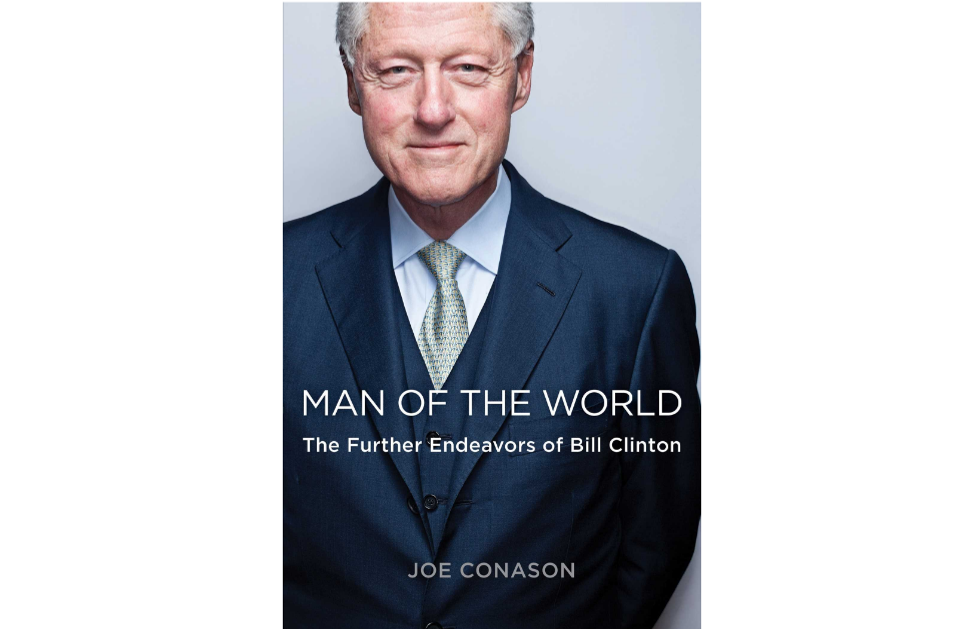 In Man of the World: The Further Endeavors of Bill Clinton, published on September 13 by Simon & Schuster, National Memo editor Joe Conason tells the remarkable story of the 42nd president's life and times since his presidency ended. Having departed the White House under the cloud of controversial last-minute pardons, Clinton saw his popularity in the United States plummet almost instantly. But he soon discovered that overseas he still could do useful work — and find friendly audiences. That discovery began when he decided to bring relief to Gujarat, India — the site of a ruinous earthquake on January 25, 2001, less than a week after he left office. The Indian prime minister asked for Clinton's help, and he swiftly organized friends in the Indian diaspora in the United States into a new organization, the American India Foundation.
..
In Gujarat, Clinton had found a compelling cause—with donors so enthusiastic and generous that the American India Foundation increased its fundraising goal to $50 million and scheduled a weeklong visit to the subcontinent, led by Clinton, primarily to assess conditions in the desolated western region. His experience as governor and president had afforded him considerable expertise in dealing with disasters, both natural and man-made.
Returning to India little more than a year after his historic March 2000 state visit, Clinton's itinerary included a couple of days touring the damage in Gujarat state, a morning at the late Mother Teresa's orphanage in Calcutta, and a banquet hosted by the prime minister in New Delhi. No paid speeches were on the schedule. With a far smaller entourage (including a dozen AIF leaders) and a humanitarian rather than geopolitical agenda, the trip established a post-presidential style that would serve as the template for many of his foreign tours. Usually he would enjoy all the perquisites and comforts due a visiting head of state: traveling via sleek private aircraft, staying in the very finest hotel suites, eating at the best tables in the best restaurants, riding in black Chevy Suburban SUVs with his Secret Service detail, flanked by local police vehicles and motorcycles. His staff made a valiant effort to uphold that standard, as did his hosts. It wasn't always possible.
When Clinton stepped off the Indian Airlines plane that had taken him from New Delhi to Bhuj, one of the largest and most heavily damaged cities in the state of Gujarat, the temperature under the glaring sun was 41 degrees Celsius—or just under 106 Fahrenheit. Wearing only a dark green T-shirt and khaki slacks, he jumped into a blue Jeep with [his chief aide] Doug Band, joining a slow crawl of two dozen vehicles—somehow without air-conditioning or bottled water—that were packed with members of the AIF contingent and local dignitaries. The perspiring convoy headed out from Bhuj's airport for the towns of Ratnal and Anjar, a trip of less than thirty miles that would take nearly two hours to complete. Along the roads, thousands of men, women, and children had lined up to greet the motorcade, applauding loudly and crying "Clinton! Clinton!" as it arrived an hour late.
What they found in the flattened villages left Clinton and his companions stunned, stricken, overwhelmed. There simply wasn't much left of those places, their small stone houses and concrete storefronts all tumbled into a jagged rubble of rocks, broken red roof tiles, and smashed wood beams, all strewn amid streets that nobody had cleared, two months after the quake. Yet the people of the towns, furious that the government had so far failed to restore their villages or homes, were nevertheless thrilled to see the tall white-haired man from America, an important man whose presence would, they hoped, draw fresh attention to their dismal living conditions. Dozens of young women and children greeted him with tossed rice and flower petals, as an elderly woman anointed his forehead with a reddish dot of blessing. Their energy lifted Clinton as he spoke.
"Today I have come to look, listen, learn, ask questions, see what we can do to help," he said. "The people of this place have lived through an unimaginable tragedy. The most important thing is to see whether this can be rebuilt." He said the world had not forgotten them, and prom- ised that soon much more help would be forthcoming, a message he repeated at every stop. "He's a big personality in the world,'' a dazzled truck driver told the New York Times. ''Something good will come of his visit, though we don't know what it will be.'' (The Times headline on the trip, featured on page one, treated him like a down-market showbiz personality: "Whatever Happened to Bill Clinton? He's Playing India.")
———
Gujarat state officials handed out a glossy brochure in every town Clinton visited, which claimed that following the earthquake, "the state government immediately swung into action and mobilized all available resources. . . . The entire machinery of the state responded to the ca- lamity with fortitude and determination." That blatantly aggrandizing message contrasted distinctly with what the survivors told Clinton and his friends. Government at all levels had failed them so far, providing little more than a $40 stipend along with some sheet-metal shelters and plastic tents. After two months, many thousands remained destitute and homeless.
"Nothing has been done, and nothing is going to be done. This is all for show," complained a teacher, as he waited to see the former president. "If Clinton stayed here a month, maybe then we would get some proper help."
Reaching Anjar, their main destination, the visitors from America went straight to a street where one of the most horrific incidents had occurred. More than two hundred elementary school students were parading on the morning of January 26 to celebrate Republic Day, a national holiday, when the temblor suddenly toppled buildings from both sides of the narrow lane and killed all of them. He was supposed to unveil a memorial plaque there, but that plan—like the relief efforts in general—had gone wrong. The memorial assemblage had been placed mistakenly on private property whose owner, irritated because the authorities had not first asked whether his land could be used, had re- moved the plaque, leaving only the modest stone pedestal.
Rotting garbage and ponds of sewage surrounded the area, a situation that local workers had tried to remedy by hastily covering the ponds with dirt and broken stones. The smell combined with the heat was almost overpowering. In remembrance of the dead children, Clinton set a bouquet of roses down on the stone pedestal and bowed his head for a moment of silence.
There were no words adequate to this tragedy, but he had to try. "We will raise funds to help the people of Anjar to confront their loss," he promised. "We have a plan to see if money can be given to people to rebuild their lives. We are interested in seeing results."
Sweat running down their faces and soaking their clothes, Clinton and his companions piled into their cars for the long, hot drive back to Bhuj, where the International Red Cross was operating a makeshift medical clinic to replace the city's badly damaged Jubilee Hospital. A CNN reporter at the clinic described Clinton as "visibly shaken" by what he had seen already. At the Red Cross site, located on the ruined hospital premises, he held a news conference with a crowd of mostly Indian reporters.
Saying that much of the money raised for disaster relief had not been deployed "very well" in years past, Clinton explained that the AIF planned to collaborate with other nongovernmental organizations and the Indian government on focused action to restore jobs, education, and housing to Gujarat. They would develop a program based largely on what he and his colleagues had witnessed. In the years ahead, Clinton would try repeatedly to improve the world's response to the desola- tion and trauma of such vast disasters.
Now, his voice quavering slightly with emotion, he mentioned the March 2000 state visit. "I will never forget it. I have always wanted to come back, but this sad event has brought me back earlier than expected." Before climbing into his Jeep, Clinton made another vow that he repeated at every stop: "I intend to come back to India for the rest of my life."
He met with relief officials from the Red Cross and other agencies the next morning in Ahmedabad, to discuss what they needed in Gujarat and how the AIF could be most helpful. By then, the scale of the destruction and suffering that they had witnessed was spurring him and his AIF companions toward more and more ambitious plans. Later that day, they announced that AIF had raised its fundraising goal for Gujarat to $100 million, with tentative plans to adopt one hundred villages for reconstruction.
In his meeting with the relief agencies, Clinton seemed to be grasping at larger aspirations for himself as well. According to Vimala Ramalingam, the secretary general of the Indian Red Cross, he expressed a desire in that meeting to support other humanitarian work across India—particularly to prevent the spread of HIV/AIDS. He also talked about discovering new ways to solve problems in Gujarat that could improve the lives of people in poor villages around the world.
"One of the things I am interested in," he later told reporters, "is coming up with a model which will be helpful in developing other villages in India or Africa or Latin America, that may not have had natural disasters, but would like to build a different future."
During the afternoon he toured Akshardham, a ten-story, hand- built, pink sandstone edifice in Gandhinagar that is one of Gujarat's largest Hindu temples. He was received with a big garland of crimson and white flowers hung around his neck, as women devotees chanted a peace prayer. Standing before the great temple he looked up, marveling that such an enormous building still stood perfectly intact, without any support from steel or concrete. "The earthquake has not damaged Akshardham?" he asked Pramukh Swami Maharaj, the guru of the modern Swaminarayan sect, which emphasizes service and tolerance. It had not. The swami walked him through the complex, trailed by monks swathed in orange robes, and Secret Service agents, perspiring heavily in polo shirts.
Despite the torrid air, again over 100 degrees Fahrenheit, Clinton noticed that he felt surprisingly calm and comfortable. Scheduled for fifteen minutes, the tour stretched into an hour as the swami and the former president ventured beyond the temple into a garden, filled with statues and carved stones, including a life-sized likeness of Gandhi. Then Clinton's glance fell upon an extraordinary artwork—the figure of a man, sculpting himself with a hammer and chisel from a giant block of yellow stone. "What an amazing, incredible idea," he blurted. "So powerful!" The swami smiled.
The sculptor's metaphor of self-realization intrigued Clinton, who stood and gazed at it for minutes. At last, someone reminded him that they had fallen behind schedule—and that some of his companions were almost fainting in the heat. Before he left, Pramukh Swami introduced him to temple volunteers working in the earthquake relief effort—and to a Muslim man who told Clinton that although there was not a single Hindu family in his village, Akshardham had sent workers, construction materials, and food to aid the people there every day since the quake.
In the visitor's book, he wrote:
April 5, 2001
Thank you—

for welcoming me
.
for making me feel at home.
for reaching out to all God's children

for helping the people hurt by the earthquake
for working for peace and reconciliation.
—Bill Clinton
Excerpted from Man of the World: The Further Endeavors of Bill Clinton, by Joe Conason. Copyright © 2016 by Joe Conason. Used by permission of Simon & Schuster.. All rights reserved. No part of this excerpt may be reproduced or reprinted without permission in writing from the publisher.