Expectations Are High As Mexico Prepares To Accept Foreign Oil Explorers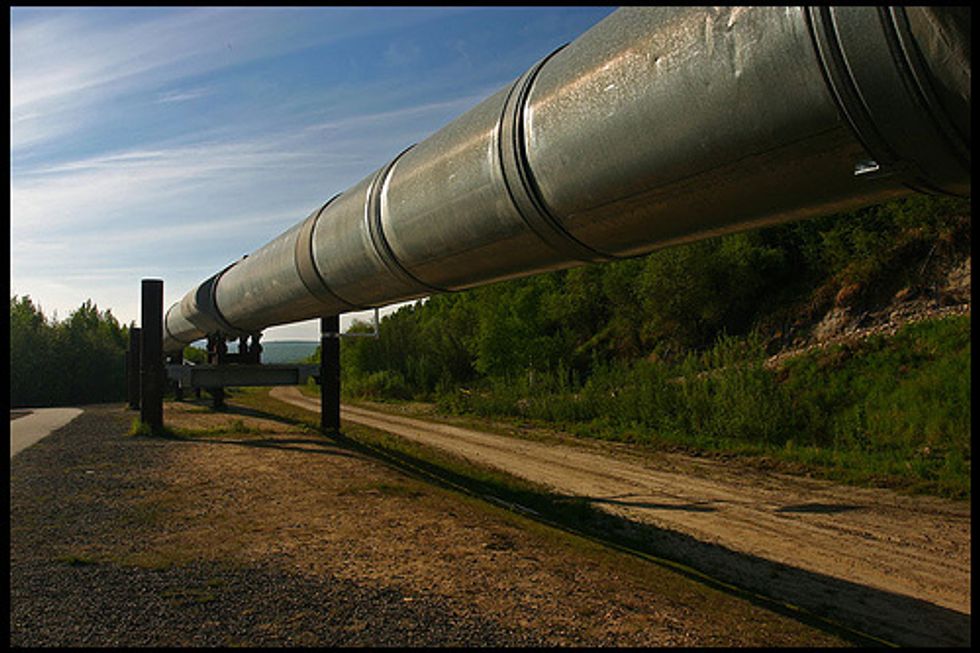 By Alfredo Corchado and James Osborne, The Dallas Morning News
HIDALGO, Mexico — On barren ranch land just south of the Texas border, where road signs are pockmarked with bullet holes, a small group of foreign oil and gas companies is looking for the future.
Conditions are difficult — some companies have resorted to paying protection money to drug cartels that control the area — and results from test wells have been limited. But as Mexico prepares to open its oil and gas fields to exploration by foreign companies for the first time in seven decades, expectations are high.
"I think all the stars are in alignment this time," Ray L. Hunt, chief executive officer of Dallas-based Hunt Consolidated, said in an interview. "Mexico has a significant natural resource. And I think 10, 15, 20 years from now you're going to see huge changes along the border."
The obstacles are numerous, from oil at the deepest depths of the Gulf of Mexico to gas shale formations in cartel-controlled territory along the 1,200-mile border with Texas.
President Enrique Pena Nieto pushed through constitutional amendments last year ending the monopoly of the state-owned oil company Pemex. But the Mexican Congress still hasn't agreed on a legal and regulatory framework for the reformed energy sector. Officials have set an August goal to finalize changes in the law to attract foreign investment without giving up too much of the oil wealth that many Mexicans consider their birthright.
Beyond the political debate, Mexico lacks the infrastructure to expand drilling, the geologic surveys to identify new fields, and the security that many companies want before taking big risks.
Mexico estimates its deepwater and shale reserves at about 90 billion barrels of oil and natural gas. If that proves true, it would re-establish Mexico as one of the world's leading hydrocarbon-controlling countries.
But Pemex has struggled to keep pace with the technological revolution the wider industry has undergone over the past decade. While new deepwater drilling and hydraulic fracturing technologies have opened up vast new deposits in the United States, Mexico's crude oil production has fallen more than 20 percent since 2004, to 2.6 million barrels a day. That has put increasing pressure on the government, which relies on Pemex for a third of its tax income.
Pemex officials believe shale has the potential to provide Mexico with more oil and gas than the country has produced since it first struck oil in the early 20th century. "Mexico has the sixth-largest gas shale fields in the world. And you're all welcome to come join the exploration opportunities," Emilio Lozoya, Pemex's chief executive, said at an energy conference in Houston in March.
Developing those resources would require up to $1.2 trillion in capital spending, according to an analysis earlier this year by Goldman Sachs. The world's four largest publicly traded oil companies spent less than $180 billion worldwide last year.
The hope at the highest echelons of Mexican politics and business is that development of the energy reserves will not only boost government revenue, but also expand the country's industrial and manufacturing economy far beyond anything envisioned 20 years ago, when the North American Free Trade Agreement was enacted.
"Mexico's declining oil production, the rigidities of the (political) system, have been known for a long time," said Daniel Yergin, author of "The Prize: The Epic Quest for Oil, Money and Power."
"As Mexico becomes a manufacturing platform of the global economy, they really need the energy supplies," Yergin said. "It's not something that happens overnight."
Expanding drilling in the Gulf of Mexico poses relatively little challenge for major international companies. Irving-based Exxon Mobil and Chevron are already drilling deepwater wells in the U.S. Gulf, and moving operations south across the international line would be relatively easy if the terms were right.
Extracting oil and gas from Mexico's shale deposits is another matter.
Along the border in northeastern Mexico lies the Burgos Basin, an extension of Texas' energy-rich Eagle Ford Shale. But the Mexico side lacks adequate roads, pipelines, processing plants, and housing for workers. And less-developed areas, noted Eduardo Medina Mora, Mexico's ambassador to Washington, are more vulnerable to criminals.
U.S. intelligence reports show that incidents of criminal gangs illegally tapping pipelines along the border increased more than sixfold between 2006 and 2012, to more than 1,400 a year, according to a U.S security consultant who works with American energy companies.
In 2010, Pemex, the state-owned oil company, sued five American energy and chemical companies in U.S. federal court, claiming they had bought more than $300 million in stolen natural gas condensate with the assistance of Mexican customs officials.
Some areas in the Burgos Basin are hotly contested by the Gulf and Zetas drug cartels. As test wells are drilled and pipelines laid, some energy companies operating in the area are paying off the Zetas cartel just to operate, according to executives and security personnel who spoke on condition of anonymity.
"Security is a big concern, even bigger when the Mexican constitution prohibits you from carrying guns on Mexican soil," said the U.S. security consultant, who spoke only on condition he not be further identified. "So what do you do? Hire a cartel to look after your interest."
Nuevo Laredo, in the state of Tamaulipas just across the Rio Grande from the Texas city of Laredo, is one area in the grip of a cartel.
Despite the presence of federal troops, locals say drug cartels have ordered bars across the city to play at 1 a.m. over their loudspeakers "The Life of Miguel and Omar," a corrido, or ballad, to imprisoned Zetas leader Miguel Angel Trevino Morales and his younger brother.
"If you can't even have a beer without fear of getting killed, how can you even think of drilling for shale?" said a rancher in the area, who spoke on the condition of anonymity out of fear of reprisals. "Sometimes this feels like a cursed land."
The Mexican military recently announced plans to double the number of soldiers in nearby Nuevo Leon state, setting up what federal Congressman Javier Trevino said amounts to "trip wires" along roads near the state borders to keep the cartels out.
Like its neighboring states of Tamaulipas and Coahuila, Nuevo Leon has faced tough security challenges from organized crime. But Nuevo Leon, which includes the industrial city of Monterrey, has taken steps to counteract the criminals after intense pressure from private and foreign companies.
With the help of the private sector, the state has spent millions of dollars to train new state police and to replace police officers suspected of corruption. It was part of a wider effort to strengthen the rule of law by training judges and prosecutors.
Trevino, a former lieutenant governor of Nuevo Leon and a member of Pena Nieto's Institutional Revolutionary Party (PRI), said that security is the key to attracting billions of new dollars in energy investment.
But security "requires a lot of effort," he said. "This is a task that is fought day to day. This takes a lot of resources, courage, and political will. … That's what Nuevo Leon has learned."
His advice to the other states straddling the shale-rich Burgos Basin: "Get your house in order."
Despite assurances from the government that the region is safe for the U.S. companies pondering investment projects, on a micro level it's a different story. In April, about 30 workers for Weatherford International Ltd., a Swiss oilfield services company, were escorted out of Ciudad Mier, in Tamaulipas, by police after gunmen riddled their hotel with bullets. It was not clear whether the workers were being targeted.
Rod Lewis, chief executive of Lewis Energy in San Antonio, has long been described as the first "gringo" wildcatter to drill in Mexico since the country nationalized its oil in 1938. His company won a contract in 2004 to drill test wells for Pemex in the states of Nuevo Leon, Tamaulipas and Coahuila.
Lewis declined to be interviewed for this story.
Employees at one of his drilling sites near Nuevo Laredo are forbidden from leaving the facility after dark even though many live a short drive across the border in Texas. According to workers and others familiar with the operation, the gated site is like a military compound, with strictly controlled access.
Chris Robart, a consultant with PacWest Consulting Partners, said that during a recent investor presentation, Lewis described the company's security precautions as extensive. "They don't want any kidnappings, any surprises," Robart said.
Across Mexico, entire regions are positioning themselves for what they believe will be a major makeover. No other state appears as prepared as Nuevo Leon and its capital, Monterrey. Already a leading center for the production of glass, beer, cement, and many other products, the city now sees energy within its grasp.
"The goal is for Monterrey to become the new energy capital, from wind to shale," Rodrigo Medina, the governor of Nuevo Leon, said in an interview. "The Houston (or) Dallas of Mexico."
Congressman Trevino has a similar vision, as he drives through the Eagle Ford along Interstate 35.
Two years ago in the Eagle Ford, oil and gas development generated more than $46 billion in economic output and supported 86,000 jobs, according to a 2013 study by the University of Texas at San Antonio.
Once-quiet South Texas towns like Cotulla are turning into thriving communities. On a recent visit, at least 15 hotels had either recently gone up or were under construction, along with new restaurants and shopping centers. In a region with historic high poverty and dropout rates, energy is allowing many to find high-paying jobs in and around the oil fields.
"I see a complete transformation, a completely new world," Trevino said. "That's our aim in Mexico, and Texas is showing us the do's and don'ts."
Hanging over everything, though, is the question of what exactly Mexico has in the way of oil and gas deposits. Pemex has released estimates but not the geologic data behind it.
So far, the only foreigners to see the data are a handful of consultants, and the belief is that far more study is needed, according to several executives and experts interviewed for this story.
Hunt Consolidated, a famously quiet, family-controlled company that has drilled in places like Yemen and Peru, has been watching Mexico for years. It already owns vast real estate along the border and in central Mexico and was the first to commercially connect the U.S. and Mexican power grids through its subsidiary Sharyland Utilities. It just opened a Mexico City office in the upscale Polanco neighborhood and moved one of its executives to work there full time.
But still, the company is moving cautiously, said Hunter Hunt, president and chief operating officer.
"There's a lot of the country that isn't well understood, even by Pemex," he said. "This is not a gold rush, get-rich-quick, let's-pile-on-as-fast-we-can situation."
But ever since Pena Nieto announced last summer that Mexico was opening exploration to foreign companies, Mexican officials have been crisscrossing the border, seeking counsel from state regulators in Austin and oil executives in Houston and Dallas. Likewise, an energy conference in Mexico City this year was packed with Texas oil executives.
"The response has been very positive," said Trevino.
Exxon chief executive Rex Tillerson, who has been largely quiet on Mexico, said at a news conference in May: "I'm quite encouraged with the progress the Mexican government is making."
Historically, oil has been a blessing and a curse for Mexico. It provides the government funds for hospitals, education, and other public programs far beyond what the country's economy would otherwise support. But it has also led to widespread corruption.
David Mahmood, chairman of Dallas investment firm Allegiance Capital, said he encountered that very problem when he was setting up a deal to buy a Mexican company about six years ago. The company, which he declined to name, had a tax liability he estimated at $6 million. Mahmood wanted the money set aside in an escrow account. But the owner declined, explaining that $1 million would be more than enough.
"He said, 'There isn't a judge in Mexico I couldn't buy for $1 million,'" Mahmood said.
Under Pena Nieto's larger economic reforms, the penalties for corruption are stiffened, and officials say the bidding process will be transparent, though they have yet to release details. But the administration has a long way to go to convince a skeptical public that anything will change, acknowledged Trevino, the congressman.
Public opinion polls showed that a majority of Mexicans favored energy reform when the constitutional amendment was approved in December. But sentiment has since soured, with growing calls for the president to detail how reforms will benefit the people. Mexico's Academy Award-winning director Alfonso Cuaron has taken out full-page ads in national newspapers asking Pena Nieto to explain the anticipated benefits of the reforms.
Pena Nieto has only four years left in his six-year term, which expires at the end of 2018. He, along with Lozoya, the Pemex chief executive, have pushed for an expedited schedule that could have foreign companies bidding on oil and gas wells by the beginning of next year. Even within the government, though, there is a question of whether the administration's time frame is too optimistic, said Roberto Lozano, a former deputy director with Mexico's Ministry of Energy who now works for a research firm in Tokyo.
"For these reforms to succeed, it will need lots of investment and time, lots of time," Lozano said. "I don't think the results will be visible this presidential term."
Getting significant development before the end of the current administration will be crucial if Pena Nieto and his allies are to win over a skeptical population and prevent a rollback by the next administration, said Ray Hunt.
"If they can't show they were correct, then the skeptics will have every right to say, 'I told you so.' And things can be tacked on that are counterproductive. But if they can demonstrate that in today's global economy this was the smart thing for Mexico — which I personally think it is — nothing will be undone," he said.
Energy reform could provide a bridge out of poverty for millions, said Tony Garza, former Texas railroad commissioner and U.S. ambassador to Mexico.
"NAFTA was about trade, exports," said Garza, legal counsel for the law firm White & Case in Mexico City, where he advises U.S. energy companies and others interested in investing in Mexico. "Energy reform is about not only generating good-paying jobs, but allowing Mexico to be more broadly competitive, something that can really drive and allow an economy to expand … and that's why this has the potential to transform both sides of the border."
Alfredo Corchado reported from Mexico, South Texas, Dallas, and Washington, D.C. James Osborne reported from Dallas and Houston. Staff writer Jim Landers in Washington contributed to this report.
Photo: Rickz via Flickr
Interested in world news? Sign up for our daily email newsletter!