Exploring One Of America's Newest National Parks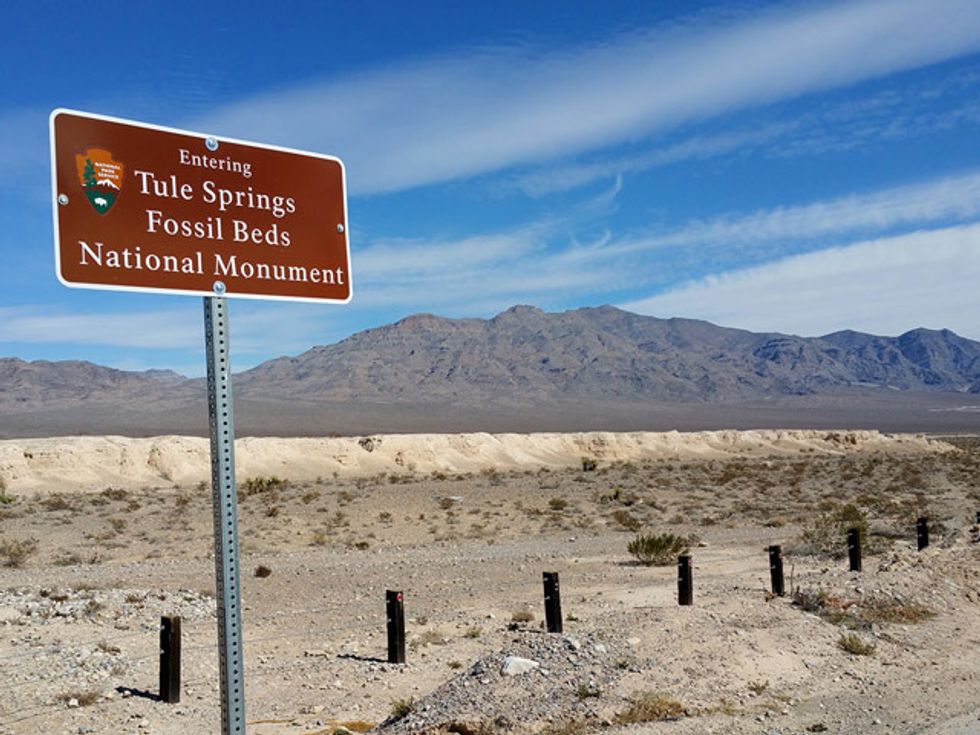 By Jill Schensul, The Record (Hackensack, N.J.) (TNS)
One of America's newest national parks was around here … somewhere. Just not right here, at the end of a cul-de-sac in the middle of a housing development in North Las Vegas, a Nevada city about 20 miles north of, yes, that Las Vegas.
I suppose my GPS did the best it could when I typed in "Tule Springs Fossil Beds National Monument." It got me to Tule Springs Road. It probably couldn't find park coordinates because even though it was designated a national monument on Dec. 19, 2014, the 22,650-acre tract isn't exactly on the map yet.
The Travel Nevada website is telling:
"Because Tule Springs is a new park, there is no visitor center, facilities or parking areas. Right now, to access the park people can park on nearby public roads in the cities of Las Vegas and North Las Vegas, and they can enter the monument on foot."
So even if I parked and walked 20 miles or so, where exactly could I enter the park?
Still, once I heard (overheard, really, during a day tour in Las Vegas) about the new park, it became a must-see during my weeklong trip in the desert. I was optimistic. The stumble-upon is my usual MO, anyway, and all those park acres meant the odds were good that I'd find it.
It was intriguing on two counts: First, the opportunity to get a peek at a brand-new national park, and obviously this one was fairly unknown. It was like a sneak preview of a new ship or theme park. And I wouldn't have to fight crowds to enjoy it. No visitor center, no amenities? I could rough it. Second, the fossil beds — the park's main feature.
Las Vegas wasn't always filled with casinos, and it wasn't always a desert. In fact, the region rocked with all kinds of wildlife starting about 200,000 years ago and persisting, some say, right up to about 3,000 years ago. This area was home to a variety of big, big wildlife, including ice age Columbian mammoths, whose tusks were more than 6 feet long and whose molars were as big as a human head; camelops, supersize versions of today's models; American lions that weighed up to 1,100 pounds; sloths the size of sports cars; plus ancient horses, dire wolves, sabertoothed cats and bison.
In the early 1900s, scientists made the first fossil finds in what is technically called the Upper Las Vegas Wash. Since then, thousands of fossils have been discovered in just a few dig areas. What is unique in Tule Springs is that the fossils cover a vast time span — between 200,000 and 250,000 years (geological time estimates carry a bit of wiggle room). Scientists have the opportunity to study changes in climate over that long period, and its effects on populations and species survival.
Tule Springs is a national monument, a designation given to sites that contain "at least one resource of national significance," according to the National Park Service's definition. Apparently it is so rich with fossils from the ice age that you might very well stumble upon some 200,000-year-old bone or tooth.
Yes, I'd walk, well, I guess 20 miles for a camelops.
So getting back to getting there. I'd remembered seeing something about a parking site near a "big dig." I envisioned a smaller version of the 1½-decade Boston Big Dig tunnel project and decided to look for a major construction site. I didn't have to look hard. Bulldozers and people in hardhats were everywhere. Desert was being pushed around, housing developments rising in its wake like weeds.
I stopped to ask a few locals for directions. Nobody had heard of the national park. How was that possible? Had the neighbors been surprised when park rangers opened the gates of Yellowstone?
At a county park, I was thankful to get some information. Employees there had heard of Tule Springs — they had a newspaper article about a mammoth tusk find on their bulletin board — though they hadn't actually been there. Someone had told them it was just down Durango Drive, which ended in a T-intersection at Moccasin Street.
They also handed me a strip of paper with an email contact for someone who could arrange a tour of the national park. I put that in a safe place and headed down Durango, increasingly skeptical as I passed still-unmitigated suburban development.
Then I saw the T-intersection. The narrow sidewalk across the road meant that it was not just a physical barricade to traffic and further urban sprawl. It was a border, a boundary between the familiar and the hard-to-believe. Today and millenniums long past. The Las Vegas of casinos and the Las Vegas camelops.
It was 91 degrees outside the car. The sun pounced, my pupils retreated into pinpricks as I stood looking up at the sign: "Tule Springs Fossil Beds National Monument."
It stood at the metal fence that marked the border, a physical divide and an official boundary between a national park and the rest of America. I gazed off at the new park, a strange sea of gray and rust and pink desert sand rippling into the distant smudge of the Sheep Mountains. A roof of sky was so bright and blue that you'd find it futile to explain what it does to your heart.
An unlikely place to put a park.
Then again, somebody had to draw a line somewhere.
Sandy Croteau was one of the line-drawers. The diminutive woman who greeted me a few days after my first park encounter was going to be my tour guide that morning.
Before the fight to save Tule Springs, Croteau knew nothing about paleontology, had never been an activist and, as a real estate broker, had a vested interest in growth and development. She was just a fan of the desert, who fell so hard in love with it that she moved from California 15 years ago.
The Upper Las Vegas Wash was under the federal Bureau of Land Management at the time, and in 2004, the agency put it on a list of lands it planned to sell. By 2007, though, the BLM had learned about the trove of fossils and changed course, Croteau said. It sent a representative to homeowner meetings to raise interest in forming a citizens group to help protect this land.
Croteau, who lived near a section of Tule Springs, hadn't known about the fossils until she attended one of those meetings. She left with a mission.
"If someone didn't do something, this would be gone forever," she said, speaking of the desert-scape before us. Her voice quivered, "This is our land. I wanted to save it."
She and four other self-described "old ladies in tennis shoes" formed a nonprofit, Protectors of Tule Springs. They knocked on doors, getting 10,000 residents to sign a petition against the sale. They involved mayors and council members whose municipalities touched Tule Springs. They enlisted the Nellis Air Force Base nearby and the University of Nevada paleontology department.
They were stunned by how quickly everyone agreed, supported and came together to protect Tule Springs. Then again, they may have realized how much of the fossil treasure had already been lost and figured this would be their last chance.
They needed the highest level of protection available for Tule Springs — against vandals, fossil raiders and developers. The BLM didn't have the manpower, so officials in Las Vegas, North Las Vegas, Clark County and the Southern Nevada Paiute tribe drew up proposals for Congress to create a new park. Under the management of the National Park Service, Tule Springs would have sufficient infrastructure and staff to protect its treasures.
Not only would it be protected, but it could become a major asset for the community and for tourism in Las Vegas and beyond. The idea was to make it the country's first ice age park, a place where visitors could not only enjoy scenery but learn, watch scientific digs, even participate in the work, as well.
The fossils are the big attraction, but after we set off, I learned there was additional treasure to discover.
"Over here, look!" Croteau called.
I tear my eyes away from a patch of soil I am sure is hiding both mammoth tusks and scorpions and go look. While fossils are the headliners of Tule Springs, our first stop is at one of the three still-living-but-rare plants you'll find in the region: the Las Vegas bearpoppy.
I had been told that this is one of the rarest of the rare flora of America, yet there it sat as if no big deal in the midst of the cracked mud. I could see why it's endangered; I wanted to pull it up to take home. It is the cutest plant I've ever seen: a cross between a barrel cactus and a sheepdog, with silvery leaves and silvery fur. It looked as if it might jump up and giggle off to an appointment.
Not far from the bearpoppy, I had my first look at that elusive "big dig" I'd heard about. It was a flat, clear, square patch in the ground, the footprint of a tent. The big dig wasn't an urban traffic project, as I'd imagined, but a scientific dig from the early 1960s, when researches went there to test newly perfected carbon-dating technology.
At the time, scientists used big construction equipment to dig the extensive trenches that are part of the landscape today. The Park Service has decided the big dig is part of Tule Springs' history and will be preserving the trenches, the campsites and even the garbage. Rusty can with bullet holes — trash; rusty can of spam — artifact.
Even more of a problem for the untrained eye is discerning fossils from plain old soil and rock. I probably imagined I had found about 20 sabertoothed tiger teeth, which turned out to be nothing more than rocks. I probably walked right by a dire-wolf jawbone. I was glad Croteau was along to steer me toward the good stuff. She had taken a paleontology course to know what to look for.
Anywhere I stood, I could have stayed and looked. And looked, and thought about the past, the millenniums just beneath my feet.
It was getting hot, I realized, perspiration stinging as it rolled into my eyes. I realized I needed to get back to the car and leave soon to catch my flight.
Croteau was about to turn a corner ahead. I could follow her to what I was sure was a mammoth tusk with my name on it. Or I could go back the other way to my car, and to the airport.
I pulled out my cellphone and called my airline. I could fly home tomorrow. How many times would I get this incredible a look at the very long ago past?
IF YOU GO
WHERE: Tule Springs Fossil Beds National Monument is about 20 miles north of the Las Vegas Strip. Its 22,650 acres stretch in a very irregular zigzag along U.S. Highway 95 north of Aliante and Centennial Hills to Creech Air Force Base.
LOGISTICS: Two intersections that provide easy access to the park are at the edges of housing developments in the North Las Vegas area: At Durango and Moccasin roads and at Decatur and Horse roads. Street parking is available at both sites.
KEEP IN MIND: The park is open during daylight hours. Remember that this is the Mojave Desert, and midday temperatures in the summer can hit 100 degrees plus. It's also desert-dry, which means you need to carry water and keep drinking whether you're thirsty or not.
If you're hiking, be aware that there are as yet no trails or markers for directions. Keep track of your route via GPS.
Protectors of Tule Springs, the park's advocacy group, offers free hikes on a regular basis. You can contact the group at: protectorsoftulesprings@gmail.com. For more information on the organization, go to tulespringslv.com.
MORE INFORMATION: The National Park Service website at nps.gov/tusk.
©2015 The Record (Hackensack, N.J.). Distributed by Tribune Content Agency, LLC.
Photo: In Dec. 2014 Tule Springs Fossil Beds National Monument became the newest member of the national park system. Its nearly 23,000 acreas are a treasure trove of fossils from the Ice Age. As of now, the monument has none of the usual amenities of well-established national parks – little signage, no visitor center, not even directions how to get there. (Jill Schensul/The Record/TNS)