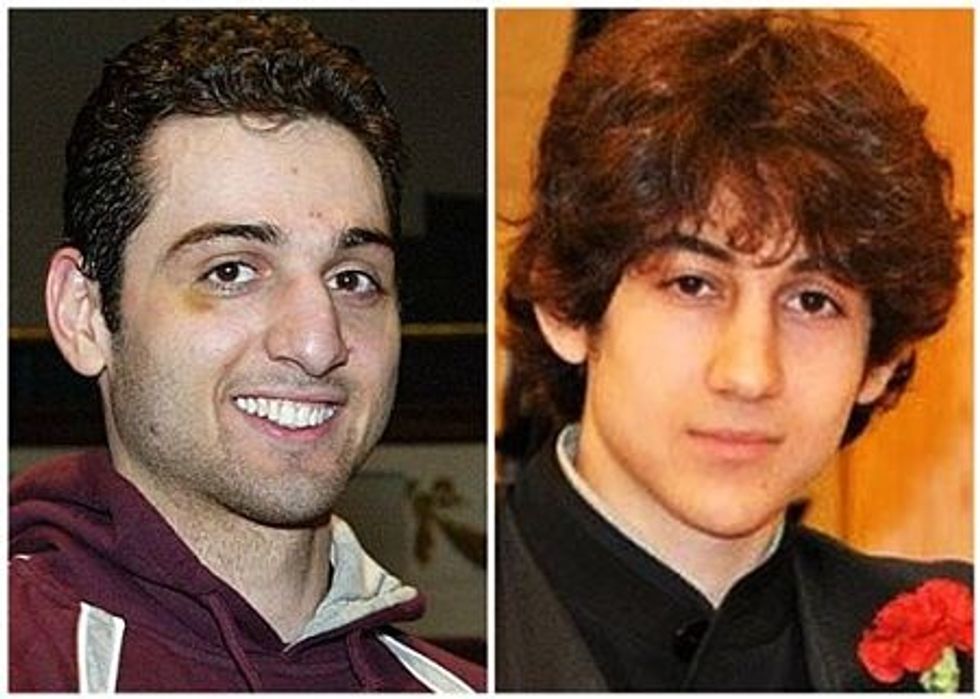 "I know this sounds racist, but …"
So goes the subject line on last week's email from Bill, a reader. It seems Bill has an idea. Given that "all of the radical terrorists have been Muslims," he wants the government to mount a program to surveil every follower of Islam who immigrates to these shores. We are, claims reader Bill, "faced with a population who swears an oath to God to kill Americans — not Canadians, not Mexicans, but Americans." It is, he says, "time we protect ourselves."
Well.
For our purposes today, we will ignore the fact that Islam is not a race, so animus toward Muslims is not, strictly speaking, "racist." Bill's point is clear enough. And his anger is understandable, coming as it does after the Boston Marathon bombing and the savage butchering of a British soldier by Islamic extremists. Predictably, the UK has suffered a rash of right-wing demonstrations and attacks on mosques ever since Lee Rigby's death. One suspects that there'd be no shortage of sympathy for Bill's suggestion — and for measures even more draconian — both there and here.
But I find myself thinking about white boys.
Consider: This nation's recent history is stained by repeated acts of school violence. From Newtown, CT, to West Paducah, KY, to Santee, CA ,to Eugene, OR, to Conyers, GA, to Pearl, MS, to Jonesboro, AR, to DeKalb, IL, to Littleton, CO, we have seen scores of people killed and injured. The violence has been random, large scale and indiscriminate, identical to terrorism except that it has no political motive. And the profile of the assailants is virtually always the same: white boys and young men from suburban, small-town or rural communities.
Small wonder Chris Rock got such a huge laugh when he joked about diving off the elevator when two high-school-age white kids got on. "I am scared of young white boys," cracked Rock in 1999.
If, then, the reasoning is that we are entitled to demand extra scrutiny of people who meet a profile associated with random violence, can we expect arguments for the mass surveillance of young white boys anytime soon? Of course not. You won't even see random school shootings framed in racial dimensions by the media, even though those dimensions are glaringly obvious.
White boys are a known — and a norm. Indeed, many of those in media and elsewhere who decide how perceptions will be framed were once young white boys themselves. So it's easy for them to recognize the unfairness and absurdity of tarring America's 16.8 million white males, ages 15 to 24, with the actions of a few.
But Muslims are different, right? For most of us, they are not a known or a norm, but an Other. And so, some of us are perfectly comfortable using the actions of a few of them to tar all 1.6 billion.
Look, I don't blame reader Bill for his frustration or his anger, nor for wanting to interdict Muslim extremism. I'll grant that in too many nations in the Islamic world, extremism is too little challenged and is, indeed, encouraged. I'll also grant that most of the terror that racks this planet is the work of Muslim extremism, and we must be energetic and creative in ferreting out that extremism on our soil.
But the key word in all of that is not Muslim. It is, "extremism," i.e., the willingness to do anything in furtherance of a goal. Extremism is what we ought to fear, regardless of the cause it serves. Even if that cause is our own national security.
The moment we fail to understand that, the moment we become sanguine about this idea of holding the many responsible for the crimes of the few, is the moment we betray what we purport to hold dear.
Even reader Bill seems to understand that, if only obliquely. "I know this sounds racist," he says.
Yeah. Well, you know, Bill, there's a reason for that.
(Leonard Pitts is a columnist for The Miami Herald, 1 Herald Plaza, Miami, Fla., 33132. Readers may contact him via e-mail at lpitts@miamiherald.com.)
AP Photo/The Lowell Sun and Robin Young, File