Eye Of The Copyright: Huckabee And Kim Davis Told To Back Off Rock Song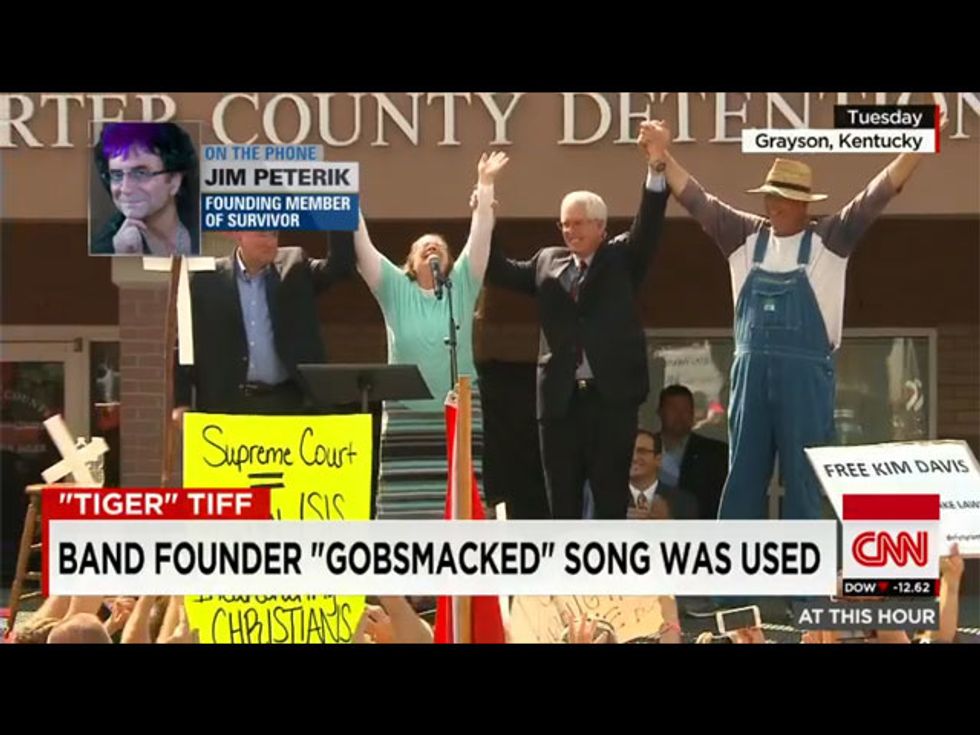 Mike Huckabee and Kim Davis might believe in the sanctity of heterosexual marriage — but they apparently don't believe in the sanctity of intellectual property.
At yesterday's rally for the Kentucky county clerk's release from jail (which Huckabee choreographed into a campaign photo-op), the classic '80s rock song "Eye of the Tiger" — perhaps best known as the theme to the movie Rocky III — was played as Davis took the stage. And the band who wrote and recorded the song, Survivor, are not happy.
Almost immediately on Tuesday the band's founder and co-writer of the song, Jim Peterik, posted a message on Twitter:
I have not authorized the use of Eye of the Tiger for use by Kim Davis and my publisher will issue a C&D. This does not reflect my views.

— Jim Peterik (@jimpeterik) September 9, 2015
It's yet another chapter in the long, sad history of Republican politicians who purloin rock songs against the artist's wishes. But even beyond this cultural point, another important financial interest also needs to be understood.
In an interview Wednesday on CNN, Peterik explained that he really didn't want to get publicly involved in politics at all. "We're talking about personal achievement, we're talking about one's man struggle or one woman's struggle to be the best that they could do," Peterik said.
Peterik repeatedly pointed out that permission is often sought to play his song at sporting events. Older music acts and songwriters can make a decent income from the royalties that come from granting permission to play their songs at public events. So Peterik's bottom line could be adversely affected if his music were to become identified with a hot-button political issue — especially one involving a religious-right protest against the civil rights of LGBT people.
When asked where he stood on the actual issue of same-sex marriage, Peterik simply described his own political views as "personal" — and that he definitely did not like that the event organizers didn't ask permission. (Of course, Peterik's initial tweet did appear to say that Davis' views are not his own — but it's also understandable that he would want to reassert some position of political neutrality.)
The band's current leader, guitarist Frankie Sullivan — who co-wrote the song with Peterik — was much less diplomatic. On Tuesday, he posted a message on Facebook:
NO! We did not grant Kim Davis any rights to use "My Tune -The Eye Of The Tiger."

I would not grant her the rights to use Charmin! C'mom Mike, you are not The Donald but you can do better than that –

See Ya really SoooooooonnnnnnN!!!!!!

fs
One day later, at a Tea Party rally protesting the Iran nuclear deal, R.E.M.'s 1987 hit "It's the End of the World As We Know It (And I Feel Fine)" played during Donald Trump's entrance. Band member Mike Mills almost immediately expressed his dissatisfaction with the unauthorized use of the song, and he added that a full statement from the band would be forthcoming.
At least there's one musician who will let the right wing blast his tunes.