Senators Demand Probe Of Fake 'Rothschild' Heiress Who Infiltrated Trump Club
@next2godwin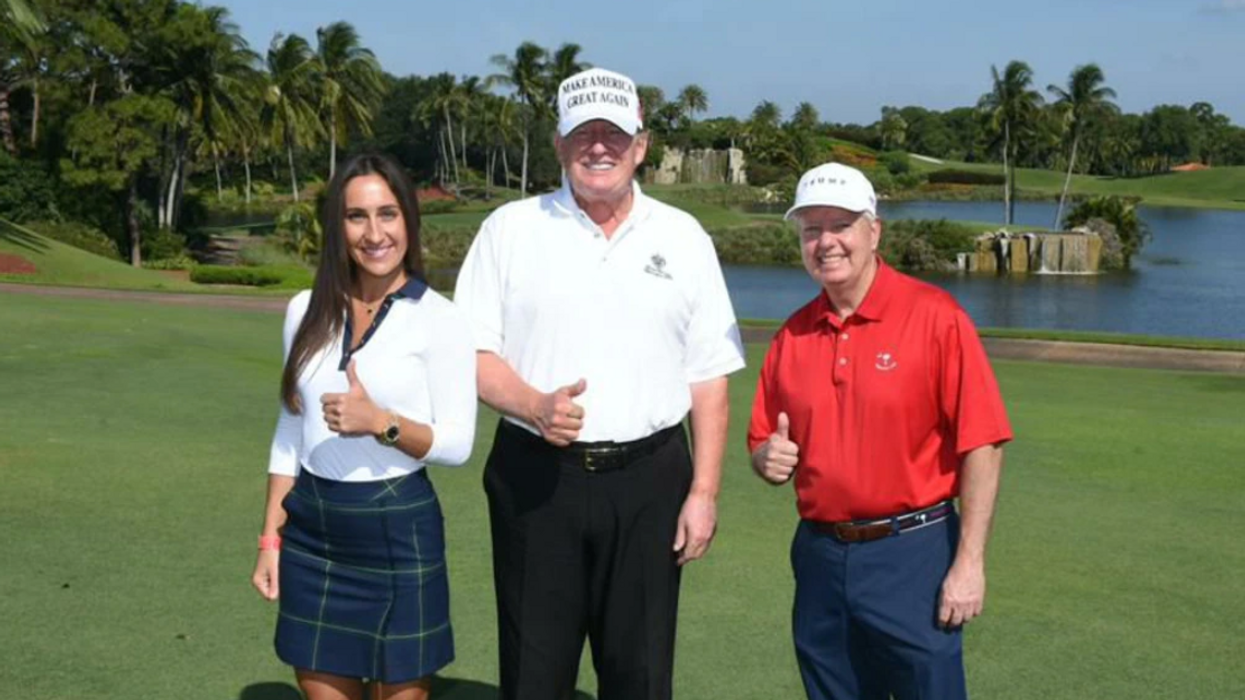 Senators are calling for an investigation into a Russian-speaking Ukrainian scammer who, posing as a member of the Rothschild banking family, infiltrated Mar-a-Lago and met top Republicans, including former President Trump.
The startling case underscores the security challenges that plagued Trump's resort — the de facto headquarters of the GOP — where the former president stashed confidential government records, including documents with markings higher than "top secret."
Inna Yashchyshyn, the 33-year-old daughter of an Illinois truck driver," conned her way into Trump's private club on "multiple" occasions and convinced club members she was Anna Rothschild, an heiress of the famous European banking dynasty, the Organized Crime and Corruption Reporting Project, in conjunction with the Pittsburgh Post-Gazette, reported in August.
\u201cPG INVESTIGATION: Meet the 33-year-old woman who, while claiming to be a Rothschild, infiltrated Mar-a-Lago and former President Donald Trump's entourage.\n\nNow she's a subject of a widening FBI investigation.\n\n\u201cHow did they allow this?\u201d\nhttps://t.co/fV4Bsh7LTs\u201d

— Pittsburgh Post-Gazette (@Pittsburgh Post-Gazette) 1661527002
Yashchyshyn's ruse, the Post-Gazette wrote, "demonstrates the ease with which someone with a fake identity and shadowy background" could breach security at Trump's club, "one of America's power centers and the epicenter of Republican Party politics."

The chairman of the Senate Intelligence Committee, Senator Mark Warner (D-VA), said Yashchyshyn's breach was another example of "what appears to be porous or even nonexistent security at Mar-a-Lago," per the Post Gazette.
"I have regular contact with senior leadership [of the intelligence agencies], and I intend to raise this issue," Warner told the publication.
Yashchyshyn posed for photos with Trump and Senator Lindsey Graham (R-SC) on a golf course and later with Kimberly Guilfoyle, Donald Trump Jr.'s fiancee, as well as Trump campaign donor Richard Kofoed and other Trump associates after dinner at an Italian restaurant.
"Anna, you're a Rothschild. You can afford $1 million for a picture with you and Trump," a man told Yashchyshyna at Trump's golf club in video footage obtained by the Post-Gazette.
"It wasn't just dropping the family name. She talked about vineyards and family estates and growing up in Monaco," John LeFevre, a former investment banker, told OCCRP. "Everyone was eating it up," he added.
According to OCCRP and the Post-Gazette, Yashchyshyn, the former director of an embattled Miami charity, is under investigation by "both the FBI's office in Miami and the Sûreté du Québec provincial police in Canada."
Several records linked to Yashchyshyn were obtained by the FBI in its investigation, including "copies of two fake passports from U.S. and Canada — bearing her photo and the name Anna de Rothschild" and a Florida driver's license with a fake address of a $13 million Miami Beach mansion she had never been to, the Post-Gazette reported.
Yashchyshyn, "a self-confessed grifter," denied knowing Anna de Rothschild and blamed her one-time business partner, Valeriy Tarasenko, for the existence of any passports that bore the Rothschild name and her photo, saying, "I think there is some misunderstanding," according to the OCCR.
Tarasenko filed a domestic injunction against Yashchyshyn in South Florida and accused the fake heiress of defrauding "rich older men" and abusing his daughter.
Yashchyshyn, Tarasenko said in an affidavit, used "her fake identity as Anna de Rothschild to gain access to and build relationships with U.S. politician[s], including but not limited to Donald Trump, Lindsey Graham, and Eric Greitens," according to the Post-Gazette.
Yashchyshyn's charity, United Hearts of Mercy, founded in 2010 in Canada and 2015 in Miami, claimed on Facebook to help "release children from spiritual, social, economic, and physical poverty in Africa, the U.S., Canada, Haiti, and the Dominican Republic," but where the funds it raised ended up is still not clear.
The charity's records showed it raised at least $236,500 in a donation drive for families of covid-19 victims. However, Stripe, a payment processing platform, later kicked the charity off their platforms on suspicion of fraud after it found donations made to the charity from stolen credit cards from Hong Kong.
In a sworn statement made last December, the charity's certified public accountant, Tatiana Verzilina, said that the charity, which allegedly raised $200,000 in 2020 alone, was a clearinghouse for illicit funds for organized crime.
Kofoed and Graham declined to discuss Yashchyshyn, as did representatives for the Trump Organization and Guilfoyle.
Senator Bob Casey weighed in on the Mar-a-Lago security breach. "One of the things our adversaries try to do every day of the week is infiltrate, either physically infiltrate or if someone was able to get into a building or into a setting where a public official is, or documents are, or a former public official," he said. "It's a real concern."
Trump ally Senator Marco Rubio (R-FL) told the Post Gazette that he hadn't read any reports on Yashchyshyn.