Family Credits Qatar For Negotiating U.S. Journalist's Release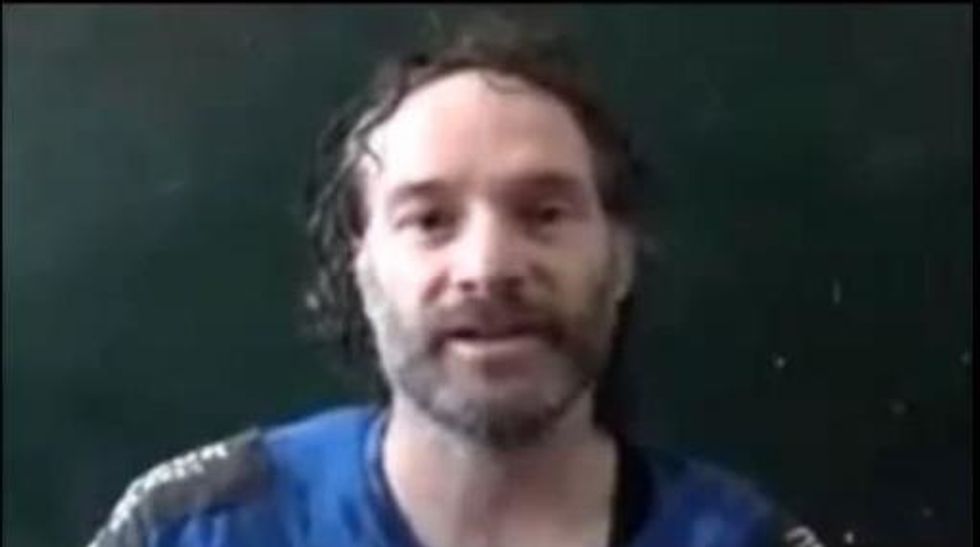 By Christi Parsons, Tribune Washington Bureau
EDGARTOWN, Mass. — An American journalist and author who spent almost two years in the hands of al-Qaida-linked captors in Syria was released Sunday after a successful negotiation for which his family credits the Qatari ruling family.
Exactly what, if anything, was promised to the group was not disclosed. Both the Obama administration and the family said they did not pay a ransom, although their careful language appeared to leave room for the possibility that someone else did.
Peter Theo Curtis was turned over to U.N. peacekeepers on Sunday morning in a Syrian village in the Golan Heights. After a medical checkup, he was delivered into the hands of the U.S. military on a journey that will eventually lead back home to Massachusetts.
As rumors of his release were followed by an official announcement, Curtis' mother thanked the U.S. and Qatari governments along with what she said were "many individuals" who helped to negotiate the release of the 45-year-old, who was held for 22 months.
"While the family is not privy to the exact terms that were negotiated, we were repeatedly told by representatives of the Qatari government that they were mediating for Theo's release on a humanitarian basis without the payment of money," Nancy Curtis said in a statement issued from her home in Cambridge, Mass.
In announcing the release, the State Department and White House hinted at a long and complex effort to bring Curtis home.
"Over these last two years, the United States reached out to more than two dozen countries asking for urgent help from anyone who might have tools, influence, or leverage to help secure Theo's release and the release of any Americans held hostage in Syria," said Secretary of State John F. Kerry, a native of Massachusetts who said he knew Nancy Curtis from back home.
There was a breakthrough this week, though U.S. officials did not say what prompted it.
Family members said Curtis was overcome with joy. But the day was tinged with sadness, too, they said, as the family of slain American journalist James Foley gathered for a Mass of remembrance in his hometown of Rochester, N.H., grieving the son who was killed by a different and more radical group in the same region.
The Curtis family and the Foley family have become close, sharing uncertainty and worry. Before retreating into her home and asking to be left alone, Nancy Curtis urged the captors of other hostages in Syria and Iraq to "release them in the same humanitarian spirit that prompted Theo's release."
Foley was slain by the Islamic State, which has emerged as the strongest and most militant extremist group in Syria and Iraq. Curtis was held by Al Nusra Front or a splinter group allied with it. Al Nusra Front is a Syria-based al-Qaida affiliate that has been active in the civil war against Syrian President Bashar Assad.
It has been designated as a terrorist organization by the Obama administration, although it does not have the same reputation for brutality as the Islamic State, which has terrorized a wide swath of Syria and Iraq with tactics that include crucifixion and, as in the case of Foley, beheading.
President Barack Obama monitored the delicate negotiations for Curtis' release while spending the final weekend of his vacation on Martha's Vineyard, surrounded by national security staffers who were also monitoring a series of airstrikes in Iraq as well as intelligence efforts to track down the identity of Foley's killer.
As intent as Obama was on garnering Curtis' release, advisers said, the administration still refused to pay ransoms or make any other concessions to terrorists.
"We did not do so in this case," said Caitlin Hayden, spokeswoman for Obama's national security staff, when asked about making payments. "We also do not support any third party paying ransom, and did not do so in this case."
Extremist groups in the region frequently use ransom as a major source of income.
The son of Nancy Curtis and Michael Padnos, who lives in Paris, Theo Curtis adopted his mother's name but writes under the name Theo Padnos. His path to Syria started with an interest in disaffected young men that he developed while teaching in the Vermont prison system. His first book was about such men, said one of his cousins.
Curtis, who holds a doctorate in comparative literature from the University of Massachusetts, later traveled to Yemen to learn Arabic and to delve into the culture enough to understand the disenfranchised men around him there. In an effort to do so, he told one interviewer from Middle East Quarterly, he converted to Islam. The story of his experience was published in the book "Undercover Muslim" in 2011.
He wrote several pieces for the New Republic magazine in 2011 and 2012.
"Theo has a deep concern and regard for the people of Syria, which is why he returned during the war. He wanted to help others and to give meaning and to bear witness to their struggles," Nancy Curtis said Sunday.
She hadn't had any direct communication with her son since he emailed her from Antakya, Turkey, in mid-October 2012.
The family believes that he was captured shortly after he crossed into Syria that month, and that he had been held since by Al Nusra Front.
At one point during his captivity, his family saw a video of Curtis in which he begged for his life but said that the people holding him had treated him well.
But a photojournalist who was held in the same cell with Curtis managed to escape, and he described starvation and other harsh treatment at the hands of the captors in an interview a year ago with The New York Times.
Rumors about Curtis' pending release began to surface Sunday morning. By midday, Obama's top national security advisers confirmed that the American was free.
"Theo is now safe outside of Syria, and we expect he will be reunited with his family shortly," national security advisor Susan Rice announced shortly after noon.
United Nations peacekeepers in Al Rafid village in the Golan Heights took custody of Curtis at 6:40 p.m., the U.N. said. Doctors examined him before he was turned over to the U.S. government.
"After a week marked by unspeakable tragedy," Kerry said, "we are all relieved and grateful."
As of Sunday afternoon, Curtis' family didn't know when he would return to the United States or when his mother would see him, said Betsy Sullivan, Curtis' cousin.
AFP Photo
Interested in world news? Sign up for our daily email newsletter!