Far Right Fabricates Ford Link To 'Abortion Pill'
@julietulbert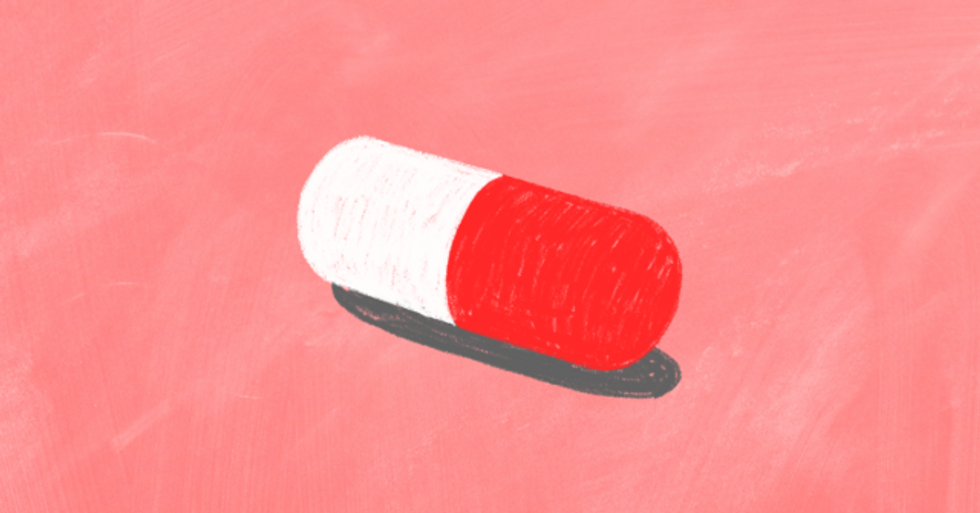 Reprinted with permission from MediaMatters.
Far-right websites The Gateway Pundit and Natural News attempted to discredit Christine Blasey Ford by claiming her report that Supreme Court nominee Brett Kavanaugh assaulted her was politically motivated because of Ford's previous work for a pharmaceutical company that manufactures a so-called "abortion pill." In reality, the pill that the company makes is not approved for that use and cannot be prescribed for people who are pregnant.
On September 20, Gateway Pundit's Jim Hoft published a blog post attacking Ford, claiming that Ford was "affiliated with Corcept Therapeutics (2006 – 2011)" and citing "her new Wikipedia page" as evidence. Corcept Therapeutics, Hoft said, "has only one product: Korlym (mifepristone)," which he characterized as "the 'abortion pill.'" In addition to working for a company that produced this pill, Hoft argued that Ford had also "participated in 8 published studies, which researched uses for the 'abortion pill' or mifepristone. In five of these studies, Professor Ford is listed as affiliated with Corcept Therapeutics." Based on this, Hoft implied that Ford's decision to share her story was politically motivated, writing, "Liberals and feminists are very worried that Judge Brett Kavanaugh may participate in reversing Roe v. Wade. Christine Blasey wants to stop Kavanaugh from reaching the country's highest court."
This false claim was then picked up by another fake news purveyor, Natural News, run by Mike Adams, a far-right blogger who also created a site to smear Parkland shooting survivor David Hogg as a so-called crisis actor and member of the "Hitler Youth." Adams made an even less compelling case for Ford's supposed motivations, writing, "Christine Blasey clearly fabricated the false allegations against Kavanaugh in order to protect her own income and profits coming from an abortion pill drug company whose future may be impacted by Kavanaugh's confirmation to the court."
A September 17 San Francisco Chronicle article about Ford noted, "According to her faculty biography in a course catalog, she worked as director of biostatistics for Corcept Therapeutics in Menlo Park." Corcept Therapeutics does manufacture Korlym, also known as mifepristone, but the company's website notes that the drug is intended "to control hyperglycemia associated with Cushing's syndrome, a rare, debilitating endocrine disorder." Hoft and Adams both acknowledged that this is the medication's intended use.
However, Hoft argued without evidence that Korlym "is widely available online as an 'abortion pill' or 'Emergency Contraceptive and Abortifacient.'" Adams wrote, also without proof, that "it is well known throughout the medical industry that doctors routinely prescribe this drug to terminate unwanted pregnancies. It is a covert 'abortion drug,' in other words."
Corcept's website includes an explicit warning not to prescribe the medication if someone is pregnant:
Pregnancy must therefore be excluded before the initiation of treatment with Korlym and prevented during treatment and for one month after stopping treatment by the use of a non-hormonal medically acceptable method of contraception unless the patient has had a surgical sterilization, in which case no additional contraception is needed. Pregnancy must also be excluded if treatment is interrupted for more than 14 days in females of reproductive potential.
Adams said this disclaimer only serves as "a wink, wink message to doctors that this is actually an abortion pill," enabling them to secretly prescribe Korlym to patients seeking an abortion. How exactly this would work — given the litany of restrictions on abortion access and even some limits on what doctors are allowed to tell patients about various procedure — is unclear.
In April 2018, The Washington Post described how a pill used in medication abortions, Mifeprex, is priced and prescribed differently than Korlym, the pill made for Cushing's syndrome:
The difference in price between Korlym and Mifeprex is striking, even though the ingredients are the same: One 200-milligram pill to prompt an abortion costs about $80. In contrast, a 300-milligram pill prescribed for Cushing's runs about $550 before discounts. (Patients wanting an abortion take only one pill. People with Cushing's often take up to three pills a day for months or years.)
Even if people were secretly purchasing Korlym to perform abortions, Ford's role as "director of biostatistics" would still be irrelevant. Studies that she co-wrote for Corcept have no apparent connection to abortion, with titles such as "Mifepristone treatment of olanzapine-induced weight gain in healthy men" and "Selective glucocorticoid receptor (type II) antagonists prevent weight gain caused by olanzapine in rats."
Despite the total lack of evidence supporting Adams' characterization of Ford's report, the right-wing outletOne America News Network repeated his smear during a September 21 segment, including footage of Adams himself explaining his allegations. Prominent conspiracy theorist Alex Jones also cited Adams' post to attack Ford, saying that Ford was not only a "huge lobbyist" for the pill in question, but that she "pushes for it, she's written a whole bunch of papers trying to get it approved, she's on the payroll of it." He wildly concluded that Ford's account was actually an attempt to push "population reduction" through abortion. This was far from Jones' only attack on Ford: Previously, Jones falsely claimed that her high school yearbooks undermined her account, saying that her attire in some of the photos made her a "hussy" and "captain of the sluts."
Anti-abortion group Operation Rescue — which has not been shy to attack Ford or voice support for Kavanaugh — also shared a link to a truly bizarre blog post calling her an "Abortion Pimp" because of her work with Corcept.
Right-wing and far-right media have relentlessly attacked and harassed Ford since she went public with her account. This latest smear about Ford's promotion of a so-called "abortion pill" looks like more of the same.
Header image by Melissa Joskow / Media Matters