FBI Asks For Tips On IS Group Volunteers
@AFP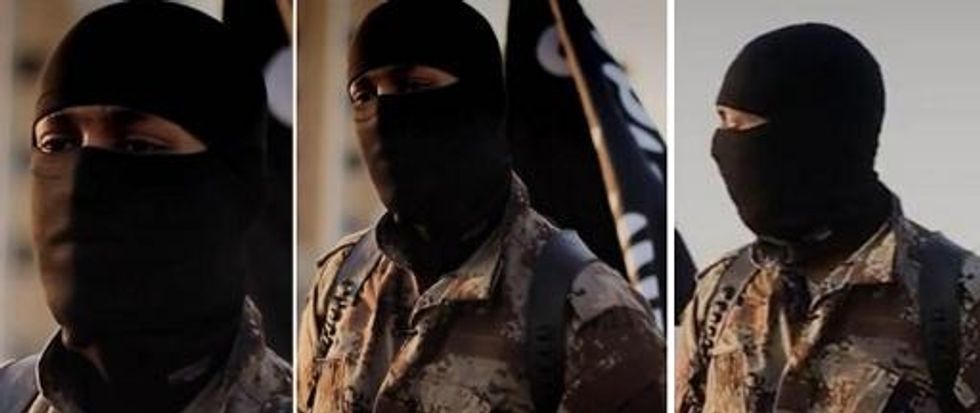 Washington (AFP) — The FBI on Tuesday appealed for help tracking people planning to join the Islamic State group in combat, including an English-speaking militant with a "North American accent."
"We need the public's assistance in identifying U.S. persons going to fight overseas with terrorist groups or who are returning home from fighting overseas," Michael Steinbach, assistant director of the FBI's counterterrorism division, said in a statement on the agency's website.
The Federal Bureau of Investigation posted forms online for the public to submit potential tips, at www.fbi.gov/ISILtips, and released a segment from a 55-minute propaganda video in hopes someone might recognize the English-speaking IS militant.
"No piece of information is too small," Steinbach said.
In the video, the masked man — dressed in desert camouflage and waving a pistol — stands in front of purported prisoners as they dig their own graves and then later presides over their executions.
In the clip released by the FBI, the faces of the alleged prisoners are obscured and their killing is not shown.
The individual in the video has what appears to be "a North American accent," it said.
About a dozen Americans are fighting with the IS group, according to the FBI.
U.S. authorities on Saturday arrested a 19-year-old man at O'Hare International Airport in Chicago who they alleged was heading to the Middle East to fight with the IS group.
Mohammed Hamzah Khan was charged with one count of attempting to provide material support to a foreign terrorist organization, the Justice Department said.
AFP Photo

Interested in more political and national news? Sign up for our daily email newsletter!