FBI Director Won't Let Democracy Be
@JamieStiehm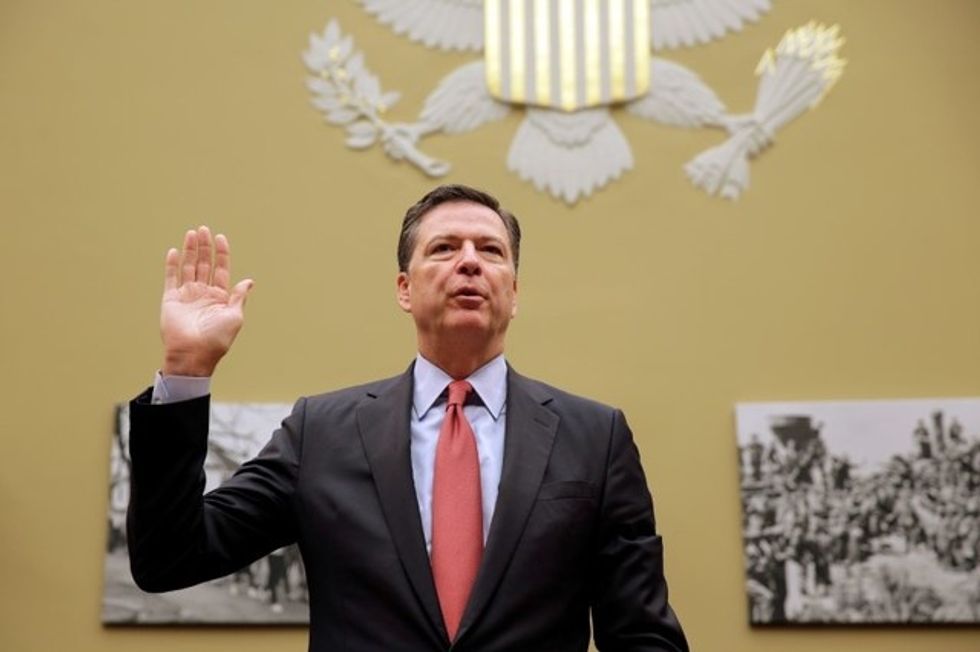 WASHINGTON — James B. Comey, the FBI director, is above it all. He's known and shown it for years. In a town of towering egos, he stands taller. Six feet, 8 inches. Barack Obama looked up to him until a couple days ago.
In our public square, Comey has thrown a hard ball, breaking bad against Hillary Clinton. He says a new trove of emails will be investigated — though he has no idea what's up.
So much for the presidential election that Comey has compromised. Nobody does what he did, days before an election. It defies Justice Department traditional practice and protocol.
The relationship between the attorney general and the FBI has always been difficult. The FBI is under Justice, but housed apart in a Brutalist building of its own a mile away. Really. Since the iron rule of J. Edgar Hoover, it operates as its own fiefdom.
Comey believes in one-man, one-vote democracy — as long as he's the man, late in the game. It's a point of pride he served President Bush and President Obama and proved a pain to both.
In a hospital drama when he was a Justice official, Comey beat Andrew Card and Alberto Gonzalez, George W. Bush's chief of staff and counsel in a race to Attorney General John Ashcroft's bedside to keep them from making Ashcroft sign papers to renew a surveillance program. The 2004 sequence is reported in "Days of Fire," by Peter Baker. A bit of a grand stand.
Here's the rub: Obama appointed Comey FBI director because he seemed like the best man in the Bush administration — a tragic error that could lose his team the political World Series.
All along, Obama was way too quick to reach out to Republicans. You tell me why when they have shunned him from the start. (Comey says he is no longer registered as a Republican, but supported Mitt Romney for president in 2012.)
Without meaning to, Obama failed Clinton with his "extremely careless" appointment of Comey. (Comey's words for the Democratic presidential nominee.)
Don't forget, Clinton herself and Comey's boss, Attorney General Loretta Lynch — they're just women on the outside of the Brutalist building. If Comey improperly changed the course of the fraught election over an unknown bundle of emails, over Lynch's express wishes — well, he shrugs. It's all about him.
Now everybody's mad at him, right, left and center, and maybe he likes it that way, in the eye of a firestorm.
Or, conjure Comey as the lone rock star with the FBI as the back-up band, the Hooverites.
The freakishly tall Comey is a curious character that has confounded fellow Republicans and Democrats alike for years. He's no naive stranger to this town.
No Clinton drama could be complete without Bill Clinton. In a chance meeting, he briefly spoke to the Attorney General Lynch and her husband at an airport in Arizona.
So what? What happened to the days when people in politics could have a friendly "visit" with each other without conflicts of interest and disclosures and all that jazz? The meeting was pure Bill being Bill, his gregarious self.
It insults Lynch's integrity to suggest Justice's conclusions on Hillary Clinton's private server emails would be swayed a few short days later.
But this meeting got Washington in a tizzy and gave Comey his opening to usurp Lynch. She felt pressured to give the reins of the Clinton case to Comey.
Bill Clinton let his wife, Hillary, down, too, and that's the saddest part of this story.
Comey's grandstanding — in a July press conference and in subsequent testimony before Congress — elevated him to a place where he did not belong. The Justice Department is in charge of these things, and it usually makes legal decisions on whether to bring criminal charges. That's why it's there, in a graceful, beautiful building where justice is done by blue-chip government lawyers.
The late Robert Kennedy, Eric Holder and Janet Reno, all attorneys general, played tougher with the FBI. You don't give power away, because you'll never get it back.
So what about the election? Comey has compromised it once, twice, thrice now with Marc Rich pardon material from the end of Bill Clinton's presidency.
President Obama's choice is clear. For the common good, Director Comey must be stopped.
To find out more about Jamie Stiehm and read features by other Creators Syndicate writers and cartoonists, visit www.creators.com.
IMAGE: FBI Director James Comey is sworn in before testifying before a House Judiciary Committee hearing on "Oversight of the Federal Bureau of Investigation" on Capitol Hill in Washington, U.S., September 28, 2016. REUTERS/Joshua Roberts